Classic Lemon Pound Cake is the perfect breakfast with a cup of coffee, sweet brunch treat for Easter or anytime of year, and afternoon tea cake! An all around classic sweet treat.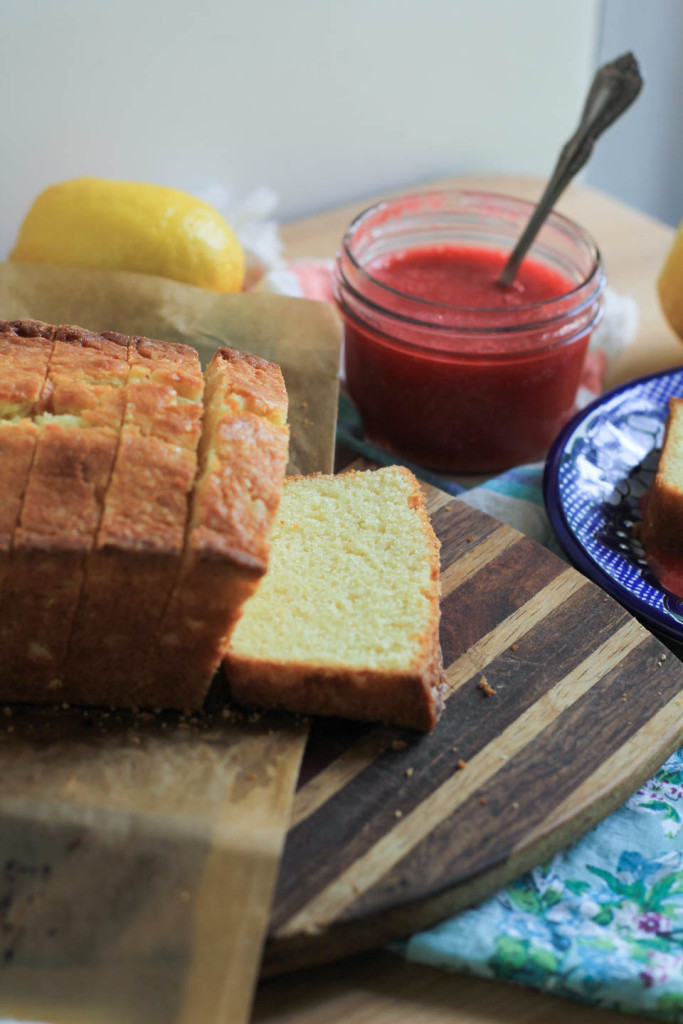 This is an old school classic restaurant brunch recipe that has been popular among pastry chefs because of how easy it is to make ahead, keep in the freezer for service, and tastes super good. I have worked in restaurants on and off for the better part of twenty years, minus my massage therapy stint. This recipe, not from the restaurant, but the idea of it, came from a place I worked in Sacramento for many years while in college sixteen years ago. I was homies with the chefs and they would feed me some seriously great food every shift. But there was one thing I got hooked up with frequently, and Chef knew it was my love affair with anything lemon that would inevitable get me a whole loaf to take home at least a couple of times a month. That's how much they loved me! It's this classic poundcake that can be any flavor, but the best is lemon, served with raspberry sauce aka, raspberry coulis. It's a classic for a reason…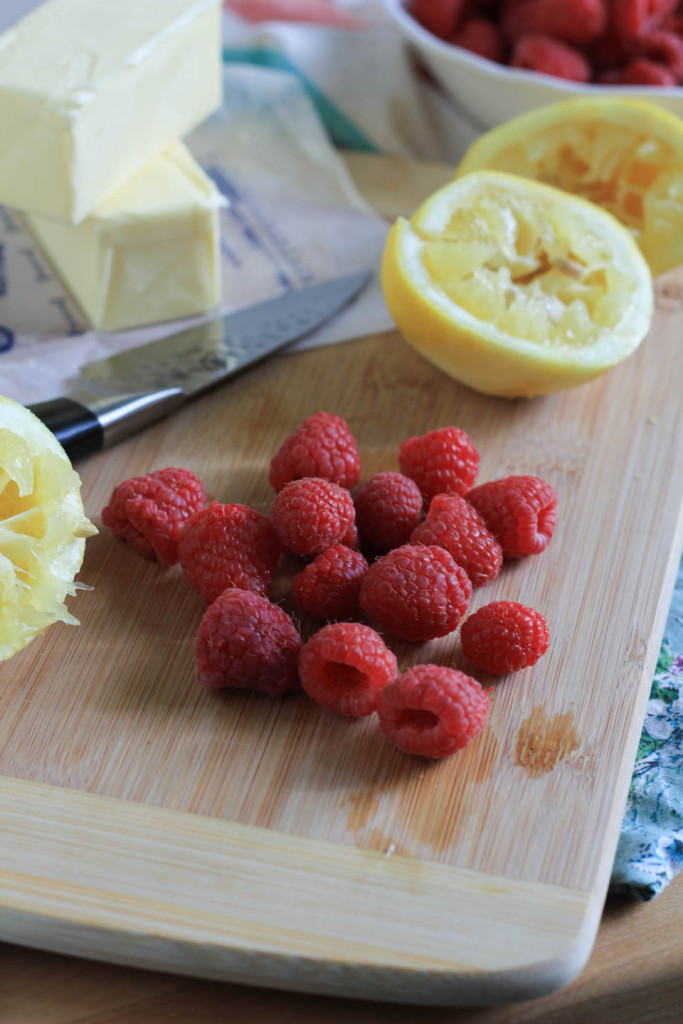 Fast forward to five years ago when I went to culinary school and worked in bakeries, making many of these Lemon Pound Cake with Raspberry Sauce simply because they are good and easy. If you notice most restaurants have very similar recipes for desserts and brunch sweets on the menu because of the prep time and space in the kitchen. Poundcake can be made months ahead, thawed and sliced for the day of service. And the sauce can be made within minutes at the start of the day. I just outed restaurants and bakeries :). Oops. But really, not all do this, but most do.
Honestly though, where would we be if we didn't have that restaurant trick? I would have never had the pleasure of enjoying the Lemon Pound Cake with Raspberry Sauce back in the day as a hostess in Sacramento, recalling that food memory to be able to share with you! Because it is so perfect for brunch, make it ahead of time for Mother's Day, she'll love you for it!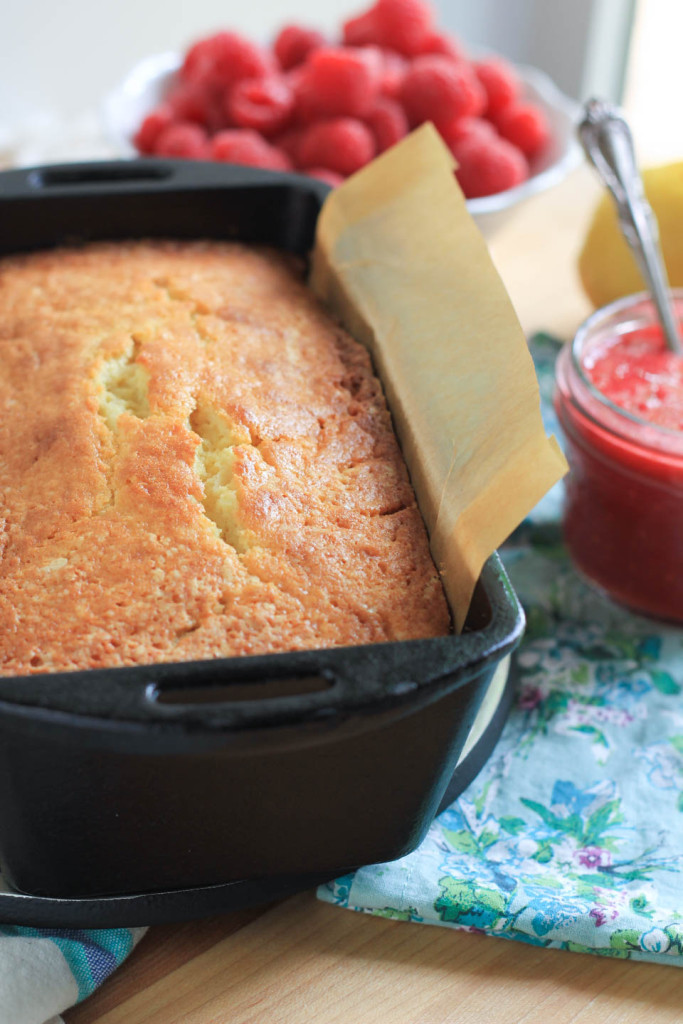 I'll be sharing this Lemon Pound Cake with Raspberry Sauce on ABC's KATU Channel 2 Afternoon Live at 3pm. I'll be including all the tips and tricks to a good pound cake! I alternately made a Honey Strawberry Greek yogurt spread for the show, either sauce is a beautiful pairing!
Lemon Pound Cake with Raspberry Sauce
makes 2 loaves
Ingredients:
3 cups pastry or all purpose flour
1 teaspoon fine sea salt
1/2 teaspoon baking powder
1/2 teaspoon baking soda
3/4 cups buttermilk
1/4 cup lemon juice, about 2 large lemons
zest from 2 lemons
2 teaspoons lemon or vanilla extract
16 tablespoons unsalted butter, room temperature
2 cups sugar, I use organic sugar
5 large eggs
sauce:
2 cups fresh raspberries
1/4 cup water
1-2 tablespoon granulated sugar or honey, taste the berries and add sugar depending on how much you need to sweeten the sauce, taste as you add sugar/honey
1 tablespoon fresh lemon juice
Alternate Hone Strawberry Greek Yogurt Spread: mix 1 cup small chopped strawberries with 1/2 cup Greek yogurt, mix and taste. Then add 1/2 teaspoon honey until desired sweetness.
Method:
Place oven rack in the bottom third of oven and preheat oven to 350 degrees. Line two 8×4-inch loaf pans with parchment and spray with cooking spray.
Sift flour, salt, baking powder, and baking soda into a medium bowl. Whisk together buttermilk, lemon juice, zest, and extract in a measuring cup.
Place butter and sugar in bowl of stand mixer fitted with paddle attachment or use a large bowl with hand mixer. Mix starting on medium for 30 seconds, then high for 5 minutes, or until light, fluffy, and smooth.
Add 1 egg at a time on medium low speed, waiting for the egg to incorporate between each addition. Once all eggs are incorporated turn off mixer, scrape down the sides using a spatula.
With mixer on low, alternating between the flour and buttermilk, add 1/3 of the flour first, followed by 1/3 buttermilk, ending with buttermilk. Gently scrape the side of the bowl using a spatula. Do not over mix.
Divide batter between 2 loaf pans, place pans in oven and bake for 55 minutes, or until a toothpick comes out clean from the center of the loaf.
Remove pans from oven and allow to cool 15 minutes before slicing and serving. Slice and serve with the raspberry sauce. Store loaf on counter for up to 3 days. For freezing, freeze the entire loaf wrapped in plastic wrap and in large ziplock bags for up to 3 months. To thaw, remove and thaw on counter overnight.
Sauce: Place all ingredients in a blender or food processor, blend until smooth. Optional: pour through a strainer to remove seeds. Place in an airtight container, and store in fridge for up to 3 days.