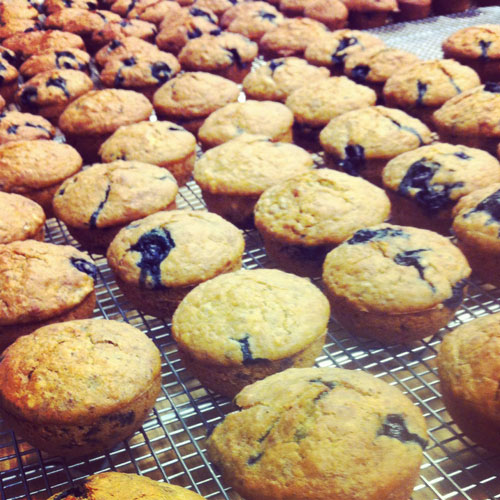 I must say that was quite an adventure.  The end is bitter sweet but the end result is nothing but good.  I learned some things about myself but more importantly they were friendly reminders of things I already knew about myself.  If I want something done, It will be done, one way or another.  But I also tend to put all of my resources into one thing at a time.  I like to do things the right way, and close to as perfect and I can get them done, without having to ask for too much.  Kinda weird huh?  I put a lot of effort into getting funded for ingredients, raffles, and general support from my school, and local businesses.  I gotta say, it was quite successful.  I had a good support system around and when it came down to it the sale was awesome for being little me there selling out those baked goodies.  I pretty much sold out of everything, except the healthy muffins, which was weird to me.  I sold a lot, but not all of them.  The generosity of people does not surprise me.   There were quite a lot of people that stopped just to put money in the cash donation jar.  They did not want anything, only to help.  I found support in my friends, family, and complete strangers.  I wanted to sell out, or at least do my best to sell out, so I started at 10am, and began packing up at about 6:15, it was quite the long day.  But worth every moment.  In the morning I went to school to grab the things I needed to set up, tables, chairs, and what not.  I did not find the person that was going to help me, but I did come across a very helpful individual, that happened to read my blog!  Small world to me.  It was awesome, and that bit of help just to get set up for the sale was amazing.  What a great start to the day, so thank you kind sir.  On a random note, the music playing on my way to school was also perfect, way to go music!  Pumped me up, made me smile and dance.  Perfect.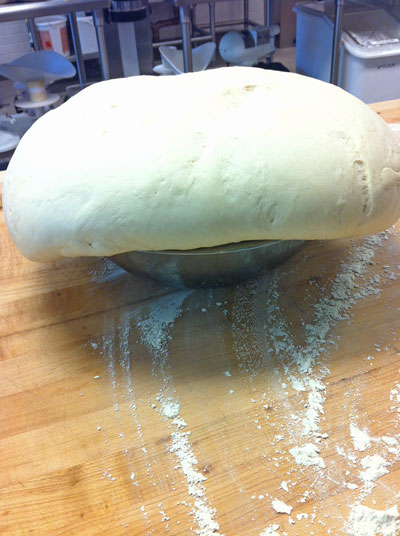 A bulk rise on my 12lb croissant dough for the sale is so super sexy to me…
So the end of the day nearing, I was for sure getting a tad tired and Brian had class upstairs at 6, so he helped pack up as much as he could before going to class, but I am stubborn and wanted to stay a bit longer.  Once I decided it was time to pack up, a nice gentlemen was there and insisted on helping me, and would not take muffins as a thank you.  He was great!  He helped me pack up my car, take tables, chairs, and the super heavy signs inside the school.  I am blessed, I always have help when I need it the most.  It is the kindness in the smallest gestures that seem grand to me, but so small to others, those are the ones that warm my heart the most.  Kind of like my closest friends donating online because we don't live near one another so they couldn't come to the bake sale.  It is those things that I cherish, and am grateful for.  It is almost always the small stuff.  It may seem like nothing to the person that is helping, but it means the world to the person you helped.  That is what I took away from this.  Children need our help, and to give just one a meal that he or she may not have had is what this was all about.  I am happy I did it, and I happy for all of the support I had.  This whole event warmed my heart, filled it with more gratitude of things in my life, and made me realize how just a little can help a lot.  It can be the smile you give someone, a nod hello, a hot meal, or extra time to set up something like this.  Every bit counts, and it is those things that make me happy and hopeful in life.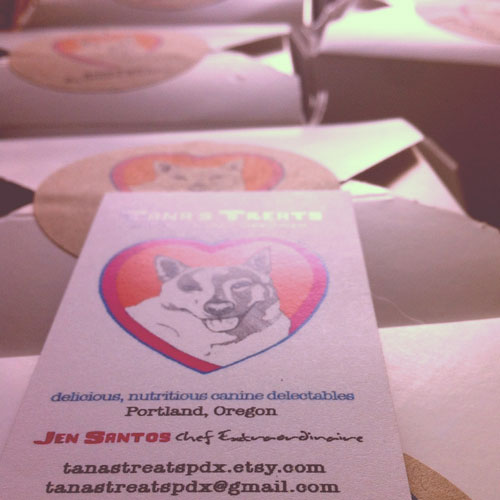 Thank you, again, to my friends, The Art Institute of Portland individuals who helped me, Tana's Treats,  Cheri at Dragonfly Cakes, Whole Foods Pearl District, Costco, and Ben and Jerry's.  And thank you to all of you who waited so patiently until 10am to come buy goodies, you make me smile, that was cool.  It was very successful for such a small sale, and I could not be more proud.  The sale and online donations raised over $600 by the way! Super awesome.
As a friendly reminder…
I am keeping my donation site open for a few more months so I can generate more for the charity.  If you would like to make a cash donation online for No Kid Hungry click on the link and it will take you to my donation site. Not Just Baked Donations.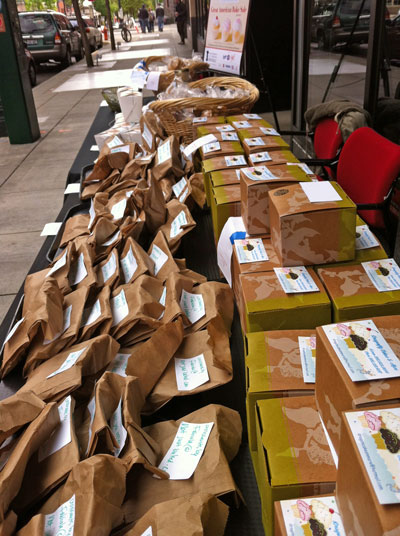 Thank you.