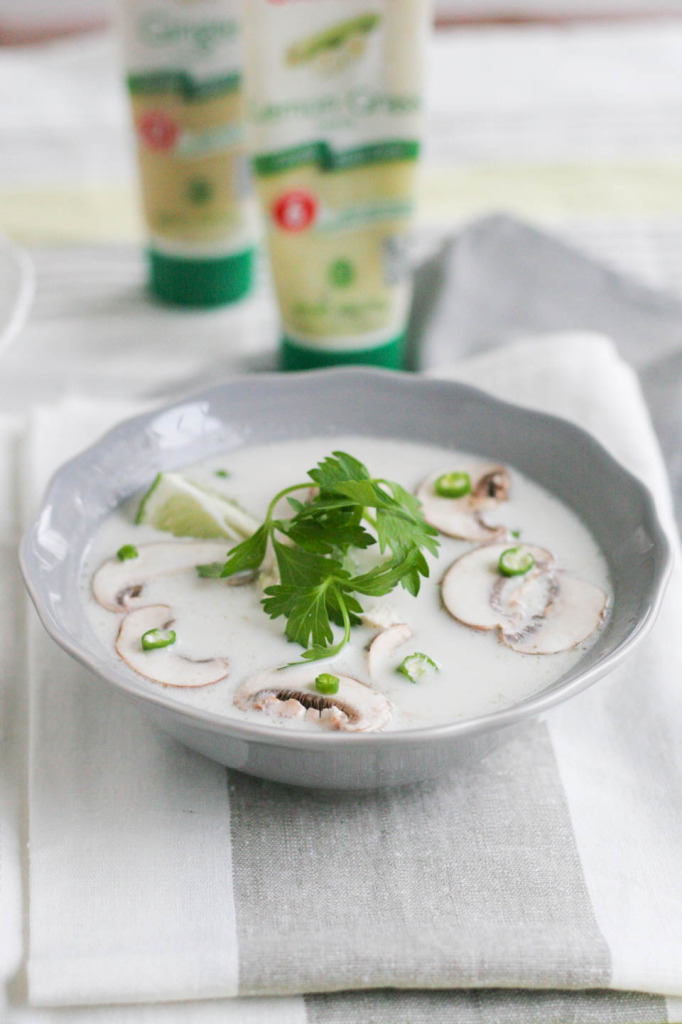 Disclosure: This is a compensated post in collaboration with Gourmet Garden Herbs. As usual all opinions are my own.
I often make soups for weekday lunches and light dinners, like many of us. They are tasty vessels for good health and filling meals. I've been eating this soup for decades, especially when I am feeling sick. While I'm not feeling sick, I've been working on perfecting this recipe, and making it easy enough for when I need it. This is the ultimate reason I love having Gourmet Garden herbs stashed in my freezer. I have gotten sick in the past, like everyone else. But I really don't want to cook myself soup when I am not feeling well. And I equally don't want to eat out, even when Brian brings me soup, I can only hang for a couple of days. So a recipe like this, with herbs like these, make for a better soup, and so quick to make.
I am also out of town for a week, so I made a huge batch of this for Brian to take for lunch, or have for a quick dinner. Yes, I totally make him food, that's how we roll, and it works for us. Admittedly he likes to eat out a bit more when I am not home, hitting up his favorites that may not be mine. So if I make one or two things, like this soup, I can say I feed him well lol!
I also like this soup because it can easily be made vegetarian. Just swap the chicken stock for vegetable stock, and use tofu instead of chicken! It's also gluten free and vegan! If you wanted add more vegetables, you could chop up some broccoli and add it at the end.
Have you had Tom Kha Soup before?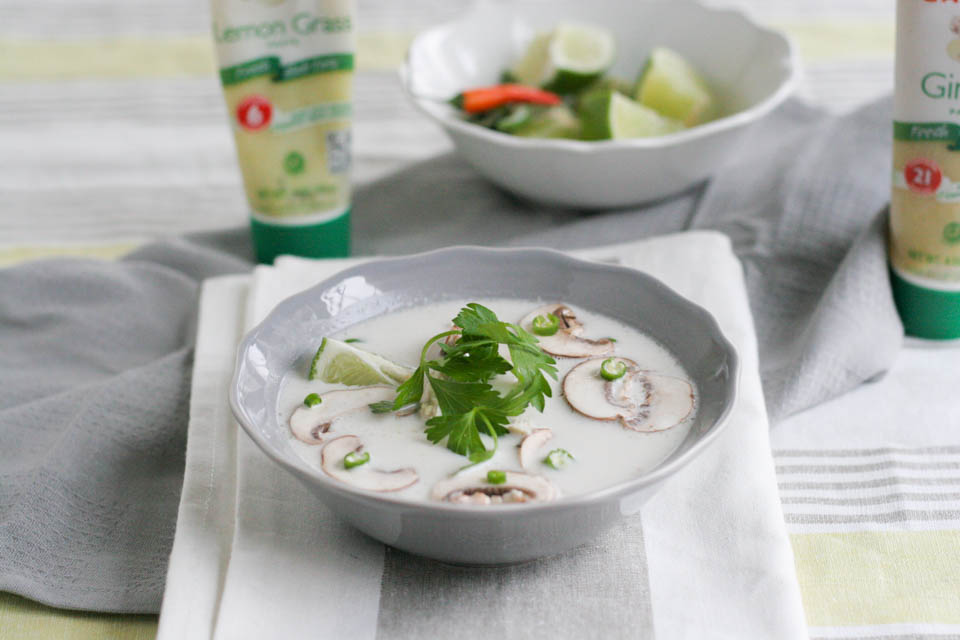 Tom Kha Soup 
Serves 6
Ingredients:
6 cups chicken stock, use vegetable stock for vegetarian
1 tablespoon Gourmet Garden Lemongrass
2 teaspoons Gourmet Garden Ginger
10 kafir lime leaves, found in Asian grocery stores
4 skinless chicken breasts, omit for vegetarian, use tofu instead
4 thai chiles or 2 serrano chiles
2- 14oz cans unsweetened coconut milk
fine sea salt
fresh cracked black pepper
2 cups sliced cremini mushrooms
cilantro
2 limes cut into wedges
hot sauce, optional
Method:
1. Place stock in a 6 quart pot over medium high heat. Bring to a boil, reduce to a simmer over low heat. Add lemongrass, ginger, and kafir leaves, stir to combine. Simmer uncovered on low for 20 minutes. Add 1/2 teaspoon fine sea salt, stir to combine. Remove kafir leaves.
2. Add chicken and chiles. Bring to a boil over high heat, reduce to a simmer on medium heat for 25 minutes, or until chicken is cooked through. Remove chicken, allow to cool enough to shred.
3. Add coconut milk over low heat, simmer for 10 minutes, remove chiles. Taste for seasoning, add salt and pepper. Stir to combine. Add mushrooms, and chicken.
Serve warm with cilantro and lime wedges. Store leftovers in an airtight container for up to 3 days. I also add hot sauce for a kick.