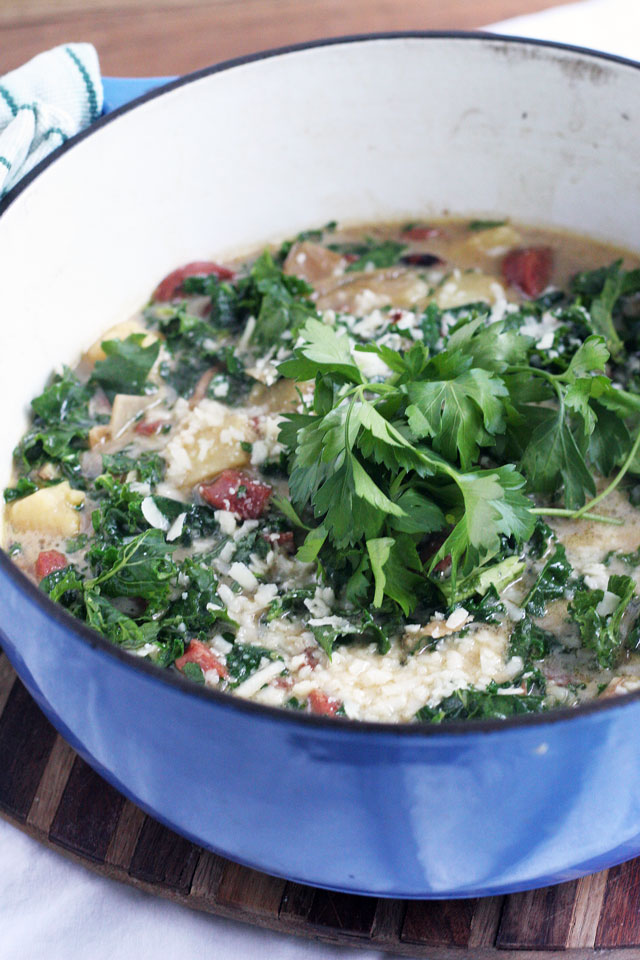 It's been a good month full of cookies, cakes, pies, and candy.  Somewhere in all of it I made this soup.  I think it was on the day I made chocolate chip cookies, peanut butter cookies, and two batches of shortbread cookies.  I am a baking machine.  When I get going, it is on.  In between cookies baking I thought about a filling soup to balance out the sugar.  Yes, it has cream in it, but just a bit.  I got some beautiful kale and sweet potatoes at the farmers market which really made this soup hearty.  You'd think the chicken sausage would do that, but nope, it was the vegetables.  This is a quick and easy soup to make for all to enjoy.  I'd serve it with good crunchy bread, because we need more carbs.  ENJOY!
This is the perfect pot of food to bring in the new year, it's not fancy but its fill your belly happy food.
Sweet Potato Soup with Chicken Sausage and Kale
Serves:  6-8
Ingredients:
2 tablespoons olive oil
1/2 onion sliced, about 1 cup
4 chicken sausage medium chop, I used chicken apple, omit to make vegetarian
1 tablespoon balsamic vinegar
6 cups stock, I used chicken but vegetable or turkey works, use gluten free if needed
4 cups large dice sweet potato, about 1 large
1 teaspoon chili pepper flakes
1 bunch green kale, or any color you enjoy, rinse well and tear leaves off stems, rough chop
salt and pepper
1/2 cup heavy cream
1/4 cup chopped fresh parsley
1/4 cup parmigiano reggiano
Tip to better kale:  After I de stem and chop the kale, I place in my salad spinner to clean.  After clean, I massage the kale for 1 minute directly in the spinner.  It makes for better greens.  You can do this with any thick hearty green.
Method:
1.  In a large pot or dutch oven, place 1 tablespoon olive oil over medium heat, add sliced onions.  Cook for 10 minutes, stir occasionally, a touch of color is ok.  Raise the heat to medium high, add more olive oil, add the sausage to brown.  Cook 2 minutes stirring occasionally.
2.  Deglaze the pan by adding the balsamic vinegar, and scrape the brown bits off the bottom of the pot with a wooden spoon.  Add stock to assist in the scraping if needed.  Add the rest of the stock.  Add 1 teaspoon salt, 1/2 teaspoon pepper, and chili flakes.  Stir.  Bring to a boil, reduce to a simmer.
3.  Lower the heat to medium low, add the sweet potatoes and cook until tender, about 20 minutes.  Taste for seasoning, I added a pinch of salt and pepper here.  Turn off heat, add cream, stir then add kale.  Stir to combine.  Serve with parsley and parm reg cheese.
ENJOY!