Sweet Honey Cornbread, tips to a good bread is one of the most popular recipes on my website! Make it with the family for fun and easy baking project over the weekend. It taste so good!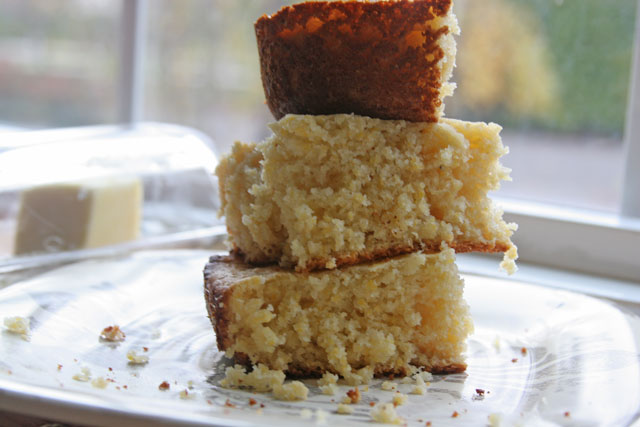 Warning, I may repost this every year forever and ever.  I love this cornbread too much not share that often, so make it.  You will not regret it!
Cornbread.  I love cornbread, I love making cornbread.  It is super easy and rewarding.  Just like chili, which is cornbread's best friend,  everyone has a different take on it.  This is mine.  All together this took 10 minutes of actual me prepping time.  Not bad for freshly made bread mid week.
Tips for a good bread, muffin, or any other quick bread that calls for not over mixing, as this does: DO NOT OVER MIX.  It really is as simple as that.  Mix until you no longer see flour or dry spots, then walk away.  Leave a lumpy batter.  Look at the photo below in the instructions that shows my lumpy batter.
Signs of over mixing:  "tunnels" and big holes throughout the bread/muffins, tough, dense final product.  I took the photo of the final product above to show that there is a moist crumb in the bread, no tunnels, an even outer golden brown crust, and light fluffy texture
Adapted from the Bob's Red Mill Cornmeal Cornbread Recipe.
Serves: 9 – using 8 inch baking pan, 18 using a 9×13 pan and doubling the recipe below.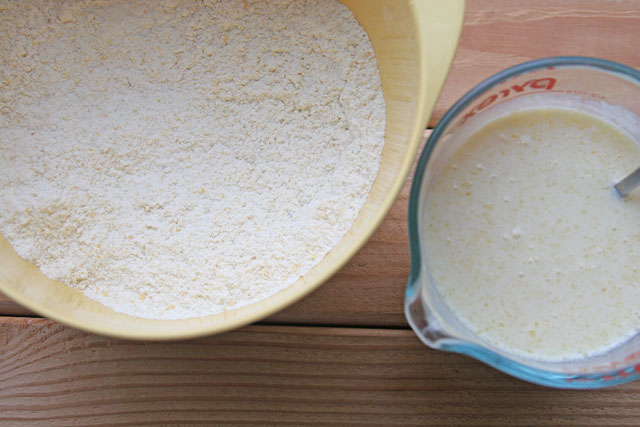 Make it for a sweet treat at brunch time, or with the big pot of chili or soup, or have fun making out with the family for a baking project over the weekend! Either way this is a super moist and tender cornbread recipe.
Ingredients:
1 cup cornmeal fine grind
1 cup all purpose flour or whole wheat flour, they are both good in this recipe
1 tablespoon baking powder, aluminum free always
1/2 teaspoon fine sea salt
1/4 cup melted butter, plus a little for spreading on baking pan
1 cup buttermilk
1 egg
1/4 cup honey
Preheat oven to 425 degrees
Method:
Add cornmeal, flour, baking powder, and salt into a large bowl, whisk to combine.  Melt butter for 20 seconds intervals until liquid, in the microwave, or in a pan on the stove until melted.  Let cool for 2 minutes.
Whisk the buttermilk, 1 egg, and butter together well.  Add honey to buttermilk mixture, whisk until combined well.  Add the buttermilk mixture to the cornmeal mixture and mix using a spatula.  Do not over mix.  Just combine until the dry ingredients come together with the wet.  Leave the batter lumpy, see below.
Grease with butter very well:  8 inch pan or a 9×13 pan if doubling recipe.  Pour batter into pan, place in oven and bake for time needed, see below.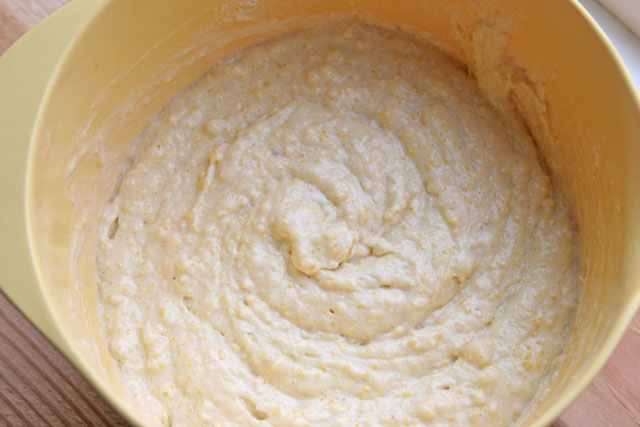 ~For an 8 inch pan:  bake for 20-25, use a toothpick at 20 minutes to test the center of the baking dish.  When the toothpick comes out clean the bread is ready.
~For a 9×13 pan:  bake for 30-35 minutes.  use a toothpick at 30 minutes to test the center of the baking dish.  When the toothpick comes out clean the bread is ready.
Let cool for 15 minutes before cutting into the bread.  Serve with butter, a drizzle of honey, or both!
ENJOY!
Sweet Honey Cornbread, Tips to a Good Bread!