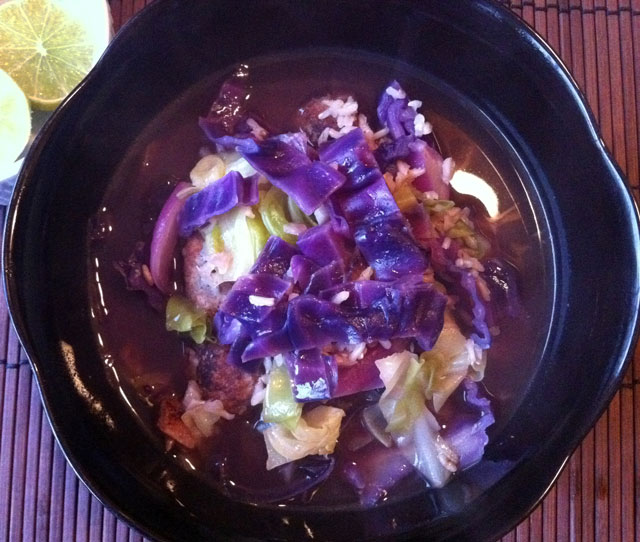 I make soup all fall and winter long. I am often inspired by other blogs, cookbook, and family recipes to change things up in the soup department. I do love traditional tomato, butternut, and chicken, but sometimes I want more. This is the definition of that soup. It is balanced, filling, nutritious, and delicious. I did not rhyme on purpose, that just happened. No, serious, this is mmm good. You can add, and delete items you may or may not want, but the base is good enough for any ingredients. I adapted this soup from, TheKitchn, the adaptation has come far from its original, but I like to go back to that recipe from time to time as well. Like I said though, use what you have and it will be super good too! I do tend to have homemade stocks on hand, or in the freezer, so I recommend homemade stocks, they make a significant difference in any recipe.
I make the teriyaki, pineapple meatballs from scratch as well. But I have to admit something here. Confessions of earlier times… When I saw this recipe years ago, I wanted some form of meat in it, so I began pondering. I saw that Aidells made a super processed, cannot pronounce ingredient free teriyaki meatball. I decided to try them in the soup. Although I did enjoy the idea, and it was pretty tasty, I knew the homemade version would be better. But for those of you who do not want to, or just plain do not have the time, these are an ok substitution. I also make sure to make an extra large batch of the meatballs because I like to freeze them for future soup usage. Or toss em in a stir fry, whatever floats your boat, I'm good with it.
And by the way if you want to skip the Meatballs altogether, that's all good too, just skip to the soup making below.
Ingredients:
Teriyaki Pineapple Turkey Meatballs
1 lb Ground Turkey
2 cups pineapple, chopped, canned or fresh
1 medium white onion, chopped
1/3 cup Teriyaki sauce
2 tablespoon soy sauce
2 teaspoon fresh ground pepper
1 teaspoon fine sea salt
1 teaspoon ground ginger
2 eggs lightly beaten
1 1/2 cup bread crumbs
Method meatballs:
1. In a 6 qt. dutch oven, or large skillet, heat 1-2 tbsp of vegetable oil on low to medium heat for a few minutes, then add pineapple for 5 minutes. This helps release the sweetness in the onions, and pineapple. Remove from heat. They should be between sweated and lightly browned.
2. While the onions and pineapple are cooking, in a large bowl, combine ground turkey, teriyaki sauce, soy sauce, salt, pepper, ginger, bread crumbs, and lightly beaten eggs. Mix until combined well. Add the onions and pineapple when they have cooled off a bit so y0u can handle them to form the meatballs. Fold in the onions and pineapple with your hands or a spatula. I usually use my hands. I like it.
3. Make 2 inch balls of meat and set them aside on a plate or sheet pan.
4. Heat a few tbsp of oil, bacon fat, or a combination of the two in the same dutch oven or large skillet you used to brown the onions. Over medium heat place the meatballs in the pan one at a time, carefully, do not over crowd. Make sure you pan is HOT, or you will steam the balls, not tasty. You have to work in batches here to optimize the heat and browning. Turn the balls, browning each side. Each side about 3-4 minutes. Remove and place on a cooling rack over a sheet pan, plate, or whatever you have to hold the balls.
5. Set aside for soup making. Allow the extras to cool before you place them in the freezer, if you made extras, that is.
Ingredients to make soup:
1/2 head red cabbage (about 1 lb)
1/2 head green cabbage (about 1 lb)
1 cup brown rice
2 limes zested and juiced
1 lime cut into wedges for table
1-2 jalapenos minced
1/2 white onion, chopped
6 garlic cloves minced
fine sea salt and pepper to taste
8 cups chicken, turkey, or veggie stock
2 tablespoons soy sauce, plus more for serving
Method soup:
1. Heat 2 tbsp vegetable oil in a 6 qt dutch oven over low medium heat. Put the onions in and sweat (no color) for about 10 minutes. Stir occasionally. Keep the heat low, and do not brown the onions. Add the garlic and jalapeno after 10 minutes, and sweat for about 5 minutes. Stir occasionally.
2. Add the broth, bring to a soft boil, then add the rice. Return to a soft boil, then reduce to a simmer. Add the lime zest, juice, and soy sauce. If you are adding meatballs, add them now. Cover and simmer for 20-30 minutes.
3. Salt and pepper to taste. Add the cabbage, cover, and cook until tender. About 10 minutes.
4. Serve with lime wedges, soy sauce, and a smile.
ENJOY!