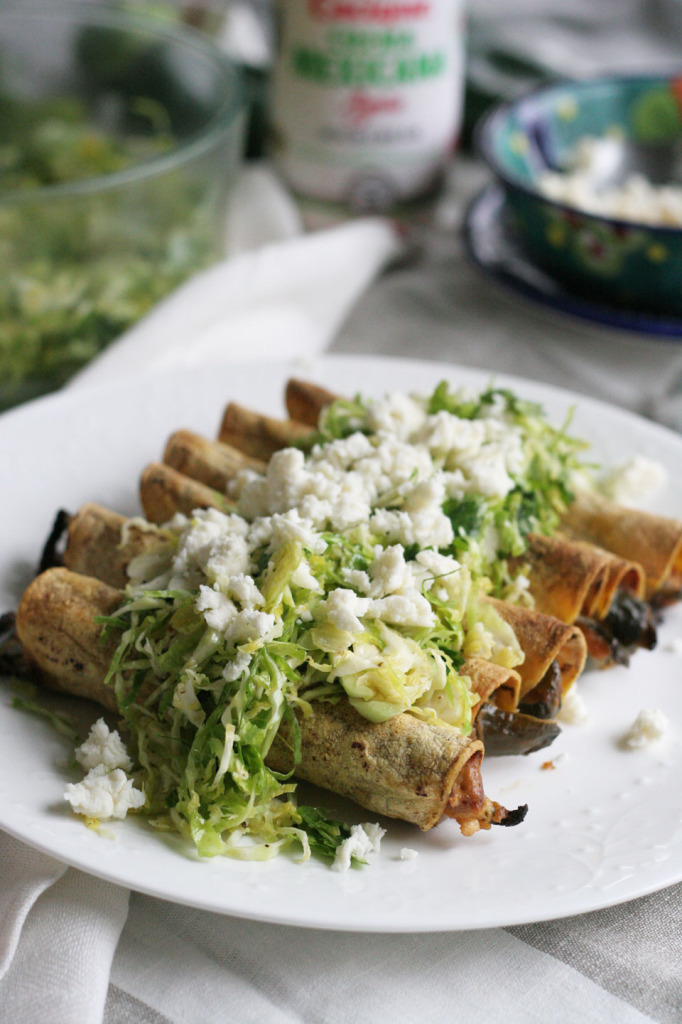 Disclosure: This is a compensated post in collaboration with Cacique and Latina Bloggers Connect. As usual all opinions are my own.
What is there not to love about a plate full of flautas, aka taquitos? Um, nothing, nada, nope. I am a huge fan of a giant plate of these babies. Smother crispy tortilla with crema, queso Panela, and salsa, come on, I am so there. We were asked to come up with an awesome movie night recipe for the family. Often Brian picks up food on our movie nights, and brings it home. I always get a plate of flautas. It's an easy meal to have in my lap or on the table, use my hands to eat it and enjoy the show.
So I got to thinking, we are having movie night this weekend, how awesome would it be if I served a flauta bar of sorts? SO awsome. Part of what attracts me to food is using my hands. I am the kind of person that picks up the food to eat it, have meat left on the bone? No problem, I'll use my hands to help me out. It's no different with a plate of tasty taquitos or flautas. I also wanted to get some nutrtiotin into the recipe. While it is certainly not tradition, I love a good shaved brussels sprout salad. Why not add it to the top of the flautas instead of the shredded lettuce, which has no real added nutrition? I'll admit, my family looked at me funny when I served this the first time. But as soon as they ate it, that weird look was gone, they loved it as much as I do. While I did add the poblanos, the crema in the filling helps simmer the heat a bit, which makes this a family and kid friendly recipe! And I ate poblanos from a very young age, maybe I am used to it?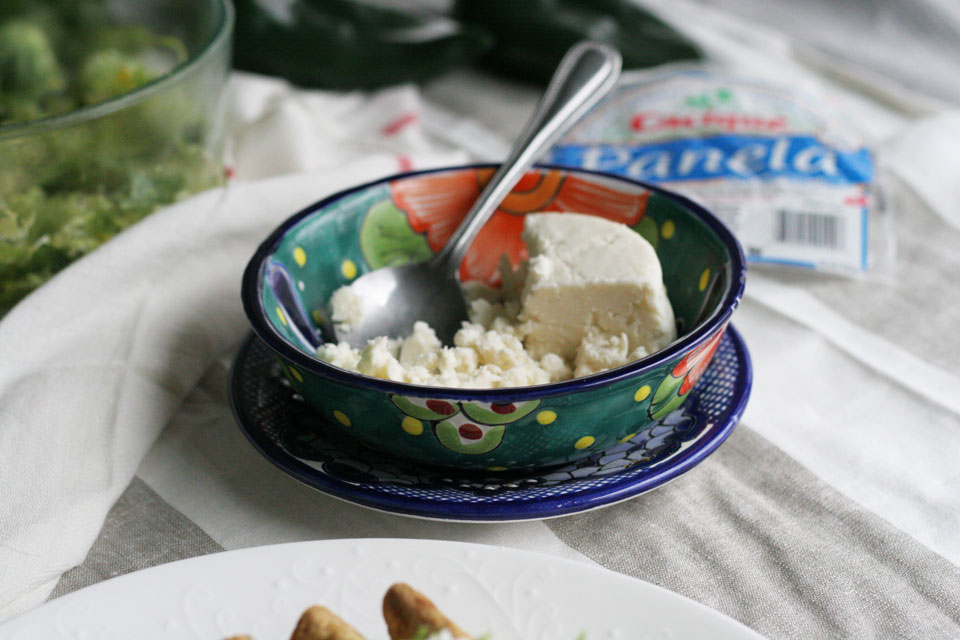 You get home from work and need a quick Friday night meal for movie night, these are way easier to make than they look! All you do is add ingredients into a pan after you chop them, roll it up into a tortilla and bake in no time. While they bake, you make the brussels topping. It's also fun shredding the brussels spouts for the salad. Added bonus, people and kids with aversions to brussles sprouts will think its lettuce lol! So grab a plate, and sit for a movie night Not Just Baked style with a giant plate of baked taquitos.
Cacique products can be found in most grocery stores, and online, check out their site for more Mexican cheese goodness and recipe ideas! Enter Cacique's "Dinner and a Movie Sweepstakes" for a chance to win a VIP movie experience in LA featuring a behind-the-scenes studio tour and private screening here!
What do you normally have on movie night in?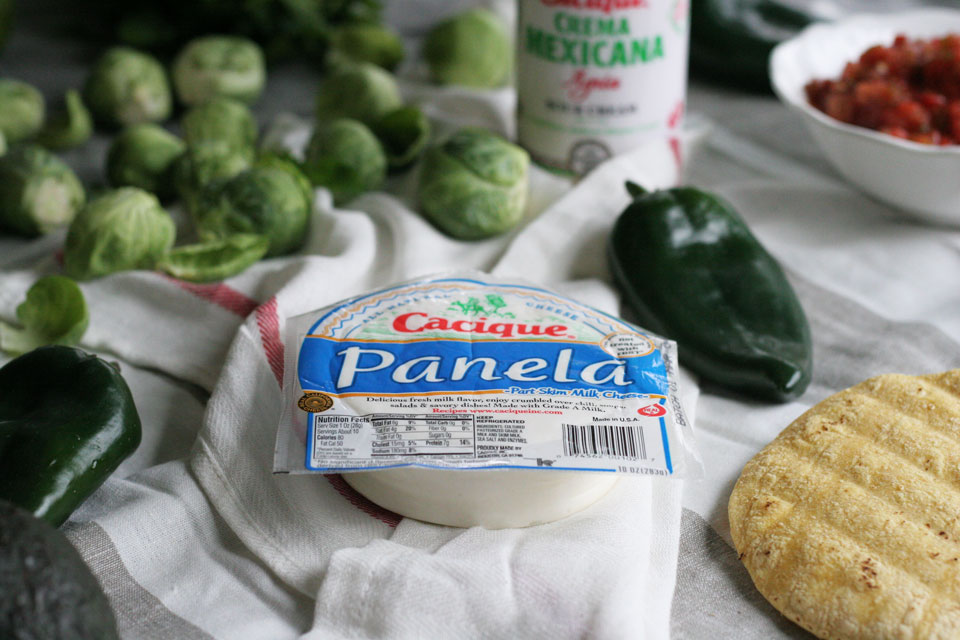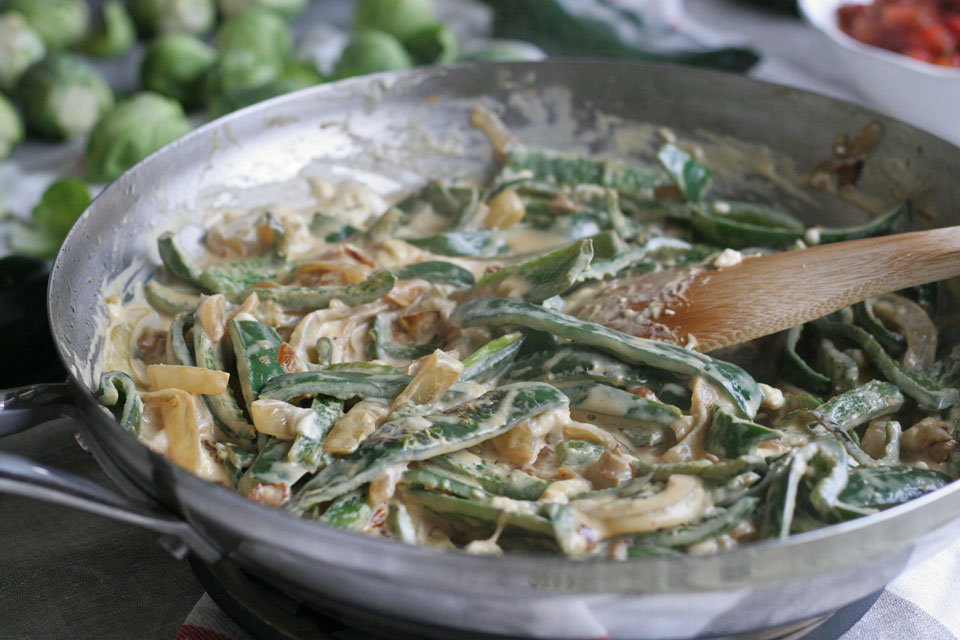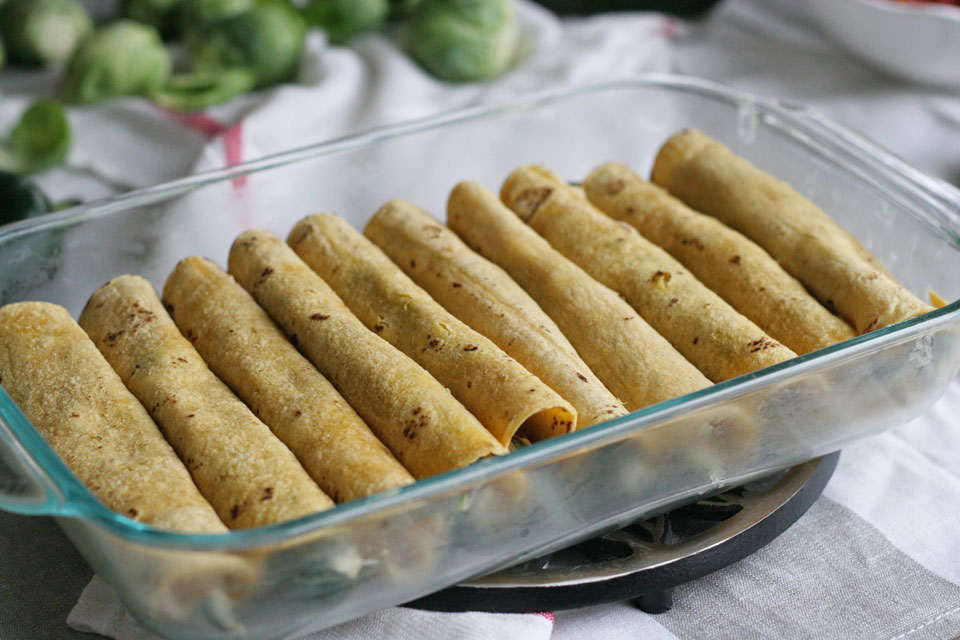 Queso Panela and Poblano Taquitos
Makes 10 taquitos
Prep time: 20 minutes
Cook time: 40 minutes
Ingredients:
2 tablespoons olive oil
5 small Poblano peppers, de-stem, de-seed, sliced 1/2 inch thick
1 large yellow onion sliced 1/2 inch thick
1 clove garlic minced
1 container Cacique crema, set aside extra cream for serving
1 package Cacique Panela cheese, set aside extra cheese for serving
2 cups cooked shredded chicken, optional
12 corn tortillas, I use high quality yellow organic corn tortillas
Brussel salad:
3 cups shredded brussels sprouts, about 15 brussels
2 tablespoons fresh cilantro chopped
3 tablespoons olive oil
1 tablespoon freshly squeezed lime juice
fine fine sea salt
fresh cracked black pepper
garnish for serving:
1 cup favorite salsa
queso panela
Mexican crema Cacique
Place oven rack on top third of oven, and preheat to 425 degrees. 
Method:
1. In a 12 inch skillet add olive oil over medium heat, add Poblano peppers, and onions, stir and cook for 10 minutes or until softened.  Add garlic and cook for 2-3 minutes, until fragrant. Turn off heat, and add 1 cup crema, and 3/4 cup Queso Panela, stir to combine.
Place about 1/4 cup filling into center of tortilla, roll up tightly, and place in an oven safe pan or pyrex. Continue until all taquitos are rolled.
2. Place in an oven and bake for 35 minutes or until crispy golden brown. While taquitos bake, make brussels sprouts salad.
3. In a medium bowl combine shredded brussels, and cilantro. Toss to combine. Add oil, lime juice, 1/8 teaspoon salt and pepper to salad, and toss using to combine using tongs.
4. Remove taquitos from oven when finished baking. Serve in one of two ways: Place on a bed of the brussles salad, or top with brussels salad. Top with Queso Panela, crema, and salsa.