Making Lattice Top Apple Pie At home is so super satisfying and can be done by yourself or include the whole family for a bit more help! You can make this recipe with any fruit you love!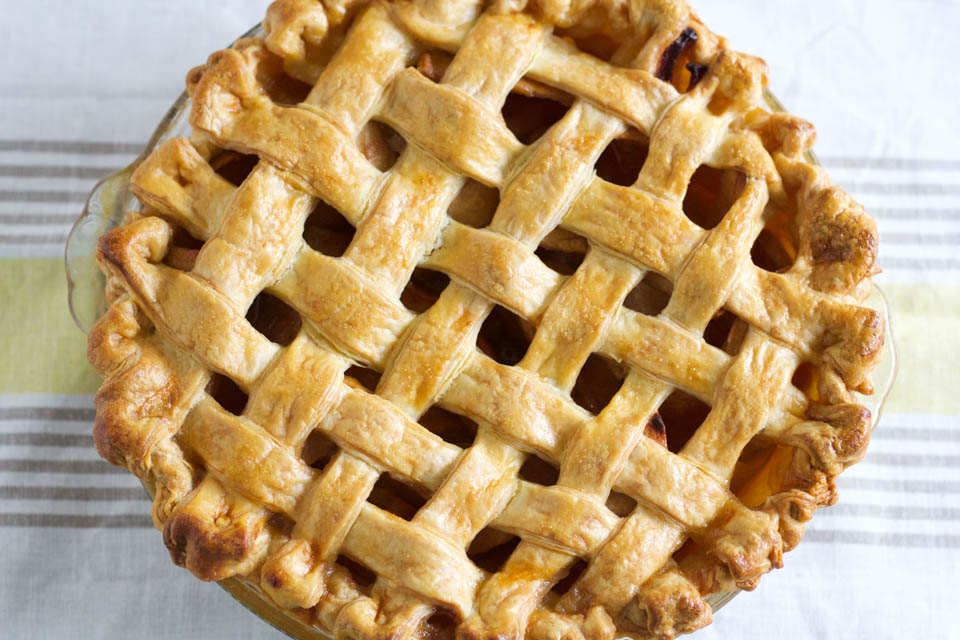 Flaky pie dough is my thing, and here are all of the posts, segments, and tips I shared with viewers and readers from earlier in the blogs life!
We are here at a very important juncture in the pie making lesson, we will be making an actual pie versus a galette. This is critical in the pie making lesson, an actual pie. This time it's for Lattice Top Apple Pie!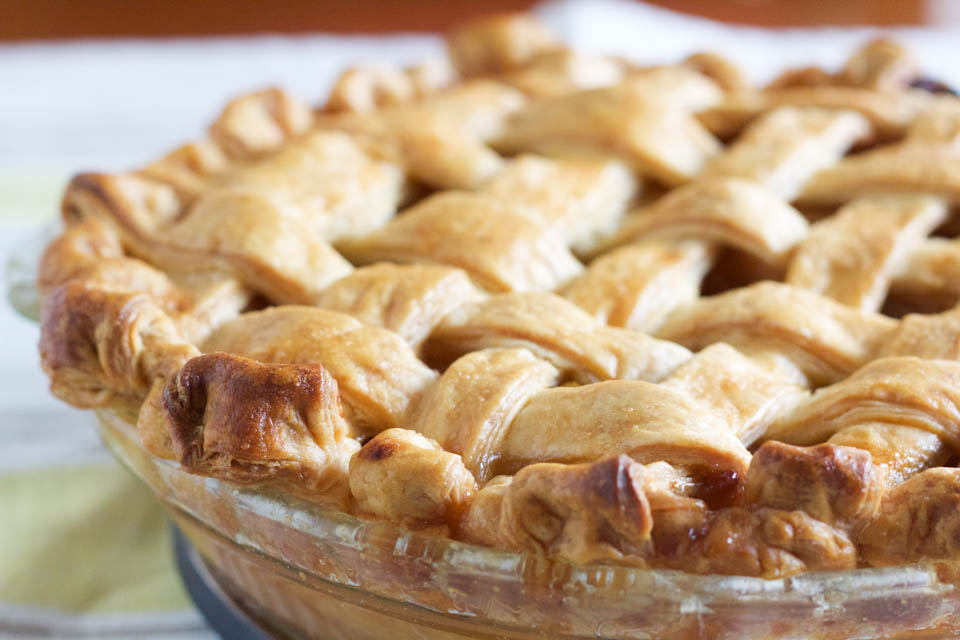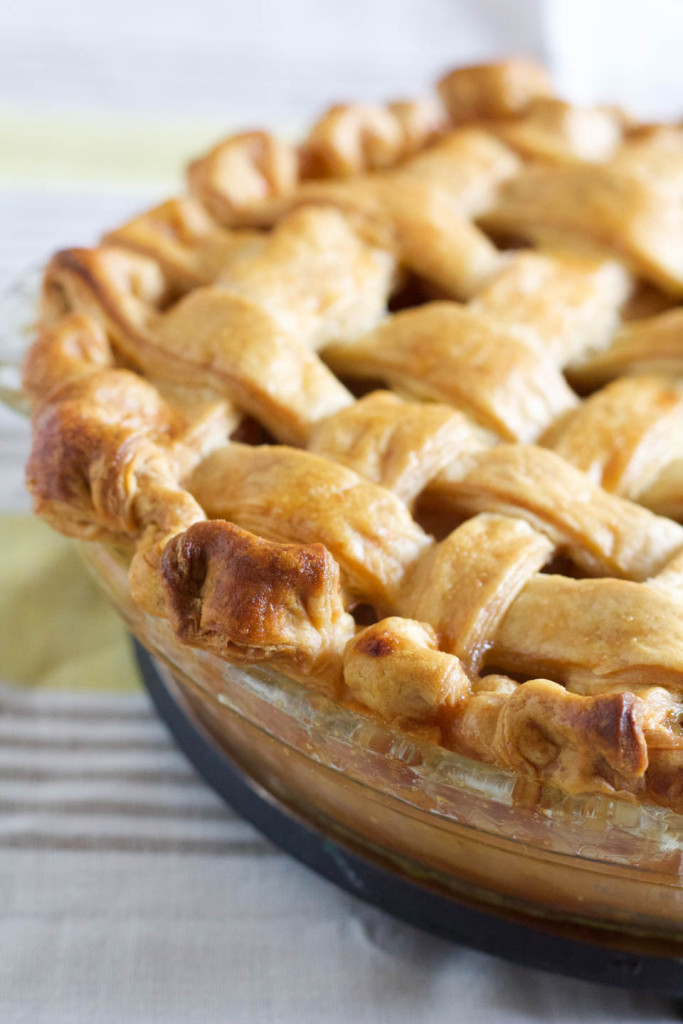 Do you have any questions about pie making? Any hesitations? Lets Lattice Top Apple Pie now!
Today's Apple Pie!
Shout out to my fans! Such a fun moment in my career. I had a group of women ask me if I was that girl from AM Northwest TV show! It was so nice to connect with my viewers. Hi ladies!
PIE DOUGH 101- keys to a perfect dough
keep everything very cold
work quickly
work gently
have fun!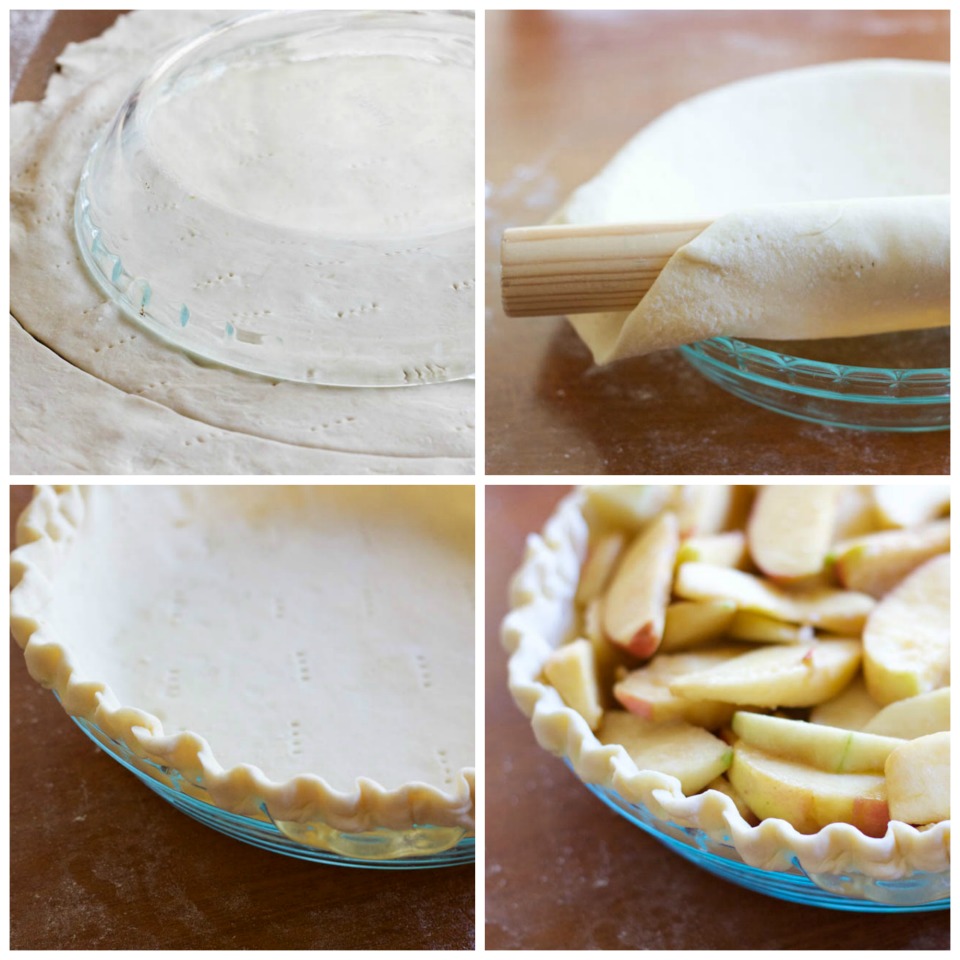 Makes 1 crust for apple pie bottom, double dough recipe for top lattice
Ingredients: For the Crust: 
6 oz all purpose flour, about 1 1/4 cup flour
6 oz cold unsalted butter, cubed and divided
3 oz super cold water
1 tablespoon sugar
1/2 teaspoon fine sea salt
Filling:
1/4 cup dark brown sugar, taste fruit and add more or less sugar based on sweetness
3 tablespoons all purpose flour
1 teaspoon fine sea salt
3 lbs apples, peeled, cored, cut into 8 wedges, I used Granny Smith and Pink Lady – 6 cups fruit total
1 tablespoon freshly squeezed lemon or orange juice
1 egg whisked with 1 teaspoon water for egg wash
Note:  Place the oven rack on the bottom for best results, and to avoid a soggy dough bottom.
Method:
For the Crust:  
Combine flour, sugar, and salt in a large bowl, whisk to combine.  Add 4oz cold butter cubes, and using your fingers, rub the butter into the flour mixture making pea sized chunks.  Add the cold water, and very gently mix until a shaggy mixture is formed using a spatula or hands.
Place the mixture on a lightly floured counter.  Bring together gently, fold over a few times to incorporate all of the butter and flour.  Shape into a ball, place in a large bowl, cover, and place in fridge for 15 minutes. While the dough is resting, work on the filling.
For the Filling:   Place the sugar, flour, and salt in a large bowl, whisk to combine.  Add apples and juice, combine well.  Place in fridge until dough is ready.
Preheat oven 400 degrees
Remove the dough from the fridge, place on lightly floured counter.  Roll out about 1/2 inch thick.  Fold into thirds, then roll out into a circle.  Place back in bowl, cover and place in fridge for 15 minutes.
Remove the dough from the refrigerator, place on lightly floured counter, and roll out to 1/4-1/2 inch thick circle. Place the pie pan on top of the dough, roll out the dough until it is about 2 inches larger than the pie pan. Use a fork to dock the dough about 30 times. (pictures above)
Place a rolling pin on the dough and roll it onto the pin. Place over pan, and lay dough gently into the pie pan. Place pie pan on parchment lined sheet pan.  Place the apple filling in the center of pie dough and top with 2oz cubed butter peices.
Crimping: use two fingers on one hand, and one finger on the opposite hand to press and crimp the dough. Go all the way around until the whole pie dough is crimped.
Using a pastry brush, brush on egg wash.
Place pie in the freezer for a minimum of 30 minutes. Remove from freezer, place in oven, and bake for 45 minutes. Reduce oven temperature to 350, bake for 40 minutes, or until golden brown.
Lattice: 
Roll out dough about 1/4-1/2 inch thick. Cut 12- 1 inch pieces using a knife.
Starting in the center, remove every other strip of dough, and place over the top of the pie pan, about 1/2 an inch apart. Gently fold every other strip back on itself, a bit past the center.
Take the longest strip remaining, and lay it perpendicular to the first layer, right across the center. Lay every other strip back down, and place every other strip back over the top. Pull up, place down, and repeat.
Lay another strip next to the center one, and fold every other strip down and over again. Repeat until the first half is covered. Repeat until the other half is covered.