Key Lime Pies in a Jar are fun and an easy way to make individual dessert serving for the end of the summer treat!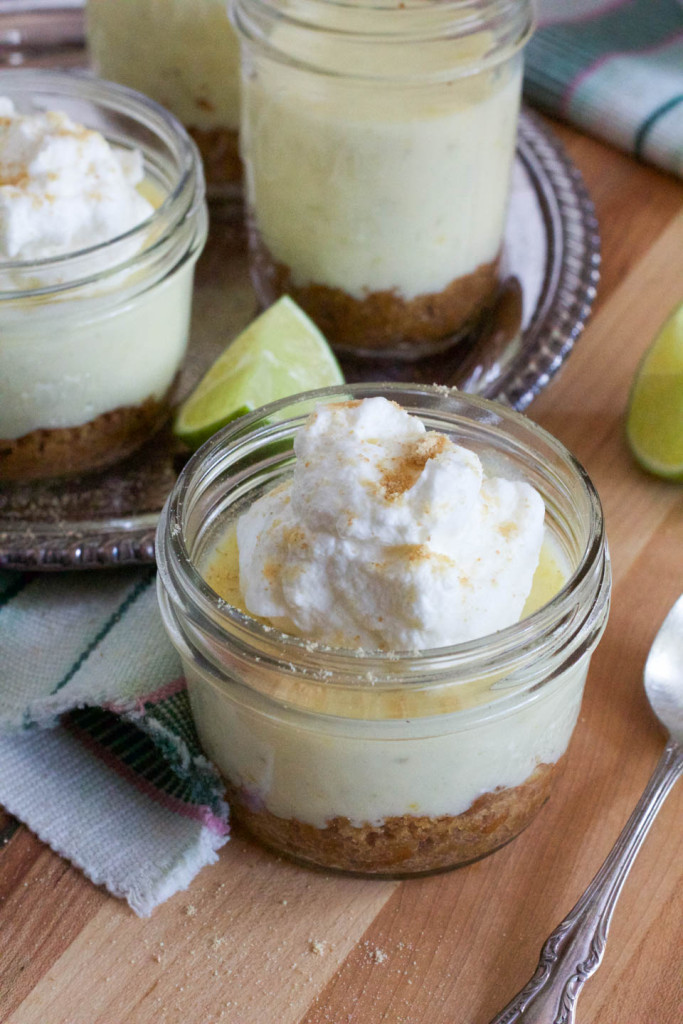 Brian and I ate the best Key Lime Pie in the Florida Keys 10 years ago after snorkeling five miles off the coast. Maybe it was the snorkeling, or the pie, who knows, from what I still remember it was amazing. I haven't made it in years, and I was thinking of cute ways to do dessert, this popped up!
Ok, so back to that snorkeling thing. I will admit a fear of mine, I have an irrational fear of sharks biting my feet while swimming in the ocean. I've had it since I was a young little girl. It could be that my brothers taunted me with Jaws the movie, or the time we saw a shark while swimming in the ocean on South Padre Island. I'm not totally sure when this happened but it hit me kinda hard when I was on the swim team. I would only start a race in the water, not jumping off the boards. I thought the shark would get me that way. I have an amazing imagination. My parents didn't want to squash my creative mind, or diminish my fear, so I started in the water. I won many races by the way, I was fast! Think, shark behind you, you'll swim very fast.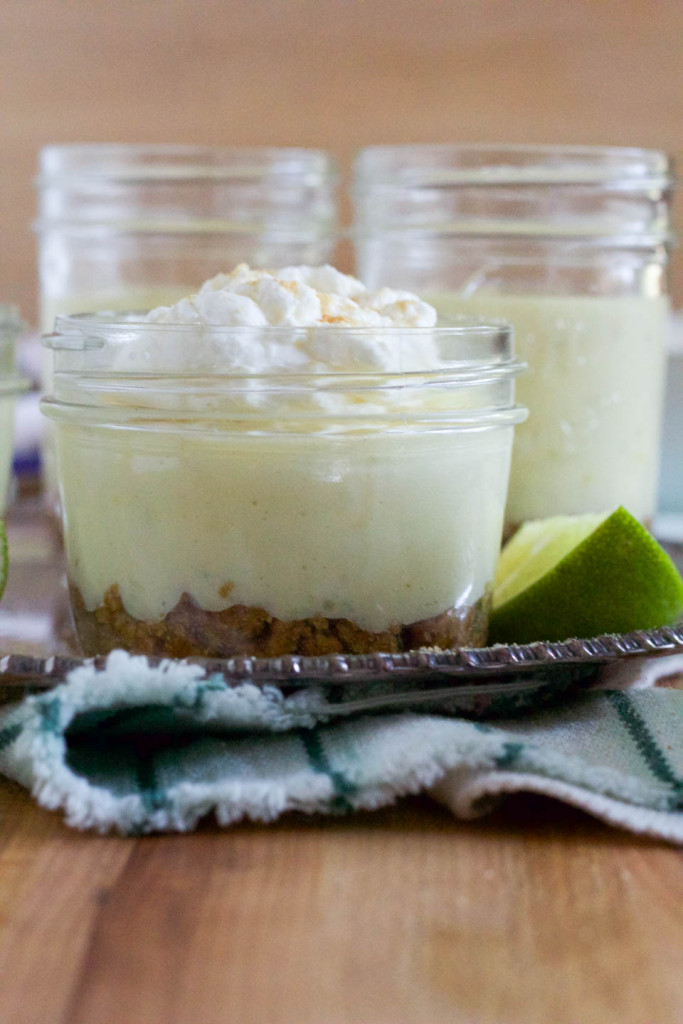 So this was our first trip together, it was my bright idea to go snorkeling, I like to face my fears, even if I'm freaking out the whole time inside. And I really wanted to go snorkeling. Oh and, I get super motion sickness. Did I mention this was my idea, I planned the whole thing, and paid for it! So it went well, I didn't get bit by a shark, there were hundreds not too far from us. I got motion sick, oh well, and needed to eat something asap after we got off the boat. It actually helps to eat a little for me when I am motion sick. We stopped for clam chowder and pie. Both were perfect, I really want to go back to that little restaurant on the water in the Keys, just for those two things. No more snorkeling there, I prefer closer to land sans boat rides. I've been snorkeling a bunch since then in Mexico and Hawaii, still having a tiny irrational fear of majestic and beautiful sharks.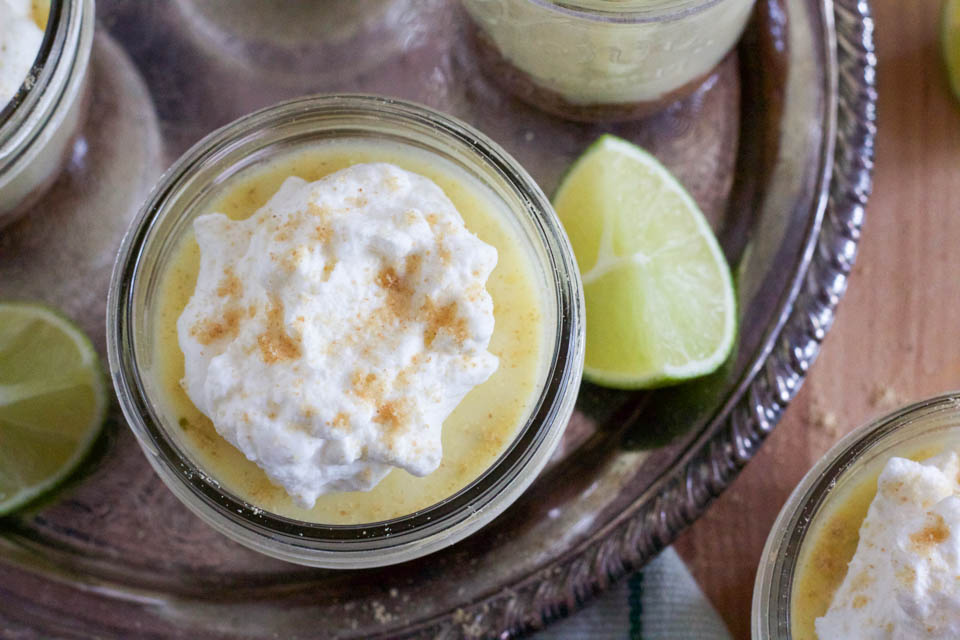 Tips to limes: You can use Key limes or Persian limes if you have a hard time finding the Key limes. I find them at the Latino store, as they are also know as Mexican limes!
Key Lime Pies in a Jar
makes 5- 8oz mason jar pies
Ingredients:
crust:
9 graham crackers, finely crumbled, you can use a food processor or blender
8 tablespoons unsalted butter, melted
filling:
3 large egg yolks
2 tablespoons lime zest
3/4 cup fresh squeezed lime juice, about 20 key limes, or about 6 large common Persian limes
1 -14oz can sweetened condensed milk
1/4 teaspoon fine sea salt
whipped cream topping:
1 cup heavy whipping cream, very cold
1 tablespoon granulated sugar
Method:
Place oven rack in center of oven and preheat to 350 degrees.
Place crumbs and butter in a bowl, mix to combine. Divide evenly among mason jars using a 1/4 cup measuring cup. Press crumbs firmly into jars to form crust. Place on a baking sheet, place in oven for 15 minutes.
Place egg yolks in a large bowl. Using a whisk or a hand mixer, whisk until pale and thick, about 3 minutes. Place lime zest, lime juice, condensed milk into the egg yolk mixture. Whisk to combine for about 2 minutes, until thick. Pour filling into a pyrex measuring cup with pour sprout. (I use the one that I used to measure the lime juice)
Pour filling evenly among the jars, coming up the sides about about 2/3 way full. Place in oven and bake for 7 minutes. Remove from oven and place in fridge to cool for a minimum for 4 hours.
While pies are cooling, make fresh whipped cream. Place the cold heavy cream in the bowl of a stand mixer with whisk attachment, or use a hand mixer, or use your hand and whisk. Whisk on medium until soft peaks are formed.  Add the sugar, if using, whisk on low until firm. Place in the fridge, it will hold for an hour or so.  If longer, you may need to whisk it by hand right before serving.
Serve pies cold with a dollop of fresh whipped cream. Store leftover in fridge for up to one week.
Taking pies to a picnic is easy! Place lid tightly on pie jars, without whipped cream. Take the whipped cream on the side in a very cold cooler with pie jars!