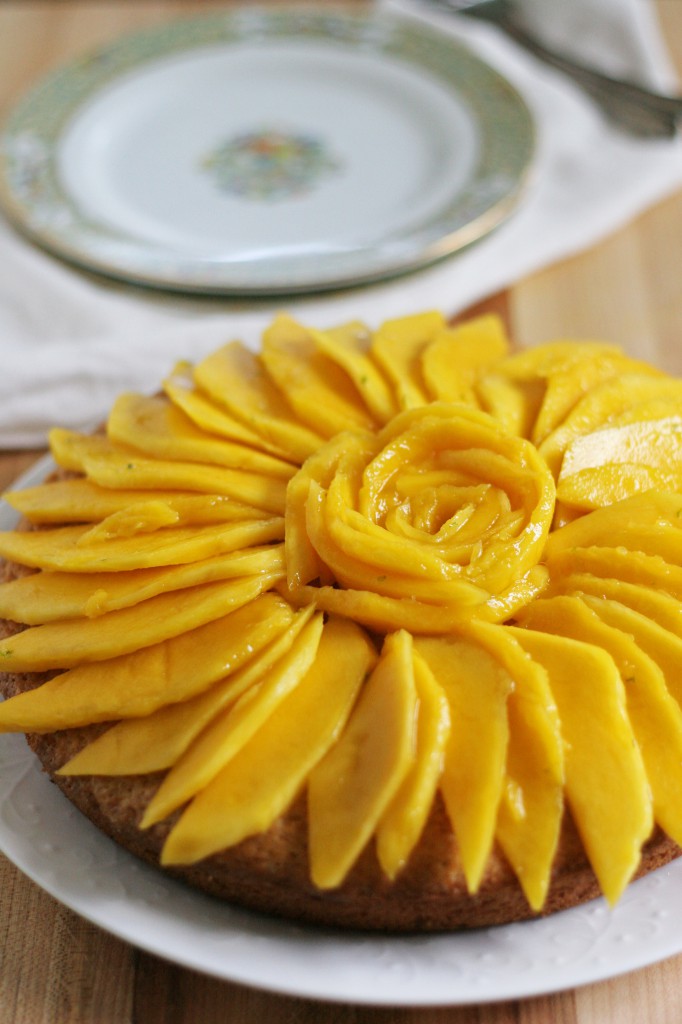 You can see me demo this recipe on KATU AM Northwest here!
What is a celebration of Mothers without cake? I don't even need to answer that, it seems like a redundant question, there should always be cake. This is an easy cake to make, beautifully simple, yummy, and no special equipment necessary cake. That is just one of the many things I love about oil cakes. While creaming butter and sugar can be therapeutic in its own right, the simplicity of the process in an oil cake is addicting. On the flip side, olive oil gives a deep richness, a unique flavor that is just not possible with other oils.  Making citrus olive oil cake for Mothers Day seemed like a perfect match.  Adding mango, well that just made sense.  It's sweet, in season, and pairs perfectly with citrus and olive oil.
The other lovely plus is that this takes very little time to make, maybe twenty minutes at most to get this in the oven.  You could also make this one day ahead of time, it keeps at room temperature very well over night.  And is great for a brunch, because it isn't too rich or heavy.  It may take about 15 minutes to make the design of that is the way you choose to go, so give yourself plenty of time for decorating.  If not, pile the mango on top to serve, it will be just as tasty, and pretty! No stress desserts ok!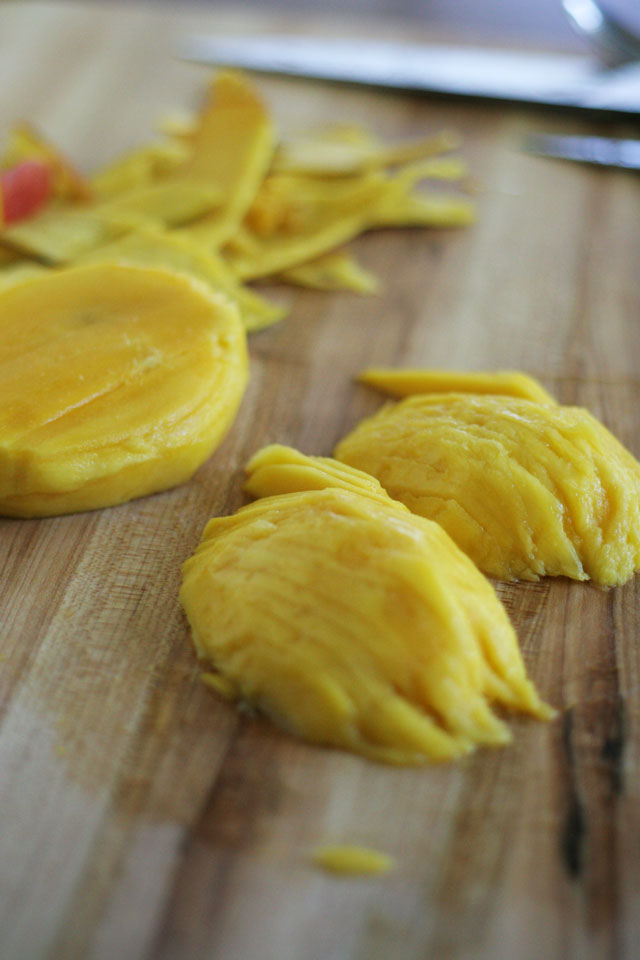 Citrus Olive Oil Mango Cake
Makes 1- 9 inch cake, serves about 8 slices
Note:  Zest the citrus first, and then juice.  You'll need 1/4 cup citrus juice total.
Ingredients:
1 3/4 cup all purpose flour
1 1/2 teaspoon baking powder
1/4 teaspoon baking soda
1/4 teaspoon fine sea salt
3/4 cup granulated sugar, plus 1 teaspoon
1 lime, zest and juice, reserve 1 teaspoon juice, 1/2 teaspoon zest
1 orange, zest and juice
1/2 cup milk
3 eggs
2/3 cups olive oil
2 large mangoes, peeled, cut each side off seed, sliced thinly
Note:  You can use a 9×2 cake pan, or a 9 inch cast iron skillet.
Place the rack in the center of the oven then. PREHEAT OVEN TO 350 DEGREES
Method:
1. Pour one teaspoon olive oil into a cake pan, use a paper towel to spread and coat the pan. In a large bowl add the flour, baking powder, baking soda, and salt, whisk to combine. In a small bowl, add the sugar and zest, rub together. Combine the milk and citrus juice together, using a fork, whisk to combine, set aside for 5 minutes to make buttermilk.
2. Add the eggs, and olive oil to the buttermilk, whisk to combine. Add the buttermilk mixture to the flour mixture. Using a spatula, gently mix to combine.  DO NOT OVER MIX. Mix until the flour is barely combined with the buttermilk. Place the mixture in the cake pan, and place in the oven for 35 minutes.
3. While the cake bakes work on the mangoes. Peel the mango first.  Then cut each side off of the seed. Place face down, and slice 1/4 inch slices. In a medium bowl, place the reserved 1 teaspoon lime juice, 1/2 teaspoon lime zest, and 1 teaspoon sugar, mix. Add the mangoes, using your hand or a rubber spatula, gently toss to combine.
4.  Remove the cake from the pan, and place on a cooling rack for a minimum of 1 hour.  Place he cake on a plate, then arrange the mangoes on the top.  Note below.  Begin on the outside using the largest slices, create a fan working all the way around (look below).  Once the entire outer part of the cake is decorated as a fan, work on the center rose.  Place a pliable larger piece of mango up against the fan area. Work around in a circle to create the rose,, until it is filled to the center.  Towards the end center, you many need to bend and fold the last piece.  (look below)
Or you can make a huge pile of beautiful and delicious mangoes in the center of the cake and slice to serve. It will look pretty either way!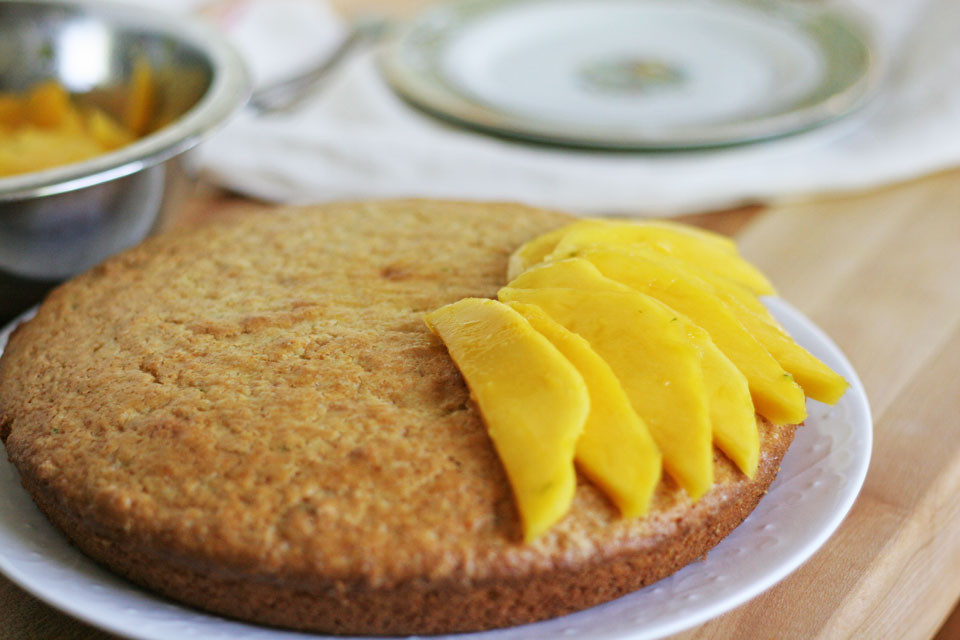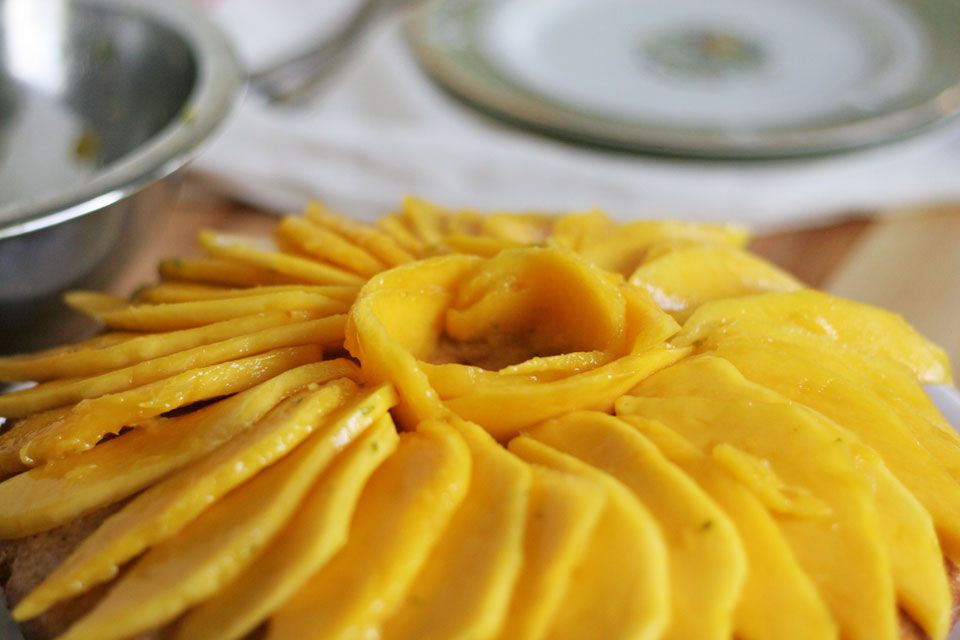 Enjoy and Happy Mothers Day!