Disclosure: This is a compensated post in collaboration with the Ashland Chamber of Commerce. As usual all opinions are my own. Thank you for supporting Ashland Chamber of Commerce and making NJB possible.
We are just weeks away from our trip to Ashland, Oregon for the 9th Annual Ashland Culinary Festival! What better way to get ready for this cool event than to take a moment to get to know the competing chefs. It's pretty simple, and the question I get asked the most, why do they compete? I wonder the same thing, although after seeing it for myself in last years competition, it is no surprise to me that many chefs come back for more each year. Chefs are competitive in nature, and this gives them a chance to challenge themselves, their cooking styles, and get out of their comfort zone.
Harlan Brooks: Peerless Restaurant
Billy Buscher: Alchemy Restaurant & Bar
Stefano Cipollone: Belle Fiore Winery
Skye Elder: Brickroom
Dustin Farley: Porters – Dining at the Depot
Dale Fowler: Regency Grill
Shane Hardin: Sammich
Justin Haydock: Green Springs Inn & Cabins
Anna Hogan: Salame Plaza Bistro
Will Shine: Hearsay Restaurant
Maggie Trujillo: Larks Home Kitchen Cuisine
Josh Dorcak: Public House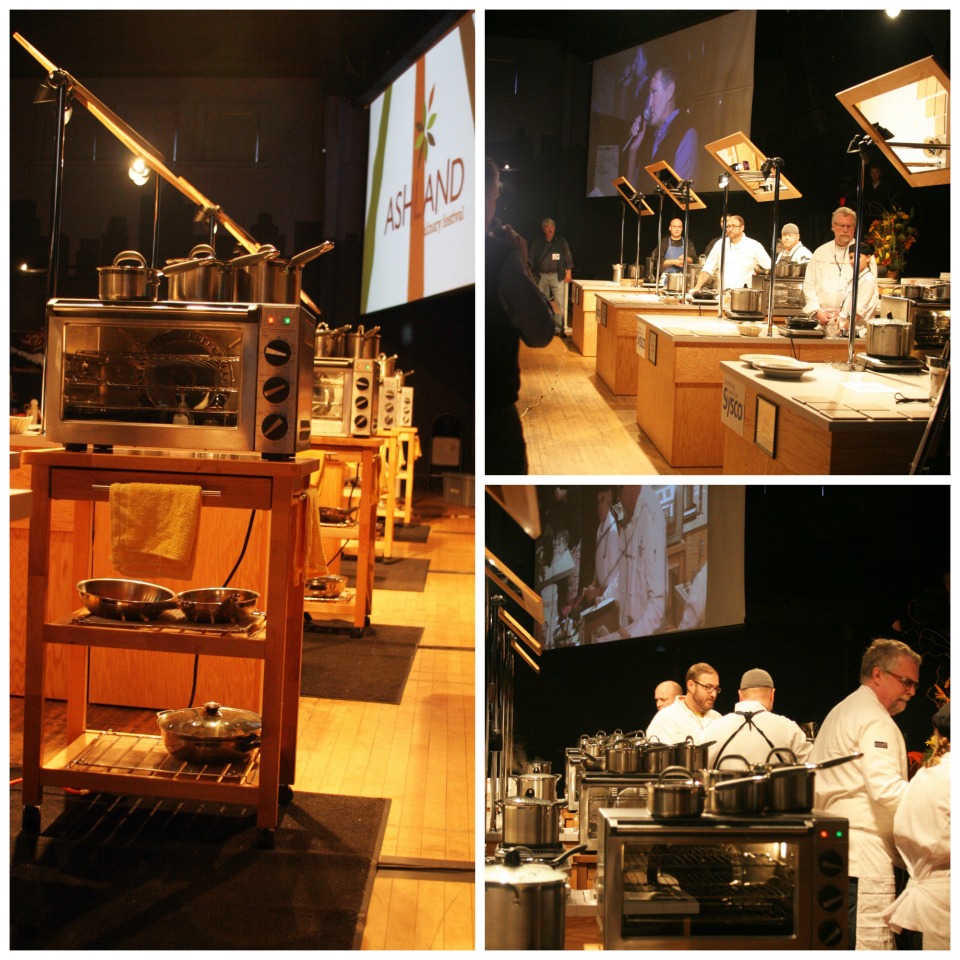 Ashland Culinary Festival Competing Chefs
I talked with a few chefs competing this year and here is what they had to say!
Why do you compete in the Ashland Culinary Festival?
Dale Fowler from Regency Grill – I enjoy seeing all my colleagues and being involved in the community. It's a fun rush competing under a time limit and seeing what everyone does. This event is a great way for Chefs, purveyors, and foodies to have a great experience to taste and see what is in offered in our area. Thank you for having me!
Will Shine from Hearsay Restaurant – I enjoy competing because it gives us local chefs an opportunity for some healthy competition.  Not only is it good for our restaurants and a way to get there's names out there, but it also lets us compete against one another.  The enjoyment of getting to come in and have to think on your feet and create a dish using not only the secret ingredient but a wonderful array of pantry items from around the Southern Oregon area.  I enjoy the fans as it has gotten bigger each year.  The support that people have given, encouragement and cheering is always a great addition.  I look forward to the Ashland Culinary Festival every year.  I have alot of fun and win or lose it's always a great time, experience, and can always learn something new every year.
Harlan Brooks from Peerless Restaurant – I want to take part in the ACF competition because the thrill of using creativity and technique under a time constraint is one of my favorite aspects of cooking professionally. In this case, a time limit can rule out a myriad of food preparation methods that we normally implement in our kitchens, so it will be a great exercise in improvising. This will make for a great weekend in combination with cooking in the same room as some of Southern Oregon's stellar chefs.
Dustin Farley from Porters – Dining at the Depot – The culinary festival is a great place to show off your skills in the kitchen and I love the competition. It is good advertisement for Porters and a good way to meet local chefs! Being a part of the culinary festival makes me feel appreciated for the hard work that I do on a daily basis! To sum it up, it is always a great time win or loose!
Maggie Trujillo from Larks Home Kitchen Cuisine – Food and passion.  We as Chefs work very hard day in and day out to produce the perfect dish, the ultimate guest experience, the delightful event.  Days, nights, weekends, holidays all dedicated to precise execution. We train ourselves and our staffs for these moments.  It is so fun to step away for one weekend and celebrate all of our efforts in a competition.  I love the opportunity to showcase what we are creating at Lark's.  It is also very inspiring to see the different dishes orchestrated by a someone else with a unique perspective.  I am competitive by nature, but every time I have competed I leave with a feeling of camaraderie for my fellow Chef's.  It's always an honor to be surrounded by people who share a love and passion for food.
Shane Hardin from Sammich – I'd like to see my simplistic culinary style brought into competitive light, while still having loads of fun!
Billy Buscher from Alchemy Restaurant & Bar – Honestly, it's the whole weekend and a celebration that I care about. The cooking and dedication, I would never pass it up. Chefs and foodies coming together makes it a lot of fun! While it's my 5th year, I am still terrified every year to compete and I look forward to it.
Josh Dorcak from Public House – The opportunity presented itself to compete. I've been working in Ashland for about nine years, yet have never cared too much to be on the radar. Here at Public House, we cook forward as far as the food scene is in Ashland and the valley. We showcase what we think food is.We also cook simple food, all while thinking about the food your eating while you're eating. Our food is based from a regional standpoint and I wanted to share that now with Ashland and be a part of the competition.
Skye Elder from Brickroom– I love competing in the Ashland Culinary Festival because it gives me a chance to be around other chefs. To quote the great Paul Purdhomme — "I think the most wonderful thing in the world is another chef. I'm always excited about learning new things about food."
Thanks to you great chefs for putting yourselves out there for us to judge your fantastic food, I am grateful and honored to be a part of this. You all rock and I look forward to seeing you all again this year. I love all of the answers, it is very inspiring as a food maker and lover.
Here we come Ashland!
Tickets are available now, click here to purchase them!