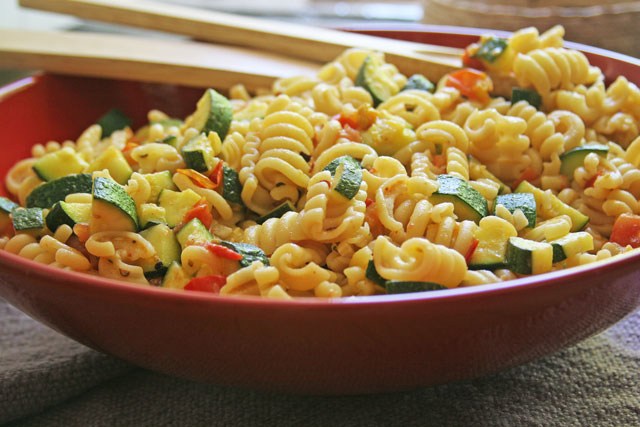 It's too good of a recipe to share with you again this summer. Enjoy!
Original:
It actually got hot here, like seriously HOT! It hit over 100 a few days last week, which it has not done in a few years. That is a big deal around here in the Pacific Northwest. There were heat warnings, cooling centers, free water, and the lot. Did I mention it got to 87 degrees in the kitchen at school? Not cool man, not cool at all! I figure they didn't compensate the AC for the dozen ovens, and deck ovens on 400 degrees, but who knows. It was hot. So I made pasta, early in the morning for a few meals last week. I grilled chicken and pork chops, early in the morning, just to have some lunches and dinners made ahead when it got too hot to be in the kitchen. Plus Brian started an internship at an amazing web design studio last week. So I have to make sure the fridge is stocked with tons of food because he goes from work to school and is gone from 7am to 10 pm most days now. I will stay sane, I promise. For this sane pasta dish, it being summer and all, I had zucchini and tomatoes right from the vine. What a better way to make an easy summer meal than putting your fresh veggies into a good pasta with simple olive oil goodness? That is what I did! You could easily add other summer veggies, what you have on hand, or in the garden, and it would be a lovely pasta!
Zucchini and Tomato Spicy Summer Pasta
serves 6-8
Ingredients:
5-6 medium zucchini, chopped
2 cups cherry tomatoes cut in half
3 garlic cloves, minced
1/2 cup olive oil
1 tsp red pepper flakes (optional, or 1/2 tsp for a smaller kick)
1/4 cup fresh chiffonade basil (how to chiffanode basil)
fine sea salt and fresh cracked pepper
1 package pasta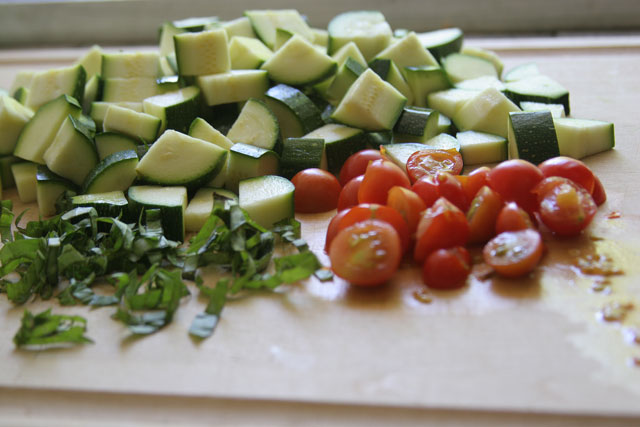 Note: I like the above brand of pasta, it has never let me down. On a pasta note, season the water with salt very well, every time. It really does make a difference in the end result. And very awesome chef once told me a couple of years ago… never throw away the pasta water until I was finished cooking the entire pasta dish. Because you never know if you may need some pasta water for the sauce. It is flavored water, better than using plain water to help thin a sauce or add a natural starch. He is a James Beard award winning chef instructor of mine, so I listened, and it's true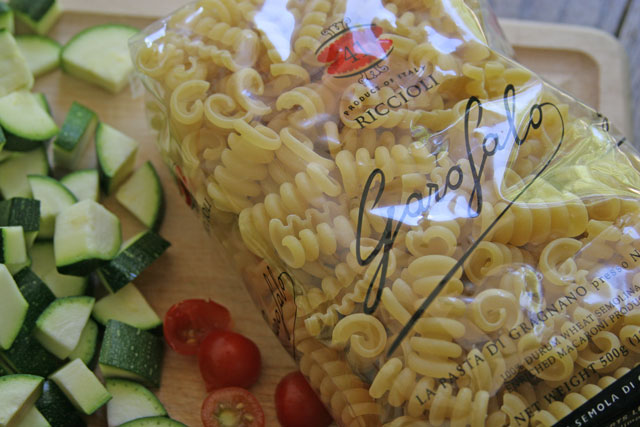 Method:
1. Start boiling the water for the pasta. Chop the veggies. Then place 1 tbsp of olive oil in a large pan, heat over medium heat. Once the pan is hot, add the zucchini and tomato, sprinkle with salt and pepper, about 1/2 tsp each, cook for 10 minutes. Add the garlic after 8 minutes or so. Cook until fragrant or for a few minutes, careful not to burnt he garlic.
2. Cook the pasta as directed on the package. Ladle one cup of pasta water and reserve before you drain the pasta. Drain. Place pasta back in the pot. Add 1/2 cup of pasta water. Add the zucchini mix to the pasta, mix well. Add the rest of the olive oil, and crushed red pepper flakes. Mix well, taste. Need more salt? Add it now. I added 1/2 tsp of salt, and more black pepper. Place in a family style bowl, and top with the chiffonade basil.
Serve with crusty yummy bread, and a beautiful summer salad for more veggies! Super simple yet flavorful way to a summer salad.
ENJOY!