This Whole Grain Medley Stuffed Squash with Miso Dressing is a great easy meal to enjoy all Winter long.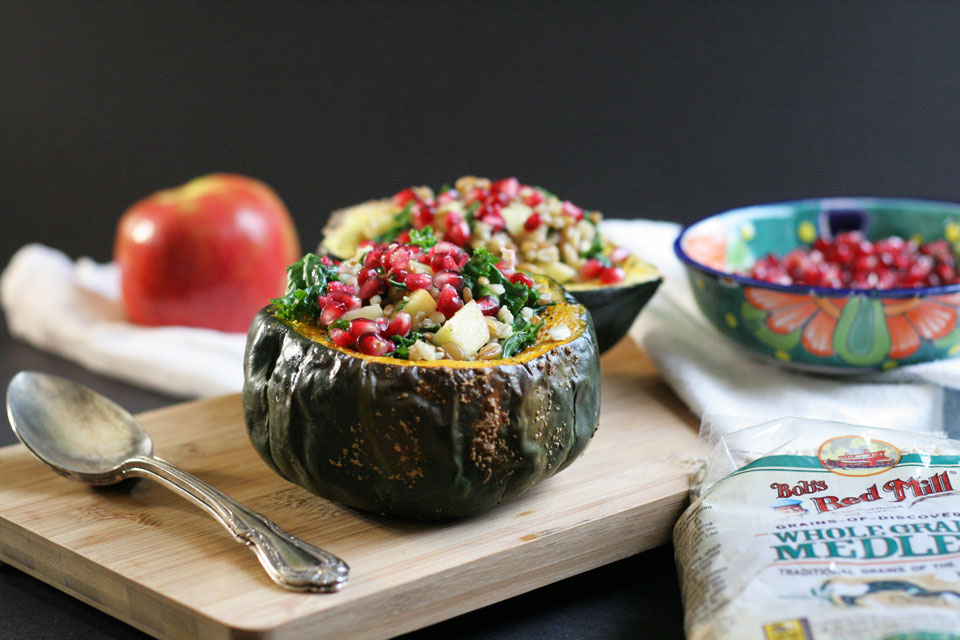 How are you feeling after Thanksgiving? I hope you had an awesome meal, and special time with loved ones. It was a mellow, quiet time for us. I loved it. We spent time together, ate tons of great food, and relaxed a lot.  Usually we are making so much more food, and stressing a bit more than we may want to. We really took a look at that and decided to scale down and choose to be lazy.
I am a fan of the grains, as you already know. I could eat a bowl of these with nothing else, they are so filling, and so good. But I wanted health. I needed to put more greens, and vegetables in my body after the last week. And I don't even eat more than one or two pieces of pie, if you can believe me! I just need these types of meals, my body craves them.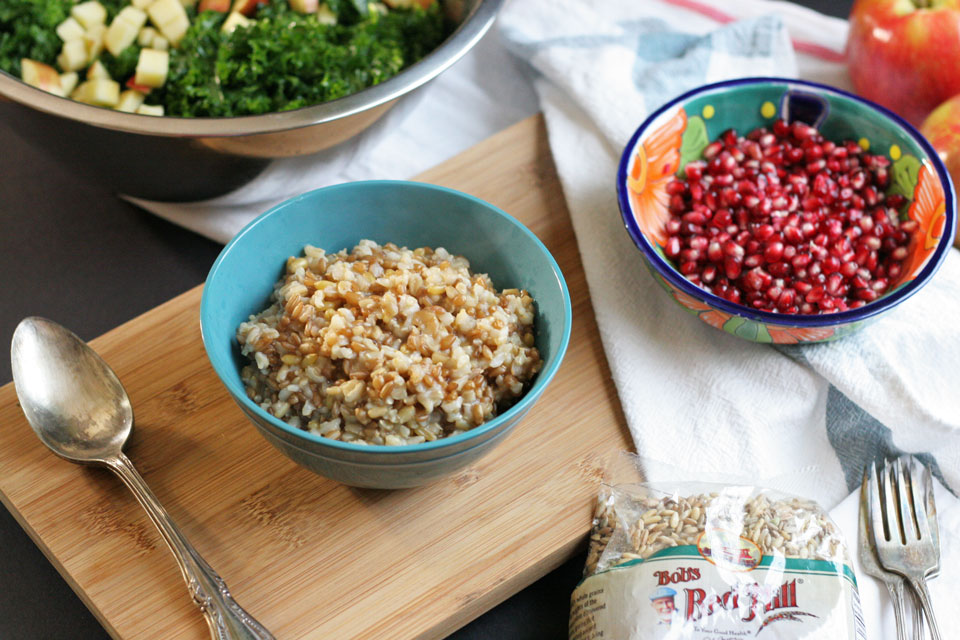 Whole Grain Medley Stuffed Squash with Miso Dressing
Makes 4 cups grain, and 4 squash stuffed
I used kobucha squash, and acorn squash for this recipe. I prefer the kobucha squash for ease of slicing in 1/2  for stuffing.
Ingredients:
1 cup Bob's Red Mill Whole Grain Medley
3 cups chicken, or vegetable stock
1/2 teaspoon fine sea salt
2 medium squash, sliced in 1/2
salad:
1 bunch kale, washed, stemmed, torn into small pieces, about 6 cups
1 medium apple, chopped
miso dressing:
3 tablespoons olive oil
2 tablespoon white vinegar
1 tablespoon white miso
pinch sugar, I use organic cane sugar
olive oil
fine sea salt
fresh cracked black pepper
1/2 cup pomegranate seeds
1/4 cup fresh parsley, chopped
Preheat oven to 425 degrees
Method:
1. In a medium pot add grains, stock, and salt. Bring to a boil over medium high heat. Reduce heat to medium low, cover, and cook for 1 hour until softened. While grains cook, place squash, sliced side face up, lightly drizzle with olive oil, salt and pepper. Place in oven for 30-40 minutes. Remove from oven when fork tender
2.  While squash and grains cook, add torn kale to a large bowl, drizzle with 1 teaspoon olive oil. Massage kale for a few minutes, until softened. Add chopped apples, toss to combine.
3. To make dressing, add olive oil, vinegar, and miso to a mason jar. Place on lid tightly, shake vigorously until well combined. Add to kale, toss to combine. Add cooked medley, toss to combine.
To assemble: Add a large serving to center of squash. Garnish with pomegranate seeds and parsley.