This Warm Freekeh Salad with Citrus Dressing is just the thing to keep us healthy by adding vitamins and nutrients to our meals! This is full of protein from an ancient whole grain and beautiful colorful vegetables!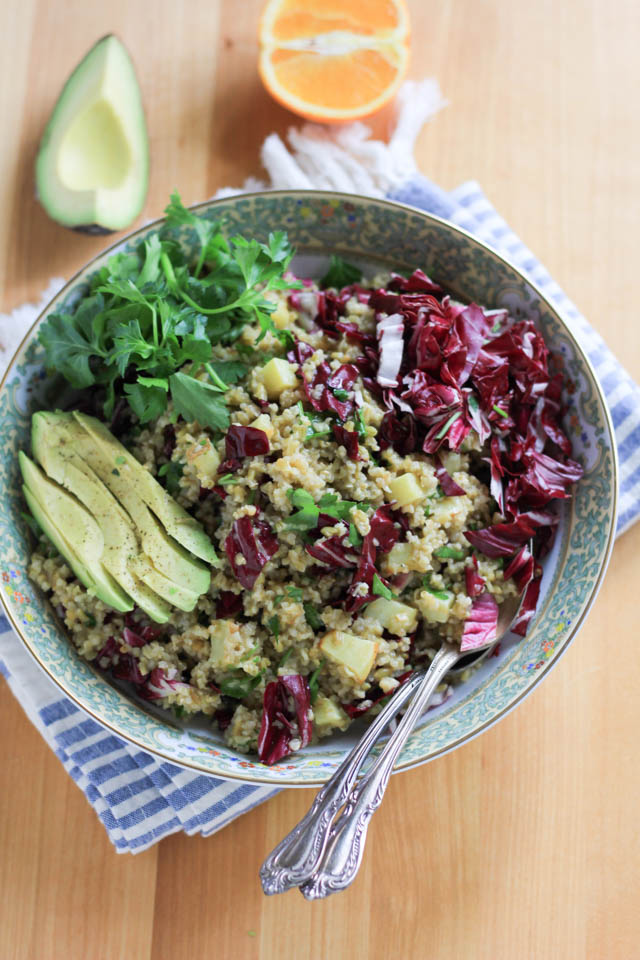 Freekeh is one of those things you may or may not have heard of or even tasted! It's a nutty beautiful grain that cooks super fast and is full of protein to keep us full and healthy forever. Ok, I'm not sure about forever, but at least for the meantime while we eat this gorgeous warm Winter salad. I've been thinking on things a bit and making my best effort to meal plan in my own way. I always make food to have leftovers so that when I look in the fridge for lunch or need a quick dinner, there is something there to make that good choice.
It tastes so good nice and warm right off the stove, cold, or room temperature. It was this or a sandwich. I do love my sandwiches, I always have. This is the perfect traveling salad, and super healthy weeknight meal. It's colorful with greens, radicchio, sweetpotatoes, avocados, and a glorious vitamin C filled dressing.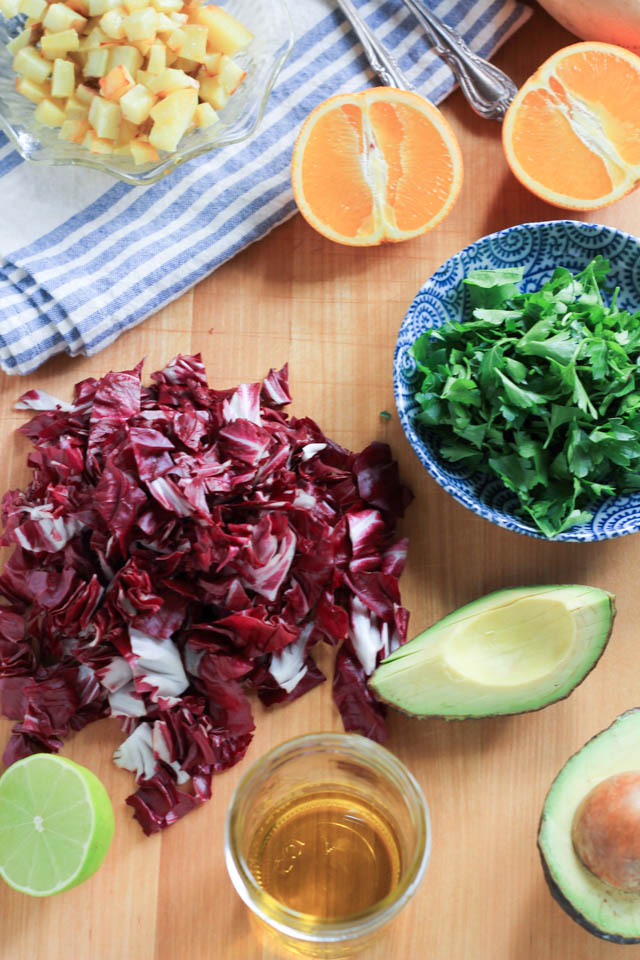 Making this Warm Freekeh Salad with Citrus Dressing for an easy weeknight meal is just the thing for this cold winter weather. Make a little extra for easy packable lunches!
Warm Freekeh Salad with Citrus Dressing
serves 4-6
Ingredients:
4 cups cooked freekeh
1 small head radicchio, about 2 cups, chopped
1 small sweetpotato, about 1 cup, chopped small pieces
1/4 cup fresh parsley, chopped
1 small avocado, sliced
citrus dressing:
6 tablespoons, olive oil
1/2 small orange, juiced, 2 tablespoons
1/2 small lime, juiced, 1 tablespoons
1 teaspoon honey, optional
1/8 teaspoon fine sea salt
1/8 ground chipotle powder
Method:
Place oven rack in center of oven and preheat to 400 degrees.
Cook freekeh according to package. While freekeh cooks, place sweetpotato on a parchment lined baking sheet, drizzle with 1 teaspoon olive oil and sprinkle with 1/4 teaspoon salt. Place in oven for 15 minutes or until tender.
Once freekeh is cooked, place in a large bowl, add radicchio, sweetpotato, and parsley, toss to combine.
Place olive oil, citrus, honey, salt, and chipotle in a jar fitted with tight fitting lid, shake vigorously for 30 seconds to combine. Add to freekeh, toss to combine. Serve warm with sliced avocado. Store leftovers in airtight container. Serve leftovers slightly warmed, or cold.