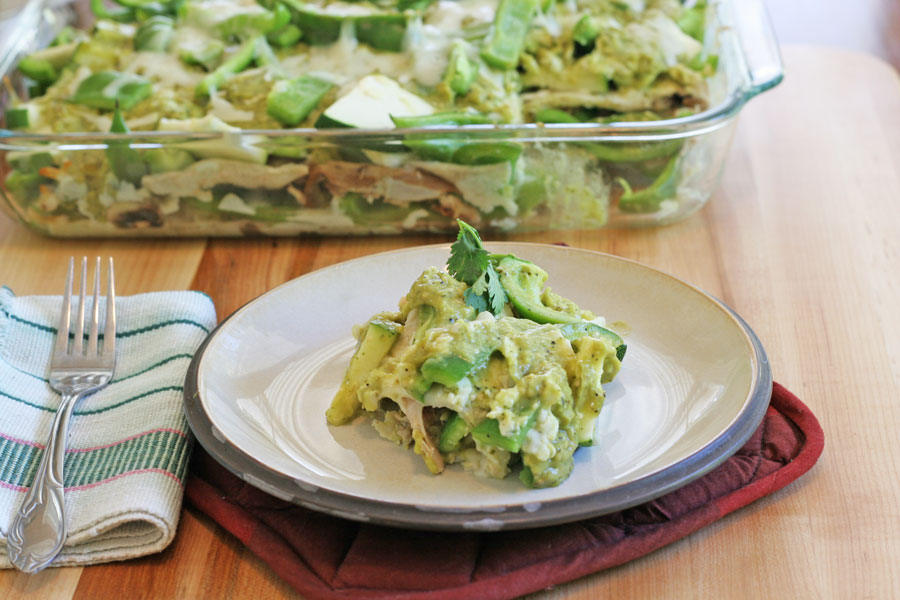 As you know by now, I enjoy cooking from scratch using whole ingredients.  But we all need a little easy pre made food in our lives when we can't find the time to make dinner every night.  Over the years I have added dishes like this to the repertoire to make life delicious yet easy.  This tortilla bake is a mish mash of a family recipe that will forever be my favorite dish.  I made it light, healthy, and easy to make.  I prepare a few of these tortilla bakes, and freeze them, my style of a frozen meal.  Mid week, take a piece out and voila, dinner.  I use what I have on hand, whatever it may be.  I have used zucchini, cabbage, bell peppers, mushrooms, onions, bok choy, meat, no meat, and any kind of salsa I have usually in the freezer.  You can make this salsa ahead and freeze some, or use your favorite pre made salsa.  This is supposed to be an easy and healthy meal.
Tortilla Bake! An easy freezer meal
Serves:  12, I make a huge batch, slice and freeze in air tight bags for easy meals
Ingredients:
4 cups Avocado and roasted tomatillo salsa, or whatever you have on hand
24 medium corn tortillas
2 cups grated cheese, any kind you like, I use panela (Mexican cheese) or mozzarella
8 cups of a variety of vegetables of any kind chopped to medium pieces
For this one I used:  3 cups bell peppers, 3 cups cabbage, and 2 cups mushrooms
2 cups shredded chicken, I have also made this with no meat for Meatless Monday dishes, or with chicken sausages.  Use up a rotisserie chicken in this recipe!
fresh chopped cilantro or parsley for serving
I have made this using Pyrex dishes, and cast iron skillets.  All you need is one or two large oven safe dishes.  I used an 8 inch square dish, plus a 4 quart pyrex dish.
Preheat oven to 400 degrees
Method:
1.  Create an assembly line of all of you ingredients.  Cheese, tortillas, salsa, veggies, and meat if using.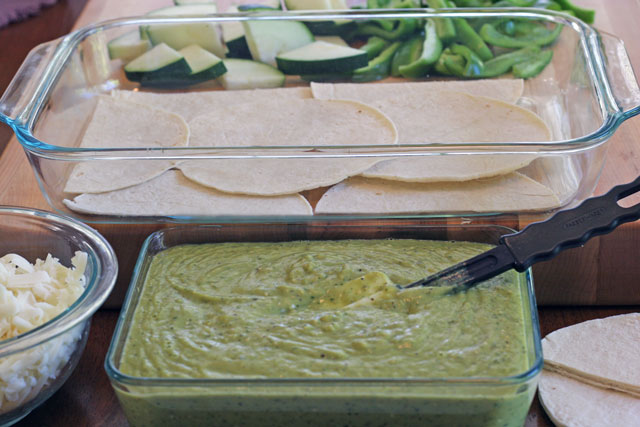 2.  Place a layer of tortillas first.  Sprinkle a 1/4 cup of cheese, then ladle 1 full ladle on the cheese, use a spoon to spread evenly.  Place 1/2 of your vegetables down, add 1 ladle full of salsa, add the meat if using.  Place another tortilla layer on the meat.  Add a ladle full of salsa on the tortillas and sprinkle 1/2 cup of cheese on top.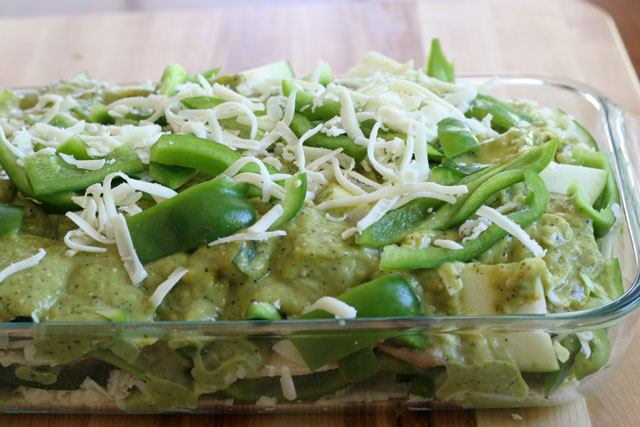 3.  Repeat in the next pyrex or oven safe dish until all ingredients are used.  Place in the oven for 35-40 minutes.  Serve with more salsa, sliced avocados on top, and a sprinkle of cilantro or parsley.
4.  To freeze, wait for the tortilla bake to cool down.  Take a knife and cut into serving size pieces about 2×2.  Place in one layer in a ziplock bag or airtight container.  Place in freezer for up to 3 months.  When you need a quick meal, remove and let thaw for a minimum of 2 hours.  You can remove the night before and place in the fridge, or in the morning before work.
To reheat:  I place a piece of foil in my toaster oven to toast at it's highest level.  Or in the microwave if you do not have a toaster oven.  If you do not have either, preheat you oven to 400 degrees and cook for 20 minutes.
ENJOY!