My most favorite savory Tomato Zucchini Corn Summer Tart Recipe smells just like a super tasty pizza but is full of fresh Summer vegetables and manchego cheese! Perfect with a salad for dinner or cut into smaller pieces for a beautiful appetizer.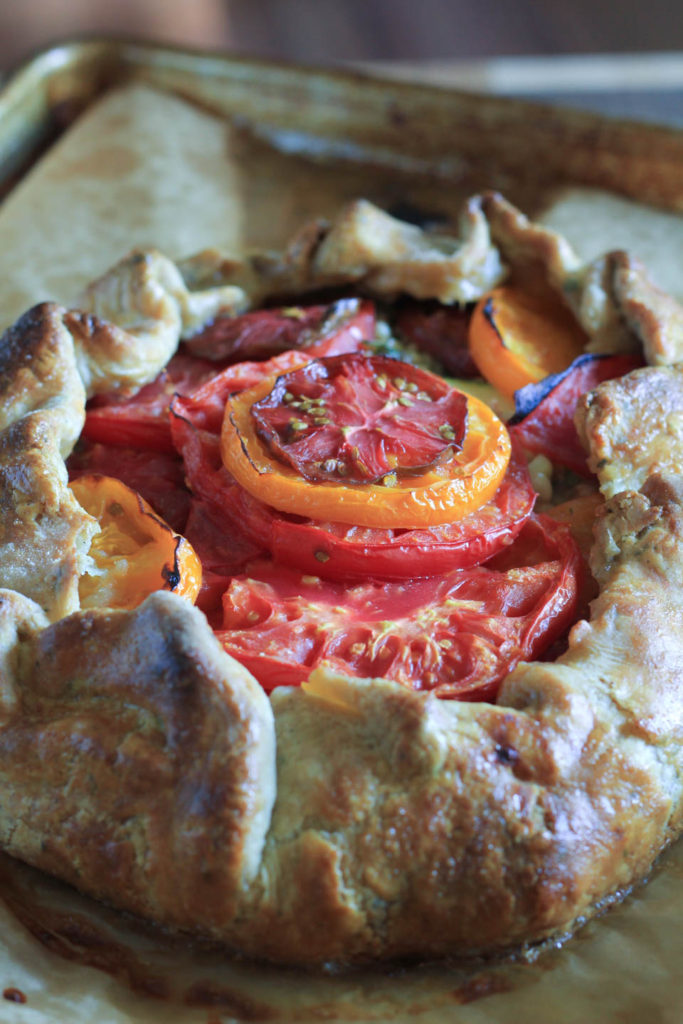 There are tomatoes and tarts popping up all over the place and I see every reason to take advantage of this glorious time to enjoy a Tomato Zucchini Corn Summer Tart! Tomatoes are such a beautiful thing to enjoy while in season. One of my favorite things to do is buy fresh tomatoes, heirloom usually, slice them up for an epic tomato plate meal. So we toast or grill some super good crusty sourdough with olive oil, make an olive oil and balsamic vinegar plate, sliced manchego or good cheese, sea salt, and arugula, and sit picnic style somewhere and enjoy life. We do this as much as possible all Summer long for lunches on the weekend. I feel it's my duty to enjoy the tomatoes and that's my favorite way!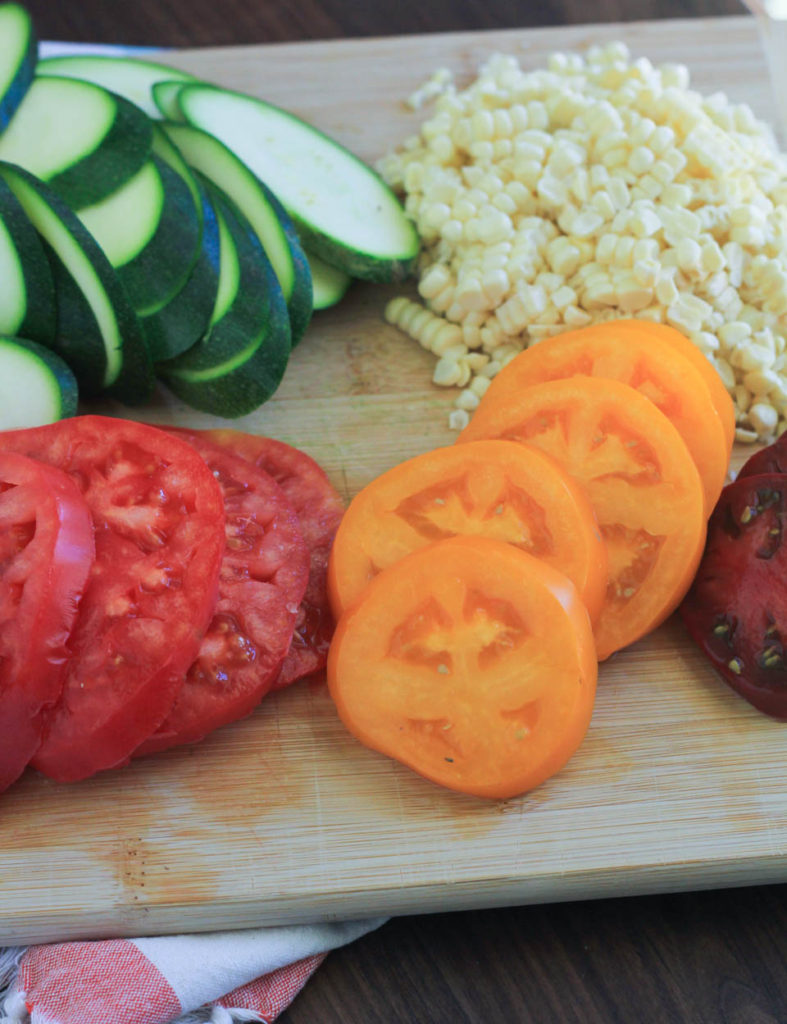 Then a few weeks ago while we were enjoying tomatoes that way while camping, it occurred to me, I need to make a tart/galette version of this meal, so I did! And here it is, plus some other Summer produce that goes perfectly into the buttery, herb, and black pepper crust of this tart. Summer produce nestled into a buttery crust, uh ya, that's an excellent idea right?! Totally! When I took it out of the oven it smelled like pizza! But the old school real Italian, baked fresh tomato version, which happens to also be my favorite, so this tart became a match made in heaven. We served it with A fresh pile of arugula on top!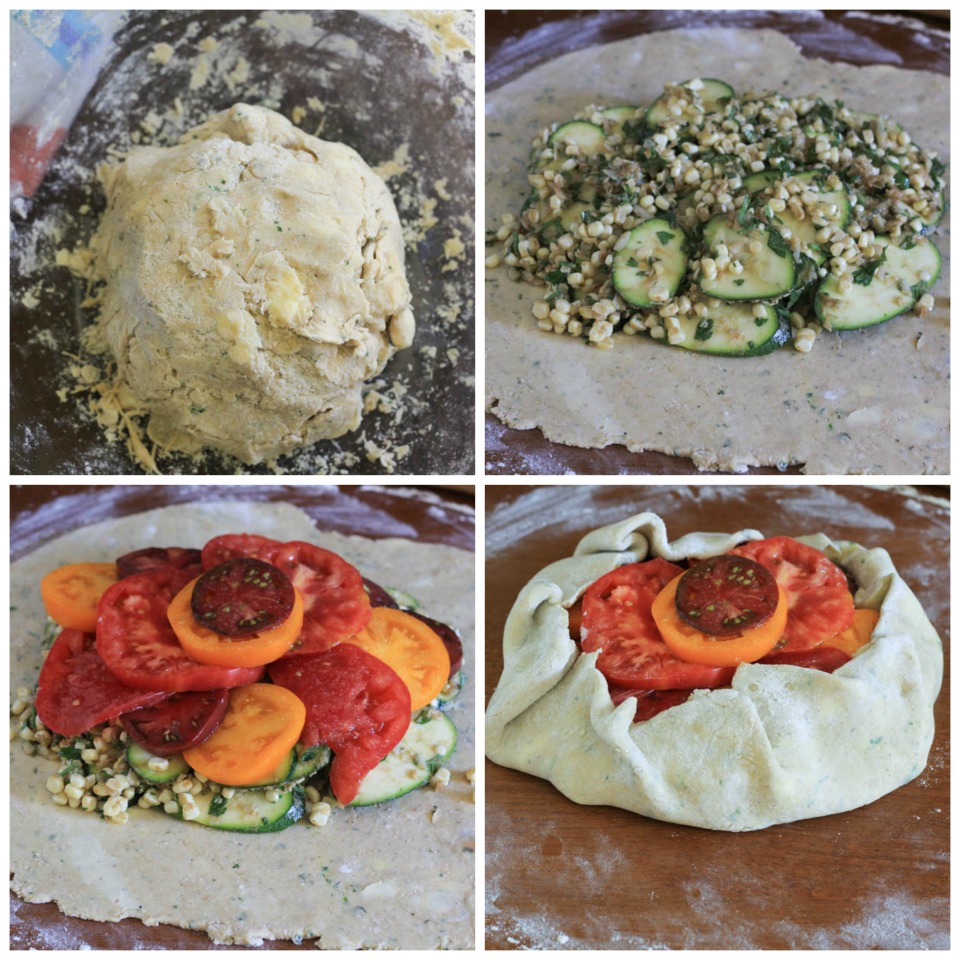 *Use gluten free flour if needed for a gluten free tart!
Tomato Zucchini Corn Summer Tart
Makes 1- 8 inch galette, serves 4-6
Ingredients:
For the Crust:
4 oz whole wheat pastry flour, about 1 cup- you can use all purpose if you'd like
1/2 cup all purpose flour,
1 teaspoon fresh parsley
1 teaspoon fresh cracked black pepper
1/2 teaspoon fine sea salt
4 oz cold unsalted butter, cubed
3 oz super cold water
filling:
1/4 cup olive oil
1/2 cup shredded manchego
1/4 cup fresh parsley
2 tablespoons balsamic vinegar
2 tablespoon whole wheat pastry flour
1 large zucchini, about 2 cups, sliced 1/4-1/2 inch thick
2 fresh corn ears, kernels cut off
3 medium tomatoes, sliced 1/2 inch thick, I used heirloom varieties
fine sea salt
1 egg with 1 teaspoon water whisk together for egg wash
Method:
*A note on working with this dough. Keep all ingredients as cold as possible at all times. Work very gently with the flour, the more gentle you are with the dough, the flakier it will be!
For the Crust:  
Combine flour, parsley, back pepper, and salt in a large bowl, whisk to combine.  Add cold butter cubes, using your fingers, gently rub butter into flour mixture making pea sized chunks.  Add cold water, and very gently mix using a spatula until a shaggy mixture is formed.
Bring dough together gently in the bowl, fold over a few times to incorporate all of the butter and flour.  Shape into a ball right in the bowl, cover, and place in fridge for 15-30 minutes.  While the dough is resting, work on the filling.
Place olive oil, cheese, parsley, balsamic, and flour in a large bowl, use a fork to whisk together. Add zucchini and corn. Very gently mix to combine well using a spatula or hands.
Remove the dough from refrigerator, place on lightly floured counter, roll out to 1/4 inch thick circle, about 12 inches in diameter.  Place dough on parchment lined sheet pan or cutting board that will fit in your freezer or fridge.
Add zucchini mixture to dough center, leaving about 3 inches border around, sprinkle with a pinch of salt. Place tomatoes evenly on top of zucchini, sprinkle with a pinch of salt. Fold over edges, brush sides with egg wash, and place in freezer of fridge for 15 minutes minimum and up to 1 hour. The longer the better it will bake.
Place oven rack in lower third of oven for best results, and to avoid a soggy dough bottom. Preheat oven 400 degrees.
Remove tart from freezer or fridge. Place in oven on bottom rack and bake for 45 minutes, or until crust is golden brown. You can also remove the tart from the freezer, place in ziplock bag and place in freezer for up to 1 month. If frozen, bake on sheet pan directly out of freezer for 55 minutes, or until golden brown.
Serve warm with fresh chopped parsley. Store leftovers in an airtight container in the fridge for up to 3 days. To warm, place in an oven toaster for a few minutes. Enjoy!
If you have questions on dough making, I am here, ask away!