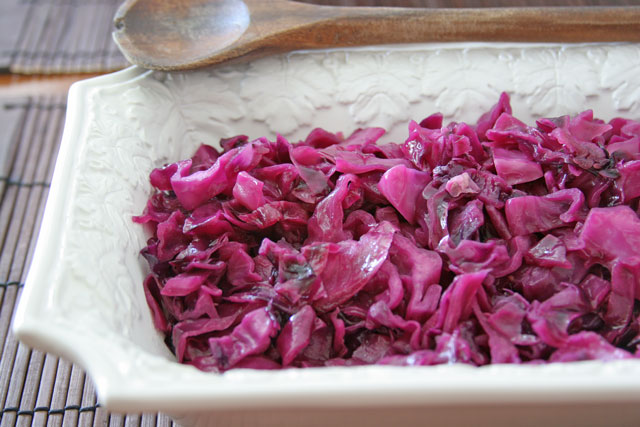 As most of you know, I just graduated from Culinary school!  Hence the repost, and less posts.  Forgive me, I'll be back to normal soon.  But I am giving myself time to re coop, hibernate, hike, relax, and take a moment to soak it all in.  I'll share it all with you soon enough.  Till then, here is a favorite cabbage recipe of mine, it is so easy and tasty.  Enjoy!
Original:
Earlier this year, in January, to be exact, Brian's brother took us to a German restaurant in our area.  I like German food, I like all food, let's be real.  We tried all sorts of delicious Brats, veggies, and shared so we could try a little of everything.  Sometimes that is the way to go.  When the brats and cabbage arrived, I saw this gorgeous purple color, and went for it straight off.  I could not get enough, I ate almost all of it, the boys liked it, but I LOVED it.  So naturally I ate it all.  Of course, I am sitting there saying, "I can totally make this at home, duh."  That is exactly what I did that week in January, and pretty much ever since.  I am just now sharing it with you, and there is a good reason for it.  When I make this, it is a quick kind of a thing.  And I eat it all before I get to the photo, so I apologize for hoarding the cabbage recipe this long.  Here it is, make it, eat it, love it.  Plus it is super simple, and flavorful.
Sweet and Sour Cabbage
Serves: 6-8
Ingredients:
2 lbs purple cabbage chopped thinly 1/4-1/2 inch thick
2 tbsp butter
1/2 cup white balsamic vinegar or balsamic vinegar (whatever you have on hand)
1/3 cup turbindo sugar (a little less if you use white sugar)
salt and pepper
How:
1.  In a dutch oven or large pot, melt the butter over medium low heat.  Add the cabbage, vinegar, and sugar, 1/2 tsp salt, and a pinch fresh ground black pepper.  Stir to combine.  Allow the cabbage to wilt a little, stir.  Cover pot and cook for 30 minutes.  Stir occasionally.
2.  Remove lid after 30 minutes, and allow the liquid to reduce by 1/2.  About 15 minutes.  Taste.  How is the seasoning?  Need more salt or pepper, add a small pinch of each until it's perfect!
3.  Eat.
ENJOY!!!