This beautiful Stuffed Baked Sweet Potato is perfect for two for lunch or dinner. It's easy to make and packed full of awesome nutrients, vegan, and gluten free!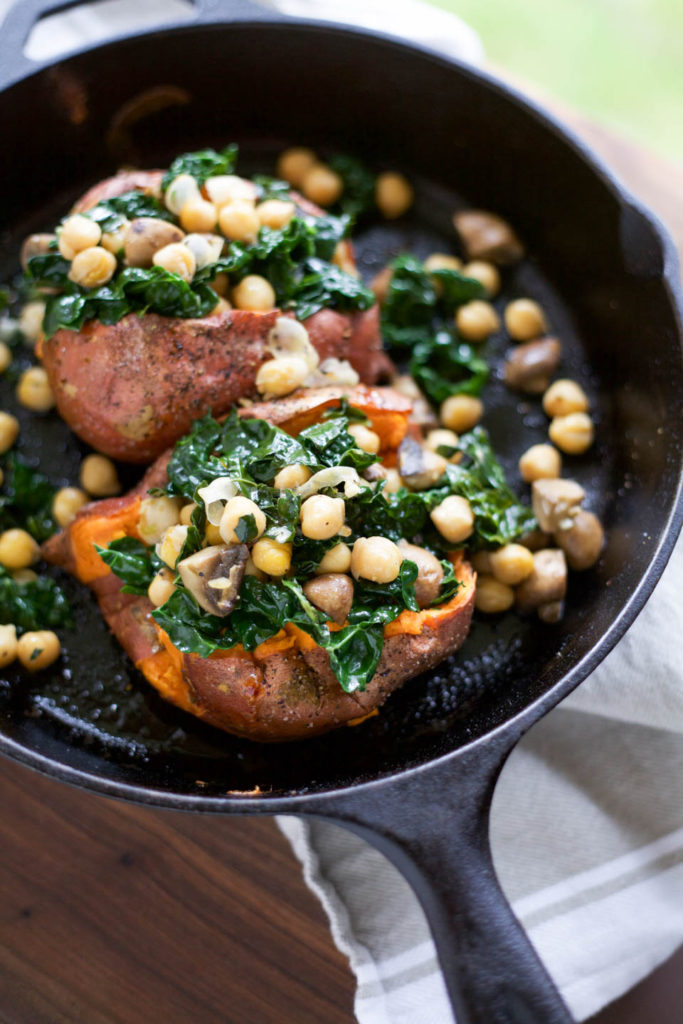 I finally made a stuffed sweet potato! I've made them for us for dinner time and time again but never made it for the blog. Obviously I am super happy to share with you something we eat for dinner! You can make these so many different ways, even with what's just in the fridge and pantry. Normally I do add greens and beans, just in different combos.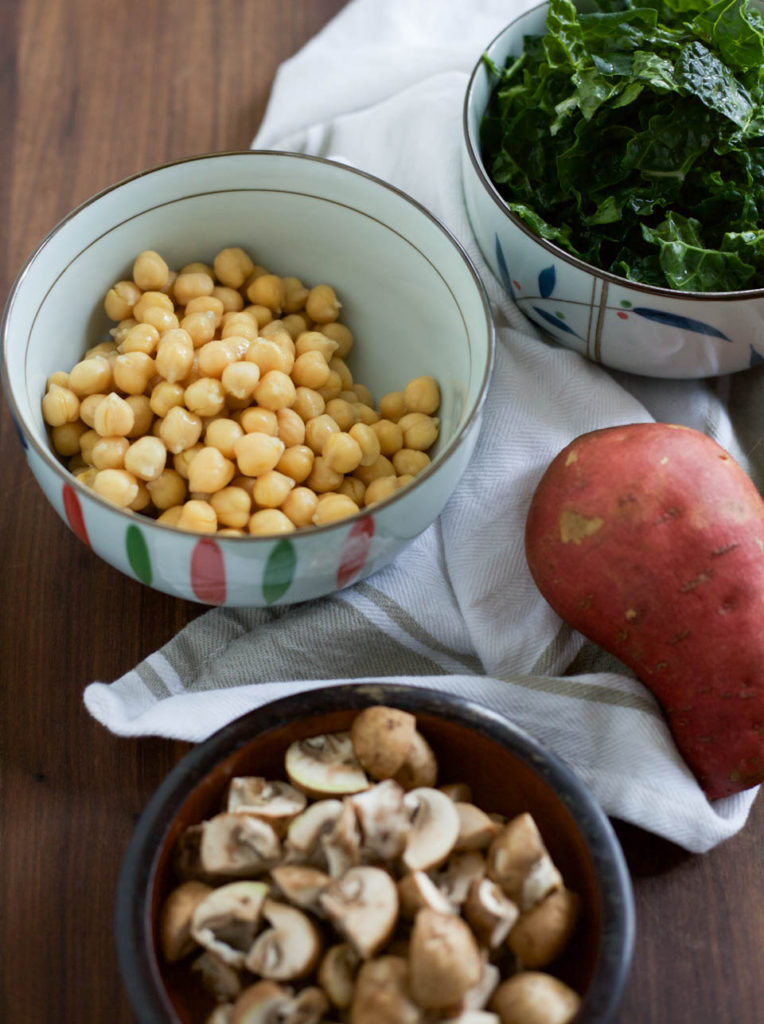 This one has my favorite kale, lacinato, tons of garlic, chickpeas, olive oil, white wine vinegar for much needed acidity, and small mushrooms. It makes this more of a meal, a totally perfect lunch and dinner. Honestly, this would be a fantastic, filling, and crazy healthy breakfast. Especially if you love savory breakfast foods!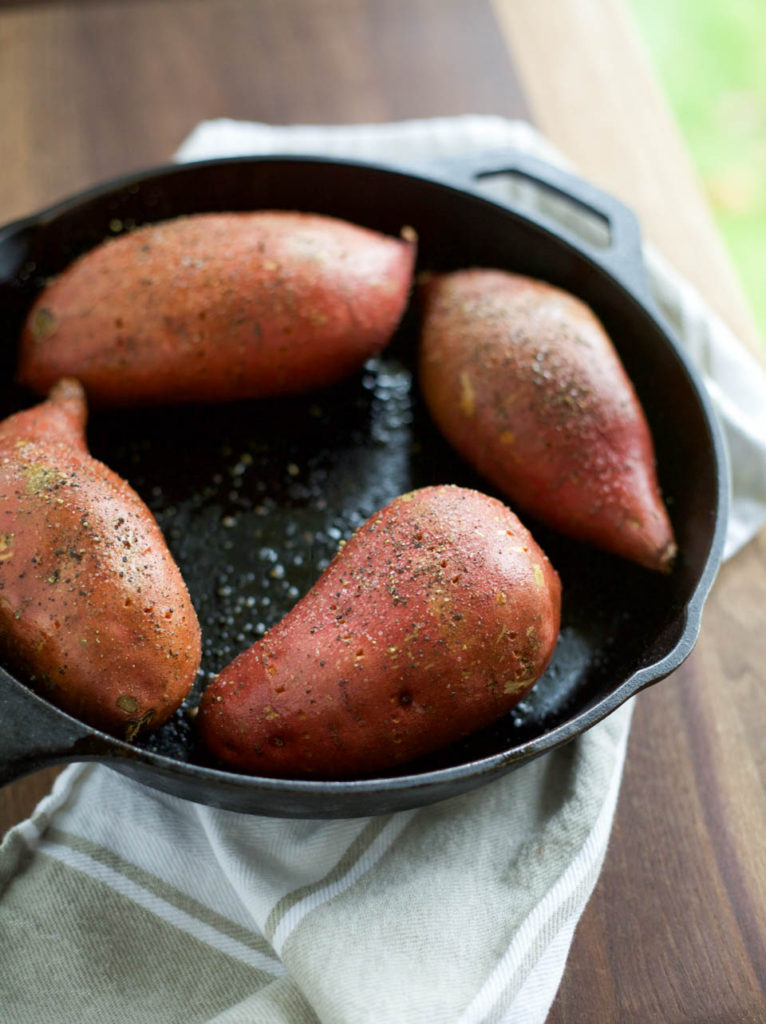 While this makes enough for two, I baked two extra sweet potatoes for leftovers :).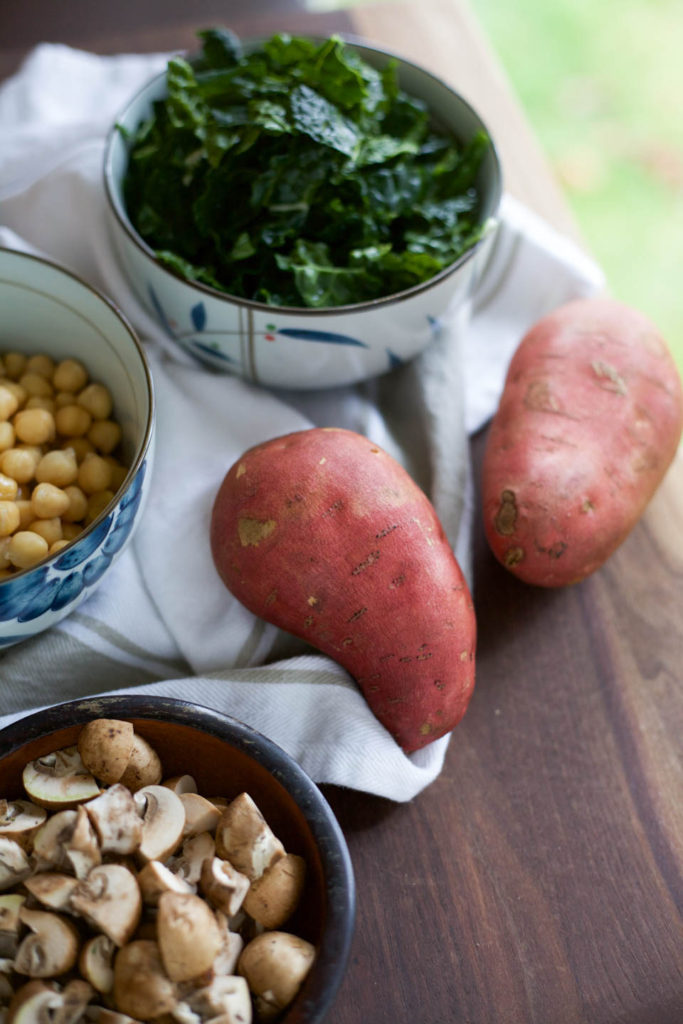 Brian really liked this but for sure wanted roasted chicken, sausages, or some other side for a bit more. I love it with roasted chicken sausages, it's the perfect small amount to go with these beautiful vegetables.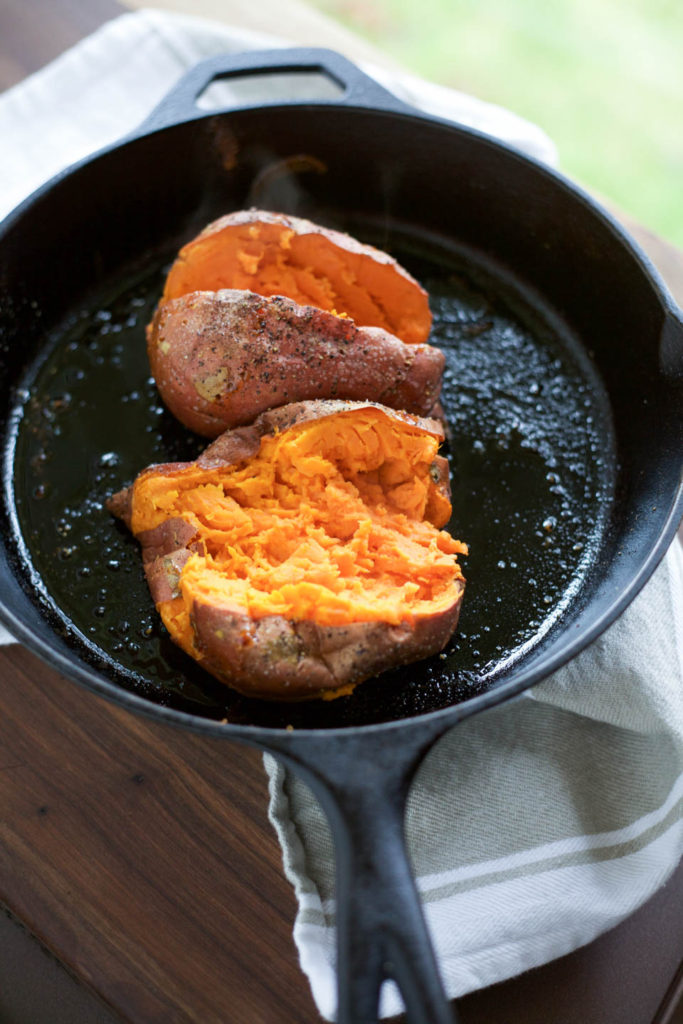 Stuffed Baked Sweet Potato
makes 2 stuffed sweet potatoes
Ingredients:
2 medium sweet potatoes
3 tablespoons olive oil, divided
fine sea salt and fresh cracked black pepper
1 large garlic clove, minced
1 cup small cremini mushrooms, quatered
1 can chickpeas, drained and rinsed
1 bunch lacinato kale, de-stemmed, chopped into small pieces
1 1/2 tablespoons white wine vinegar
butter to taste, optional
Method:
Place oven rack in center of oven and preheat to 400 degrees.
Take a fork and poke sweet potato all over. Place sweet potatoes in an oven safe dish. Rub with 1 tablespoon olive oil and sprinkle with a tiny pinch of salt and pepper. Place in oven and bake for 1 hour. Remove sweet potato from oven, cover pan with foil to keep warm, then make filling.
Place 2 tablespoons olive oil in a large skillet over medium heat. Once oil is shimmering, add garlic, stir and cook for 30 seconds. Add mushrooms, stir and cook for 1 minute. Add drained chickpeas, sprinkle with 1/8 teaspoon fine sea and pepper, stir to combine. Add kale and white wine vinegar, stir to combine and cook for 1 minute until kale is lightly wilted but still bright green.
Slice the sweet potato down the center, use fork to mash inside, sprinkle with salt and pepper, add butter if you'd like, and top with the chickpea kale mixture. Season with salt and pepper if needed. Store leftovers in an airtight container for 1-2 days.