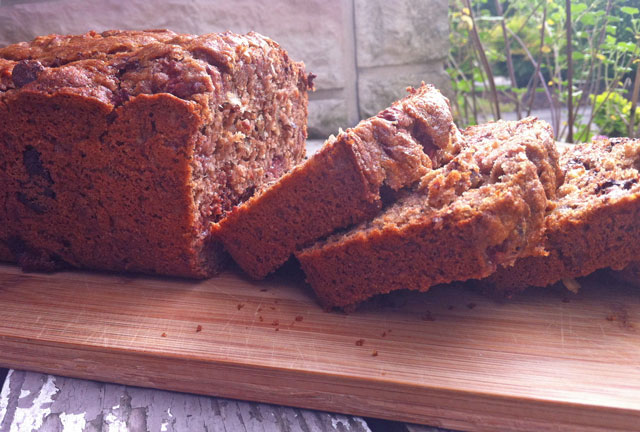 I like to put Heaven in the title from time to time.  It can somehow describe how I am felling about a particular dish.  It sums it up to the point where you have go make it as soon as possible, at least that's what I think, and how I feel.  Which I enjoy sharing with you.  That is the point of this right?  You get so excited about something you see, you go make it?  This is one for the books.  It's sweet, but not too sweet, can be breakfast, snack, dessert, midnight snack, or all of the above.  It is healthy, sorry, and super satisfying to all of your needs, or at least like five of them.  Ok whatever, it is amazing! I have been making banana bread, the healthy kind for some time now.  It's a thing I do.  I eat one banana every day of my life, seriously, I do. I love them.  But sometimes I don't make it through the batch I bought and I am a freak of nature when it comes to not being wasteful, so I find ways to utilize my bananas.  I either make banana bread, or freeze them for smoothies later on.  In case you missed it, here is a post on freezing your bananas for later usage.  Any how, I love banana bread as much I love bananas, but I like to make things like this super healthy, instead of just eating bread, I am eating something with extra nutrients, protein, fiber, and I don't feel the guilt (as much) after.  It took a while to come up with/find a recipe using whole wheat flour and less sugar that wasn't a dense mess of a bread, and I did.  Try it, it's good.  And let me know what you think!  I hope you like it!  This recipe is adapted from, The Whole Grain Gourmet.
Ingredients:
1 3/4 cup white whole wheat flour
1/4 tsp kosher salt
3/4 tsp cinnamon
1 tsp baking soda
1/3 cup unsalted butter room temperature
1/4 cup honey
1/4 cup packed natural brown sugar
1 tsp vanilla extract
2 eggs
3 mashed ripe bananas
1 cup diced strawberries
3/4 cup dark chocolate chips
1/2 cup chopped walnuts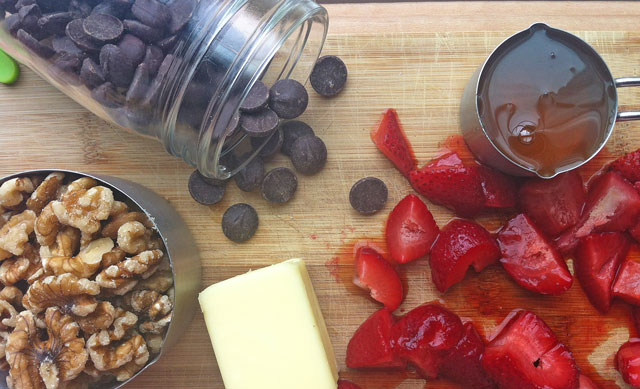 How to:
1.  Preheat the oven to 325.  Spray a loaf pan with non stick veggie spay, or melted butter.  In a bowl whisk together the flour, baking soda, salt, and cinnamon. In another bowl whisk together the softened butter, honey and sugar until combined very well.  Whisk in the egg to the sugar/honey, mix well.  Add the vanilla, mix well.
2.  Add the wet ingredients to the dry ingredients, and mix.  TIP, DOT NOT OVER MIX!  Just combine very gently using your hand or spatula, leaving lots of lumps, but moisturizing the dry ingredients.  The over mixing causes a tough, dense bread, which is not good.
3.  Fold in the mashed bananas and strawberries with your hand or spatula.  Then fold in the chocolate chips and walnuts. Pour entire batter into the prepared pan, and bake for 1 hour give or take 10 minutes.  My oven is a magical 1 hour 6 minutes, so check your bread by inserting a toothpick at 1 hour.  If it comes out dry, it's done, if its gooey add 5 minutes, and check again.
4.  Carefully remove bread from hot loaf pan and allow to cool on a cooling rack for 30 minutes before slicing into it, if you can.
ENJOY!