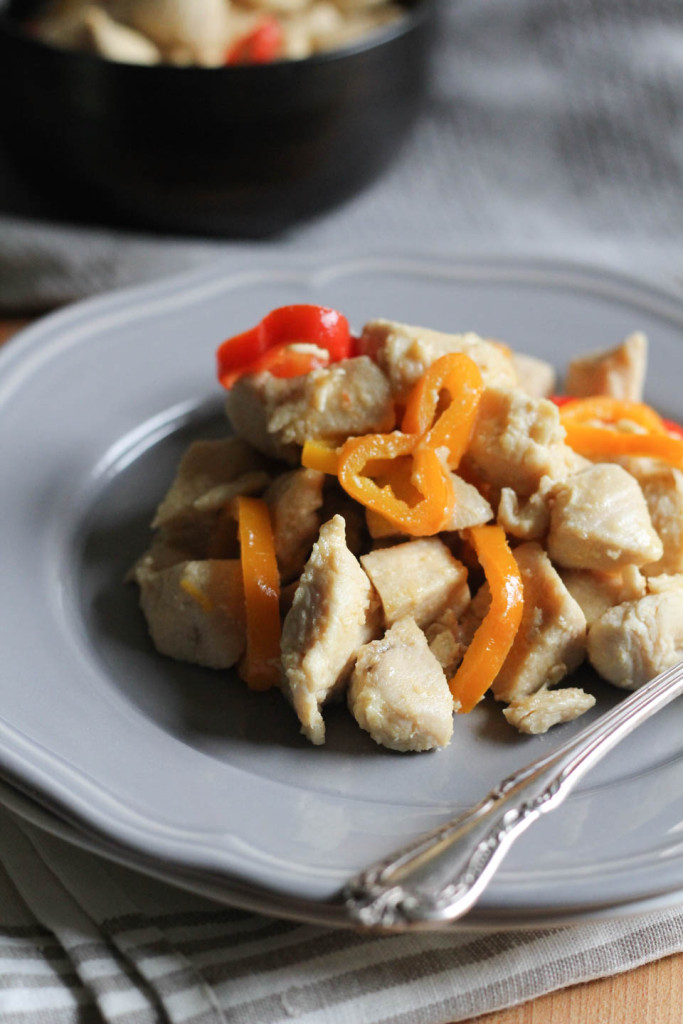 Disclosure: This is a compensated post in collaboration with Gourmet Garden. As usual all opinions are my own. Thank you for supporting the brands that support NJB.
Easy button! So we're moving in the next couple of weeks, and it was kind of a last minute move, unexpected, yet ended up being the best thing possible for us right now. Our landlords are selling the house we've been in for many years, so it's bitter sweet. We love our neighbors, they bring us oysters, we love our neighborhood, it's sweet, quiet, and full of trees. This house has been a blessing. We moved from Sacramento, Ca to this house four years ago after quitting our jobs, and going back to school. As you know, I went to Culinary School, the best decision of my career thus far. In the frenzy of finding a house, getting approved, moving trucks, cable, and working on top of boxes, and packing, I sit down to write this to reflect. This is when it has settled in that I appreciate this house, and all it has meant to us over the last several years.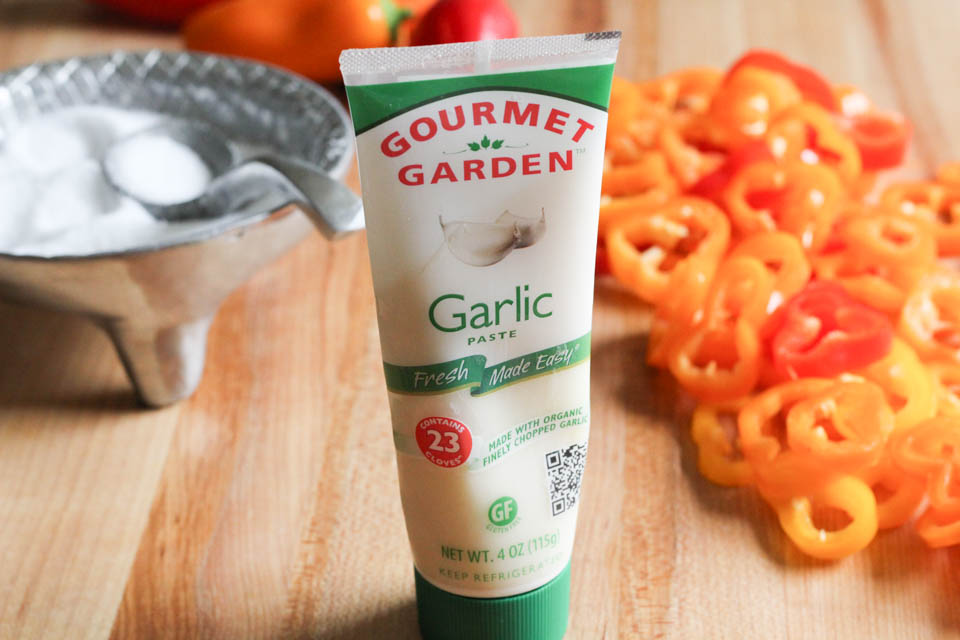 Reflecting is a big part of change. Although this may have been a forced change, it is welcomed with open arms. It is time to move on, but first I look back at the events, ups and owns of uprooting our lives in Sacramento, and having this pretty house to call home. Many BBQ'S, Holidays, guests, thousands of meals made in the kitchen for us and the blog. Again, bitter sweet. I am grateful the landlord took us in because she had a good feeling about us, for that I am so grateful. She rented us the house from two states away to two self employed adults, going back to school. Risky, and it of course we knew it would be ok, but she had to trust me over the phone assuring her it would be ok. Many other rental flat out said no. Little did they know, we are the best tenants a landlord could have :). We make our houses homes.
Now we move onto our next chapter. While we had intentions of buying a house sooner than later, that is now on hold for our next adventure, and it's all good. We must go with the flow, and things always work out for the best for us. Our new home is beautiful. It is also in a pretty neighborhood, giant luscious tree lined quiet streets. I have a huge new kitchen with a plethora of counter space, and bright white light for amazing pictures. I am looking forward to settling in to work in that space. There is a huge front and back yard for us and the kitty girls to enjoy, and tons of room to stretch our legs. There are two fireplaces! TWO! Suffice it to say, it is a lovely home that will be a part of our next chapter, and we are very much looking forward to it.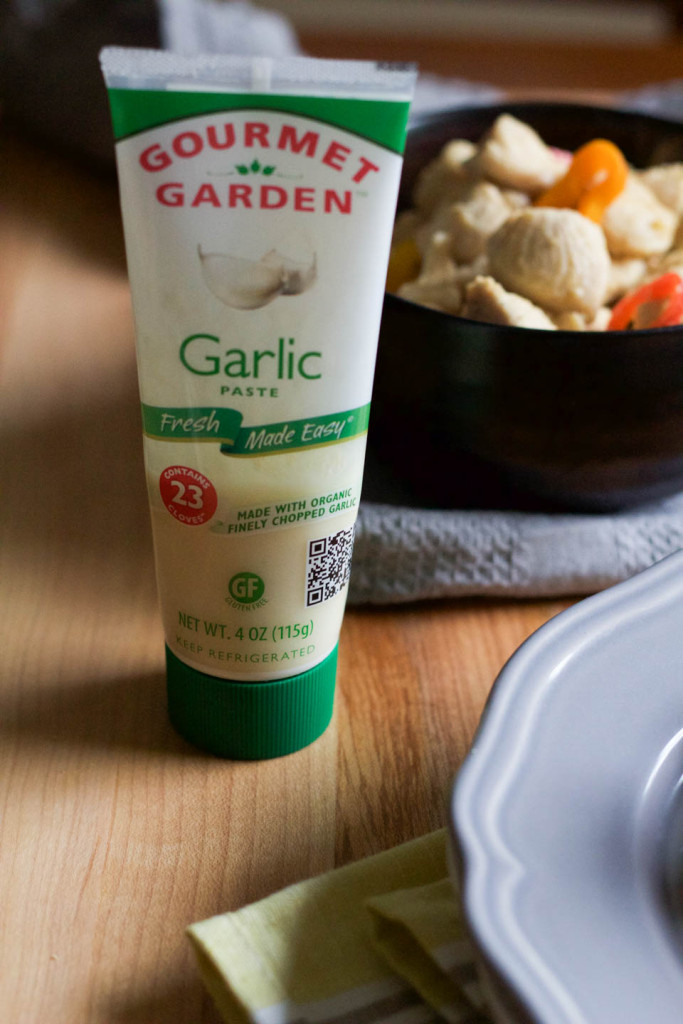 So this is why easy button. Packing kitchens, blog prop rooms, and trying to cook elaborate meals is a for sure no for me. I easy button. Stir Fry Garlic Chicken with Sweet Peppers is such a good easy meal to make among the boxes, phone calls, lists, packing, and keeping things a bit sane around here. We all know moving, it's easy, but a bit messy. This dish keeps us eating healthy, great for leftovers, and everyone helping us pack move loved it. Thanks to Gourmet Garden I have good food to fill our tummies, so that is cool too!
Serves 6-8
Stir Fry Garlic Chicken with Sweet Peppers
Ingredients:
2 tablespoons olive oil
4 chicken breasts, about 2 lbs, cut 1 inch cubes
1/4 teaspoon fine sea salt
1 teaspoon soy sauce
1 teaspoon mirin
8 sweet peppers, thinly sliced
2 tablespoons Gourmet Garden garlic
Method:
1. Place olive oil in a large pan or wok over high heat. Once oil is shimmering, add chicken pieces, sprinkle with salt, and cook for 10 minutes, stirring frequently. Add soy sauce, mirin, and peppers, cook for 3 minutes. Lower heat to medium low, add garlic, cook for 5 minutes, stirring frequently.
Serve immediately. Store leftovers in an airtight container for up to 3 days.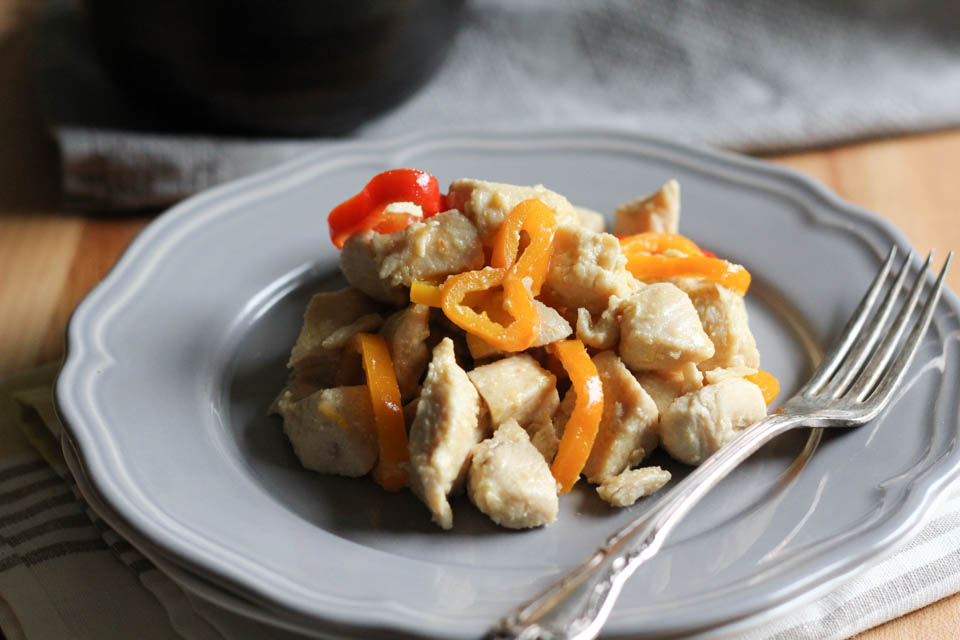 Other tasty recipes I've made using Gourmet Garden!
Gourmet Garden recipes from my blogging friends!
ENJOY!