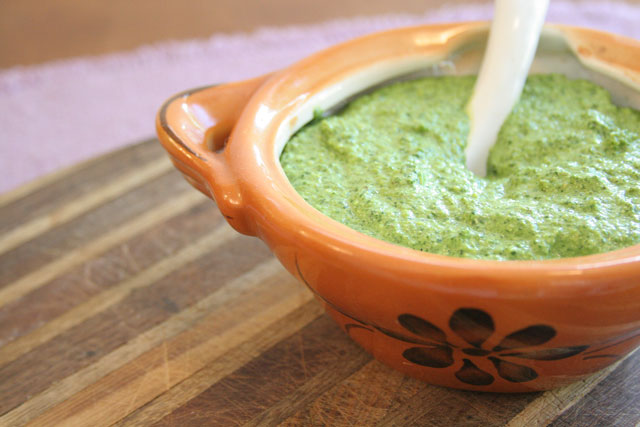 This recipe of spinach pesto came from not having tons of basil, wanting pesto, and not wanting to go to the store.  It's that simple.  I love a fresh pesto, of any kind.  Peas, avocados, spinach, any greens can make a lovely tasty pesto.  In this case I had tons of spinach, a bunch of basil, and the other necessary ingredients to put it all together.  I was about to leave for Sacramento to visit my fam and friends, and call me cheesy but I love leaving goodies for Brian while I travel.  I was gone for ten days, and while he is an amazing cook, and perfectly capable of making awesome meals, I wanted to make pesto for him.  Plus scones, and chocolate chip cookies.  It's just who I am, and what I do. Lets not forget the suitcase full of chocolate chip cookies, scones, and cupcakes for my family and friends in Sacramento.  I wonder what the security people really see when my bag goes through.  I feel like on day they are going to ask what is wrong with me.  I go through the same security in Portland every three months with a suitcase full of goodies.  They must be on to me!  One time coming home from Sacramento, I brought our favorite carnitas tortas, mole sauce I made with my mama, and pan dulce.  Classic Fabi bag.  Now for pesto…  This recipe is great for Monday, or any day that you want something quick, light, and healthy.  Literally takes 10 minutes at most.
By the way pesto made with tons of spinach is not only super healthy, loaded with vitamins, and such.  But it is much less expensive than basil pesto if you don't grow your own basil.  I would also like to mention this is the first post I have done with my new to me camera!  My lovely father in law gave me a DSLR, which let me tell you, is a huge deal to me.  I have been using an Iphone for the last year, which is better than one would think.  I am now learning so much more about lighting, aperture, and stuff like that.  It may take a bit, but I hope to get a hang of this soon.
Makes about 2 cups
Ingredients:
1/2 cup fresh grated parmigiano reggiano
1o cups of spinach washed
3 cups basil
3-4 garlic cloves peeled
1/2 – 3/4 good olive oil (depends on how loose you want your pesto)
1/4 cup walnuts (you can also use almonds or pine nuts)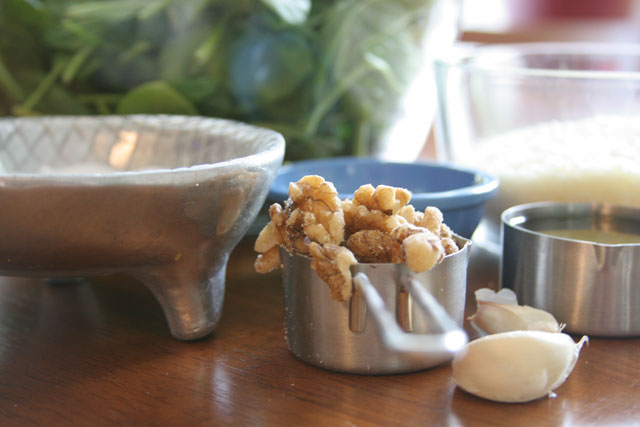 To Do:
1.  Place the parm reg cheese in the food processor fitted with the grater.  Grate all of the cheese, then set aside in a bowl.  Add the spinach and basil and pulse until finely chopped.  Add the garlic, and pulse a few times.
2.  In a steady stream, with the food processor on, add the olive oil.  Add the cheese back into the processor and pulse several times until incorporated.  Add the walnut and turn processor on for a minute or so.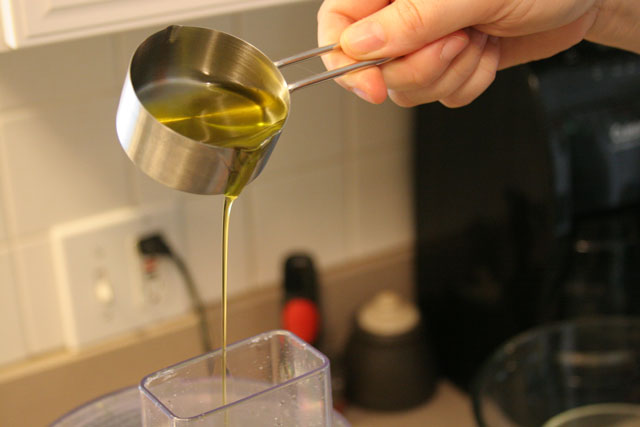 It's that easy!
We made some whole wheat pasta that night.  The next day I spread the pesto on fresh baked bread, with cheese, fresh spinach and slices of tomato.  I love it for a veggie dip too!
BON APPETIT!