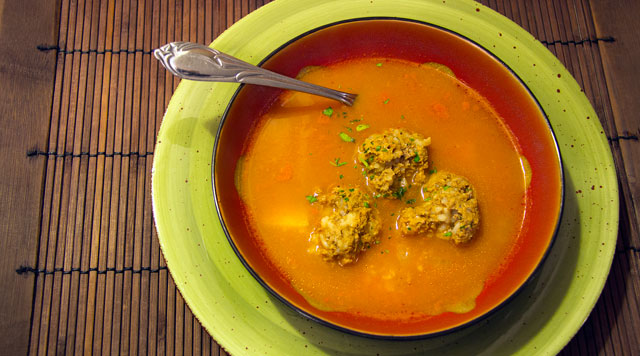 This soup is near and dear to my heart.  My Mama has been making this soup for us since I can remember.  It is simple, and easy to make, but has a profound affect on your soul.  Growing up my Mama would make dishes that she loved, and passed on from things she grew up eating, but inevitably they would change a little or be simplified from time to time because she was a busy working Mama.  She did, however, make sure they were delicious, home cooked meals packed with flavor, veggies, and love, which makes this soup what it is.  A tummy warming delight.  I realize it may be hot where you are and you really are not into eating soup right now, but where I am it has been cloudy and cooler for several days now and this soup hits the spot.  Plus its cool at night when you are going to eat it anyway, so go ahead and indulge in this delightful soup.
We usually make this with carrots and potatoes, but you are welcome to use any good soup veggie you may have on hand.  Like peas of any kind, squash, or zucchini.
Servings: 8
Ingredients:
2 lb. ground beef (sub ground meat of any kind if you like)
1 cup rice white or brown
1 tbsp ground mustard or 2 tsp mustard
1 egg
2 cups chopped carrotts
1 large onion diced
2 cups diced potatoes
1 can tomato sauce
2 tsp coriander ground
1/2 tsp red pepper flakes
1 tsp Mexican oregano
12 cups water (I use half water and half stock)
salt and pepper
1 tbsp olive oil, or grape seed or any other healthy oil you like to use
How to:
1.  In a bowl add the ground beef, rice, ground mustard, egg, about 1 tsp salt and 2 tsp black pepper.  Mix well with hands.  Form little meatballs, do not make them too large because the rice expands and makes them bigger, so shoot for about 1 inch.  Set aside.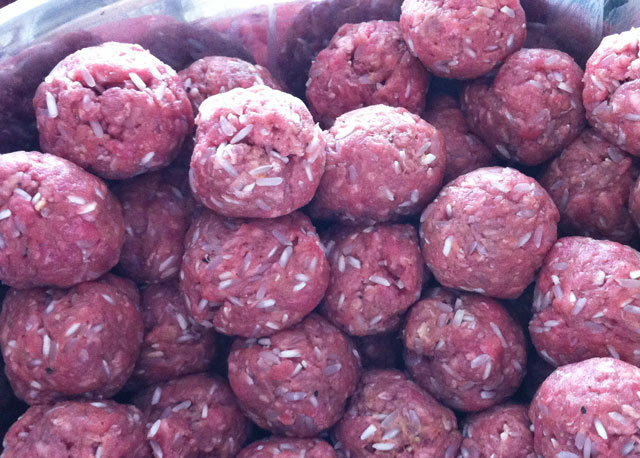 raw meatball shot…
2.  In a 6 qt. dutch oven, or large pot, add the oil.  Add the chopped onion once the oil is hot, sweat onion (no color) over low to medium heat for 10 minutes.  Add the tomato sauce, broth/water, big pinch of salt and black pepper.  About 2 tsp of each.  Bring to a boil.  Reduce to a simmer.
3.  Add the spices now, coriander, red pepper flakes, oregano (crumble with fingers as you're adding it).  Stir to combine.  Add the carrots and potatoes.
4.  Now, one at a time, add the meatballs to the soup.  Cover and let simmer over med heat for about 45 minutes.  Skim any fat/scum off the top as it cooks.  At 30-40 minutes, taste it.  How's the seasoning?  Does it need salt, pepper, more chile flakes?  Season to taste at this point.  Simmer for a few more minutes.  Serve with warm tortillas and a dash of fresh cilantro or parsley.
PROVECHO!