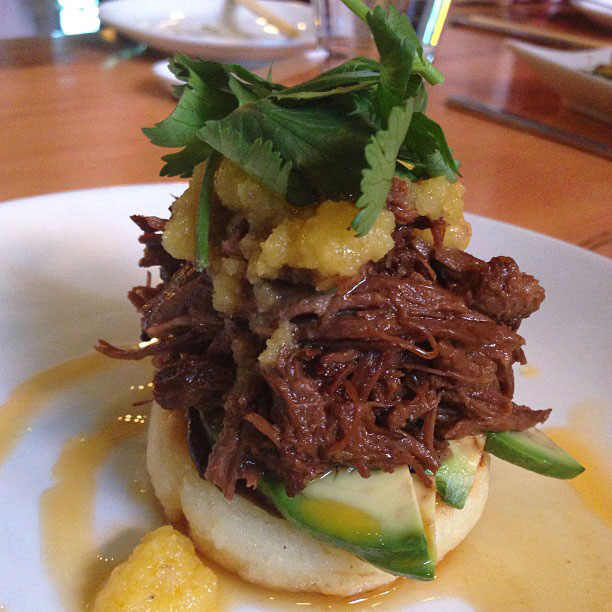 GIVEAWAY OVER, JOHN T. WON! Congratulations!
Thank you for participating.
YAY! We have a giveaway just for you Portland area! I am so excited that I may over use the exclamation point in this post. I warned you… Smallwares!
I am excited to be celebrating a two year blog anniversary with you, my readers. I am grateful for you, without you, there is no blog. I am in the process of sharing some awesome thank you giveaways for this month, so bare with me, there will be a thank you post coming just for you! This is the first giveaway, but the rest will be for everyone!
The Portland Food Bloggers and I recently visited Smallwares for our monthly meet up. We had an awesome night, with great service and wonderful food. We enjoyed small plates and shared ten so we could each taste the creations from this amazing chef, Johanna Ware. The photo above was taken by me and my Iphone, it was my favorite dish of the night, short ribs, corn cake, avocado, hoisin, smoked mango jam. It got so much feedback on all of social my media pages, everyone wanted to eat it!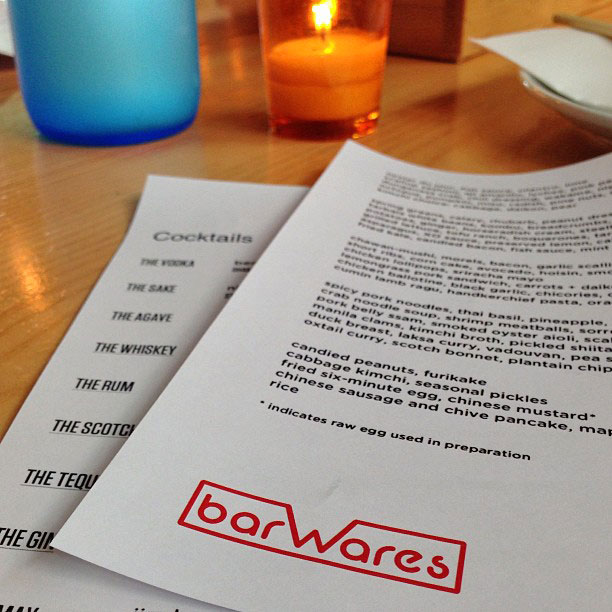 From Smallwares info site, perfectly stated…
"Smallwares is a forty-seat restaurant with an open kitchen. We serve small plates of inauthentic Asian cuisine meant to be shared, and eclectic wine, sake and cocktails."
Smallwares is a very cool restaurant that serves amazing dishes. They are a part of the Portland Dining Month which offers a generous menu including…
First Course
Cured salmon – tahini yogurt, pickled beets, umeboshi, basil
Second Course
Miso soup – bacon dashi, lemon, wakame, togarashi, scallion
Third Course
Hanger steak – kimchi puree, greens, blue cheese, almonds, sherry vinegar
This is a wonderful opportunity to taste several restaurants, many dishes, at a good price. But for you today, my peoples, TWO SEATS at Smallwares will be given away, as a thank you to my local readers.
This giveaway includes two dining month seats at Smallwares for the value of $58. You will enjoy the menu seen above. All gratuity, beverages, and others dishes ordered will be the winners responsibility. Which is deal!
TO ENTER THE GIVEAWAY: You must live in the Portland area, or be able to dine at Smallwares in the month of June ONLY, to enter this giveaway.
To enter you must do BOTH…
1. Leave me a comment below answering this question, "What dish are you most excited to try?"
2. "Like" my Facebook Page, AND leave me a comment below letting me know you did. If you already "like" it, let me know in the comments below.
If you do not do BOTH, you will not be entered.
If you do not have a Facebook page, let me know, and sign up in the top right side of this page, for email updates from Not Just Baked.
GOOD LUCK!!!
I was not paid to do this giveaway. Johanna Ware was kind enough to provide me with this gift certificate. All opinions of Smallwares are my own, and I love it there.
I will email the winner, picked at random and announced this Saturday June 15 at 5pm. Your email is only for my use, I will never ever share it with anyone EVER.