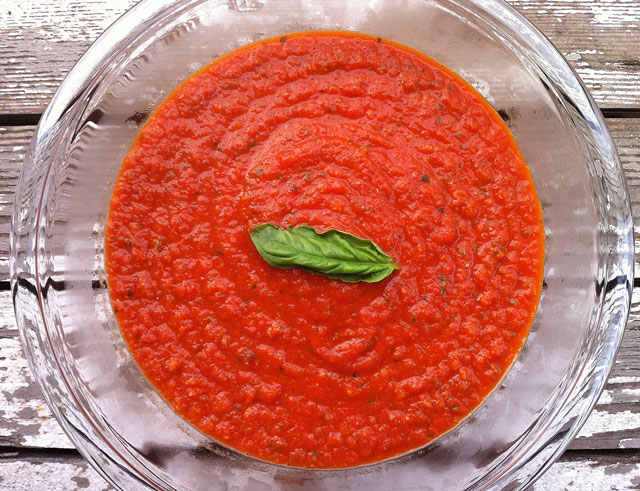 This simple tomato sauce is perfect for this weekend of leftovers. It is quick, easy, simple and tasty. This is an oldy but a goody.
I believe we all need simplicity in our lives more often than not. Be it in the kitchen, an outfit we throw together, a recipe, or a good book. Simple can be magical in its own way. I lavish in simplicity of all things. I am not joking. I enjoy the complex nature of a good gluten structure, but I equally enjoy the simple nature of the end product of a properly made loaf or baguette. I think sometimes we take these things for granted because of their simplicity, but I think it important to stop and be grateful for all simple little treasure in life, including a basic tomato sauce. Now if you do not know me very well you maybe laughing at me right now, and that is ok. For those of you who know me, you will smirk because you know how I enjoy the simple pleasure in all things in life. We can eat pasta anytime we want, open the jar, pour over pasta, and dinner is done. But when you take the time to make a very simple tomato sauce from scratch, you know what I am talking about. Just a few ingredients, and a pot is transformed into such a delightful treat. It can be used for pizza, pasta, meatball sandwiches, lasagna, or dipping sauce for bread sticks. It is a magical little sauce that is so simple, versatile, and simply delicious. I am serious. It tastes fresh, but has a good depth to it. It is so nice you can even freeze it for later, leftovers, a quick dinner night, it is that nice to you. So be nice to yourself, you deserve it, make this for you or your family. You can thank me later, but seriously, ditch the store bought jar for a night, and make this. You can even jar it up for you jar food stash, and never have to buy jar sauce again. I dare you :)…
This sauce is truly basic. When you make it, you can play with the consistency if you want it thinner, add tomato juice or stock to it. If you want it thicker, reduce it in a pot over medium heat uncovered until you reach the consistency you like. If you want a roasted tomato version, roast the tomatoes first, then follow the recipe. Amp up the garlic flavor, roast some garlic and add it to the sauce. More basil flavor, add more fresh basil in the end. If you have any questions on how to adjust this sauce, feel free to ask! Comment below, email, tweet, face book, whatever floats your boat. But don't be shy, that is what I am here!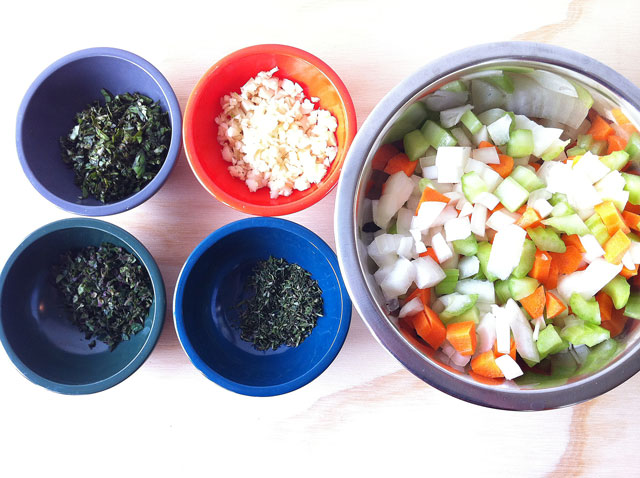 Note: I made this with canned diced organic tomatoes because tomatoes are not in season, their flavor is not as delicious right now as they are when in season. If you are making this when they are in season, you will want to use skinned, seeded, chopped fresh tomatoes.
Simple Tomato Sauce
Servings: 8-10
Ingredients:
3- 14 oz canned diced tomato
1 cup small dice onion
1/2 cup small dice carrot
1/2 cup small dice celery
1 tbsp minced garlic
3/4 tbsp fresh oregano
2 tsp minced fresh thyme
good olive oil
salt and pepper
How To Do:
1. In a large pot or dutch oven heat 1 tbsp good olive oil over med low heat. Add the onion, carrot, and celery, sweat for 10-15 minutes over medium low heat, adding no color. Add the garlic and cook for 2-3 minutes or until fragrant. Stir occasionally.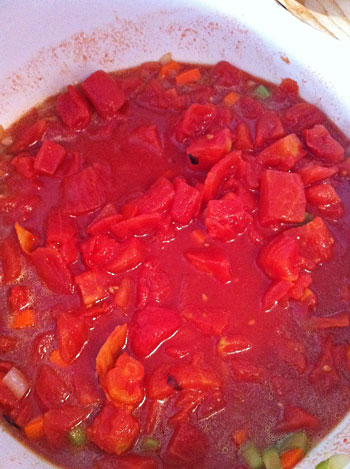 2. Add the tomatoes and all of the juice, the thyme, oregano, 1 tsp salt and 1 tsp pepper. Stir to combine all of the ingredients, bring to a boil, then reduce heat to a simmer. Simmer covered on low heat for 1 1/2 hour, stir occasionally. Check the seasoning at 1 hour, add salt and pepper to taste, and stir in the fresh basil.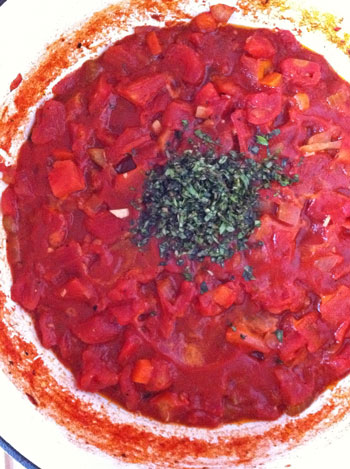 4. Turn the heat off, set sauce aside for a few minutes. Grab a blender, food mill, or food processor. I used a blender. Ladle the sauce into the blender a few scoops at a time. You do not want to blend too much sauce at a time, it is hot, so be careful. Blend a few batches to desired consistency.
5. You can either strain the sauce with a fine mesh strainer at this point or not. I like a rustic type sauce, so I did not strain.