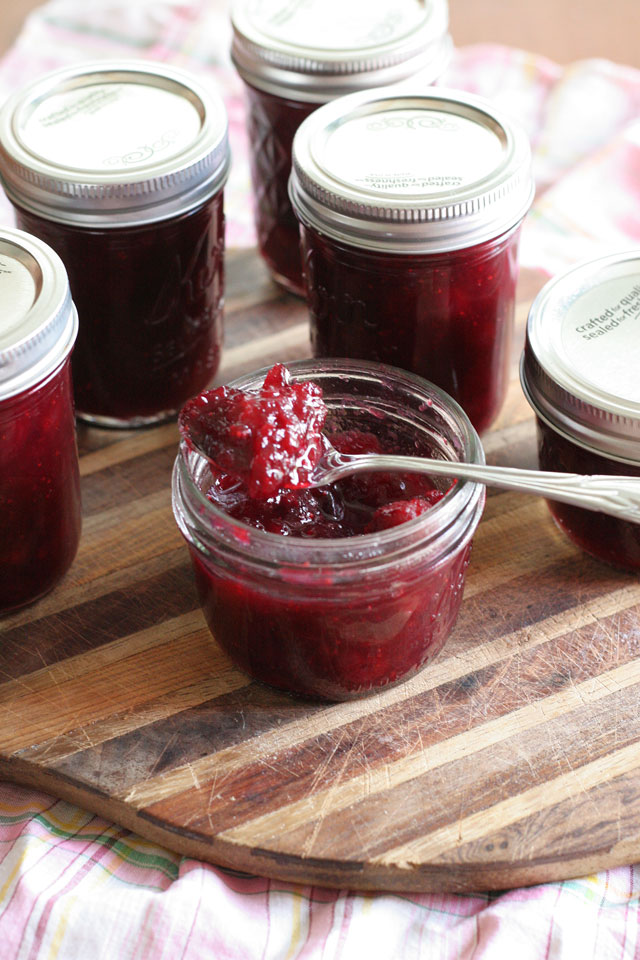 From the archives!
Simple Cranberry Sauce! Can it, don't can it, but for sure make it.  This quick and simple, yet simply delicious cranberry sauce is undeniably needed for any holiday meal plan you have in the works.  I made it last week, canned it and have it ready to go.  Making things ahead of time can alleviate so much stress for the holidays.  Especially when oven and stove real estate are precious for things that are served best when fresh.  Cranberry sauce is not ones of those things.  I made enough to last me all Winter!  If you are into canning, follow the canning rules of course.  If you want cranberry sauce without all of the canning, make it ahead and it can last for up to a month in the fridge safe and sound, ready for your leftover turkey sandwiches.
Simple Cranberry Sauce
Makes about 5 cups
Ingredients:
6 cups raw cranberries
1 cup sugar
1/2 cup orange juice
1 teaspoon salt
Method:
1.  Place all of the ingredients in a large dutch oven, or pot.  Cook over medium low heat for 20 minutes.  Cranberries are very tart, and each batch varies in sweetness and tartness.  Taste it, does it need more sugar.  The batch I bought had a great sweetness so I used 1 cup of sugar.  So taste and add sugar, and a pinch more of salt if needed.
Can by following appropriate canning instructions or place in an air tight container, place in fridge for up to one month.
HAPPY HOLIDAYS!