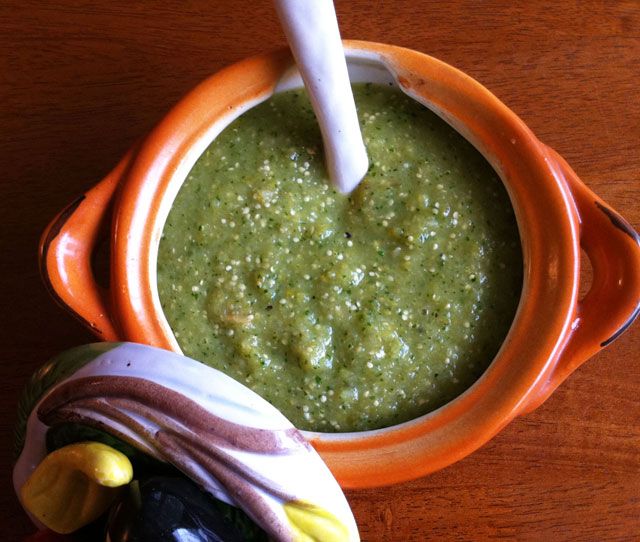 I love salsa. I warned you in my "about me" that you'd be hearing me say this often. I don't lie. I told you so. Any how… I love salsa. I like to keep some in the fridge or freezer at all times for impromptu quesadilla, taco, huevos ranchero making days. Those are like the sandwiches of the U.S. Ha just kidding, kinda. Well at least the quesadillas. When I don't have a lot of time, energy, or the want to be in the kitchen all night after being there all day, I make quesadillas. To be even more honest, I crave them often because I grew up eating them in every way possible. Like anything else in the world, especially the culinary world, there are variations on these kinda things, ya know? Especially in Mexican cuisine, which happens to be one of the most complicated and sophisticated cuisines of the world. That is right, I said it, and it is true. Look it up. I know what you are thinking. She said this was a salsa recipe, it is, be patient, it will be here in a moment. In every cuisine there are the simple versions of cooking, the quesadilla is one of the many Mexican easy, snack type foods. You can use any melting cheese you heart desires, any salsa, any condiments, or none at all. Traditionally in our house we use flour and corn tortillas, when we were growing up they were down the street hand made, but nowadays store bought. If you are in a frisky tortilla making mood head on over to this link of mine and you can make you own flour tortillas. So this has been fun talking quesadillas which reminds me I love salsa, and here is one of my favorite kinds, tomatillo green salsa. And I make quesadillas and put the salsa on it. There, it all came together for us, now you can go make some salsa!
Tomatillos are like little green tomatoes, except they are not little green tomatoes. They are from the gooseberry family, and are a staple in Mexican cuisine. Whenever you see a green sauce or salsa, it most likely came from a tomatillo, among other ingredients.
Ingredients:
2 lbs tomatillos
1 white onions rough chopped
2 garlic cloves
1-2 chile serrano
1 bunch fresh cilantro chopped (about 3/4 cup)
salt and fresh ground black pepper
How:
There are two ways here folks, so pick one and go with it, they are both equally delish. It just depends on what you are in the mood for, to roast or not to roast, that is up to you! It starts out the same though, de husk the little tomatillos.
1. Start by de husking the tomatillos. One by one take the outer husk off and discard. Chop up the onion, set aside. Cut the stem off the chile, set aside.
You have the choice to roast or boil…
Roast: Grab a sheet pan and place the de husked tomatillos, chopped onions, garlic, and chile serrano, drizzle some oil over them, about 1 tbsp of drizzle. Place in an oven on broil and roast for about 10 minutes, check on them after 10 and if they need more toasting leave them in until roasted to your liking. Or go outside and roast them on your grill for about 15 minutes. Up to you…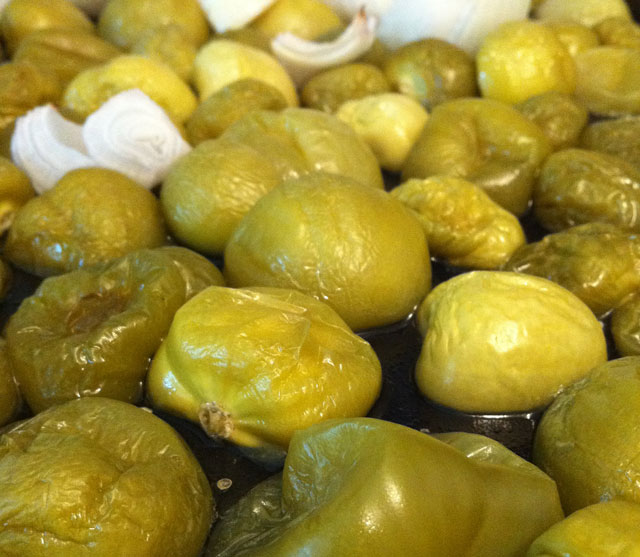 Boil: Place the de husked tomatillos, chopped onions, chile serrano, and garlic in a pot. Cover with water and bring to an almost boil, rolling simmer, and cook for about 10 minutes. Remove tomatillos, onions, garlic, and chile with a slotted spoon and set aside.
2. Grab a blender, or food processor. Put the of the ingredients, except the cilantro in the blender or food processor and blend until somewhat smooth. Add a bunch of the cilanrto and a pinch of salt and pepper. Blend until combined. Taste, does it have enough salt and pepper? Add until you are happy with the seasoning.
Serve with quesadillas, tacos, chips, enchiladas, on a sandwich, or just about anything, it would be good. I also like it as my salad dressing.
Hey look, I made quesadillas, this time with cheddar, queso fresco, and salsa de tomatillo!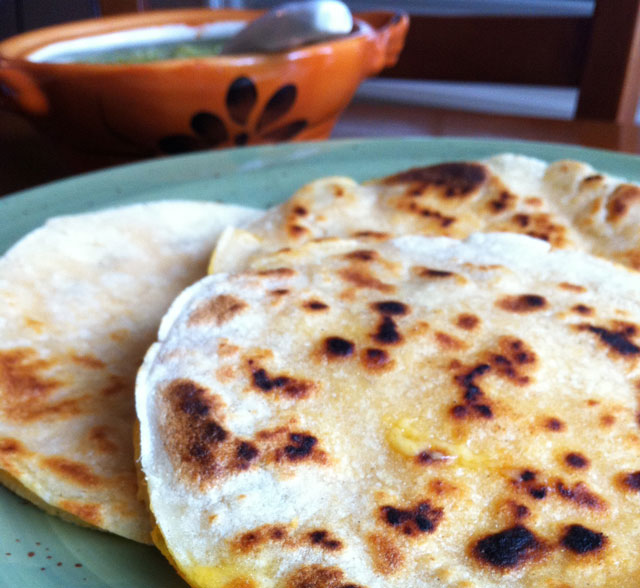 PROVECHO!