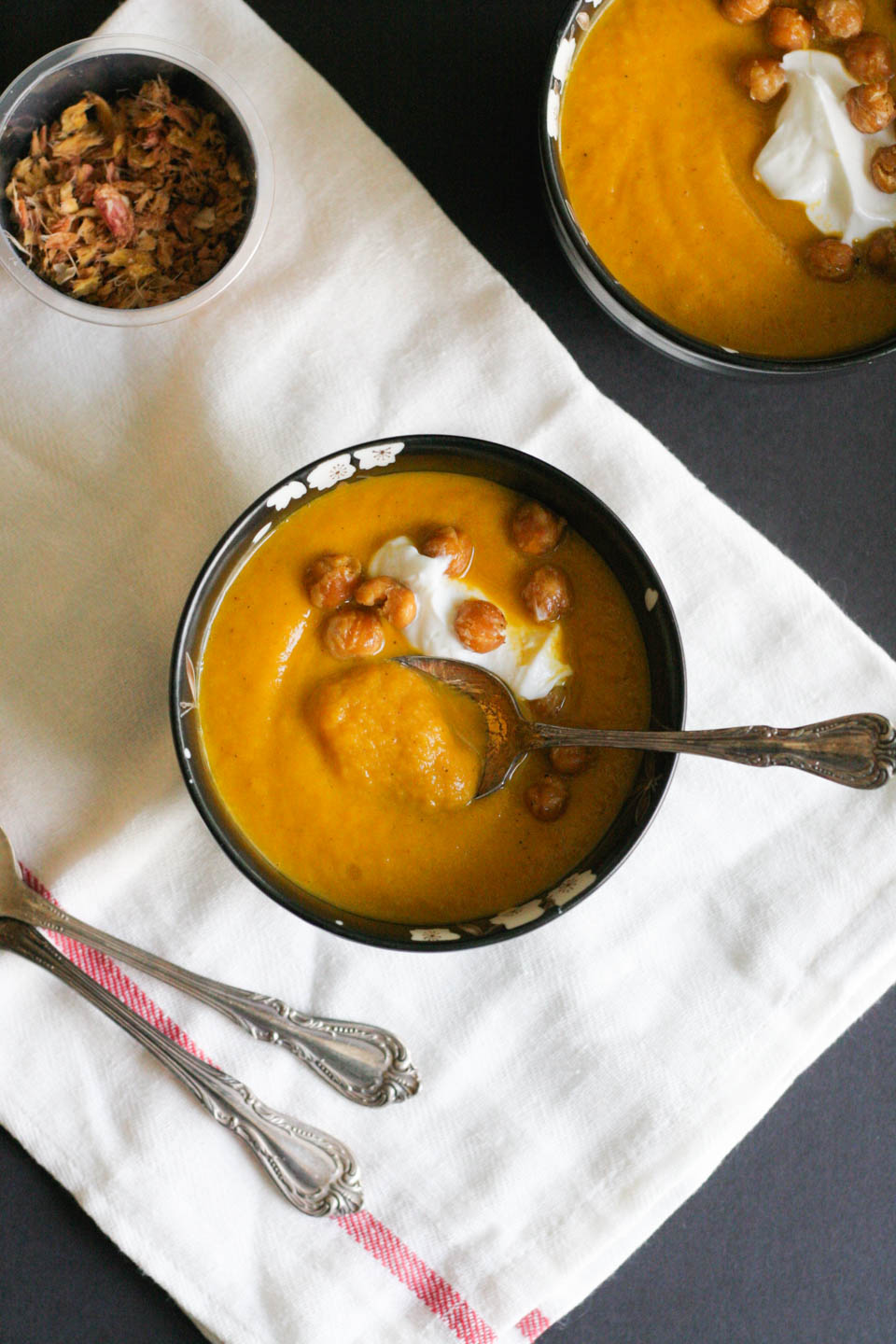 Disclaimer: This is a compensated post in collaboration with Gourmet Garden. As usual all opinions are my own. Thank you for supporting brands that support NJB.
How weird is the weather where you are? It's kind of weird here in the Pacific Northwest. Punksatony Phil said it's six more weeks of Winter, but the flowers are blooming, there are a couple of Cherry Blossom trees coming out showing their beautiful colors. It's also sixty degrees and sunny. So I see Spring is coming sooner than six weeks, but I am not Phil. He has a very good record, so maybe there will a final hooray from Winter, and we just don't see it coming. Roasted Carrot Soup with Ginger Chickpeas is the way to go!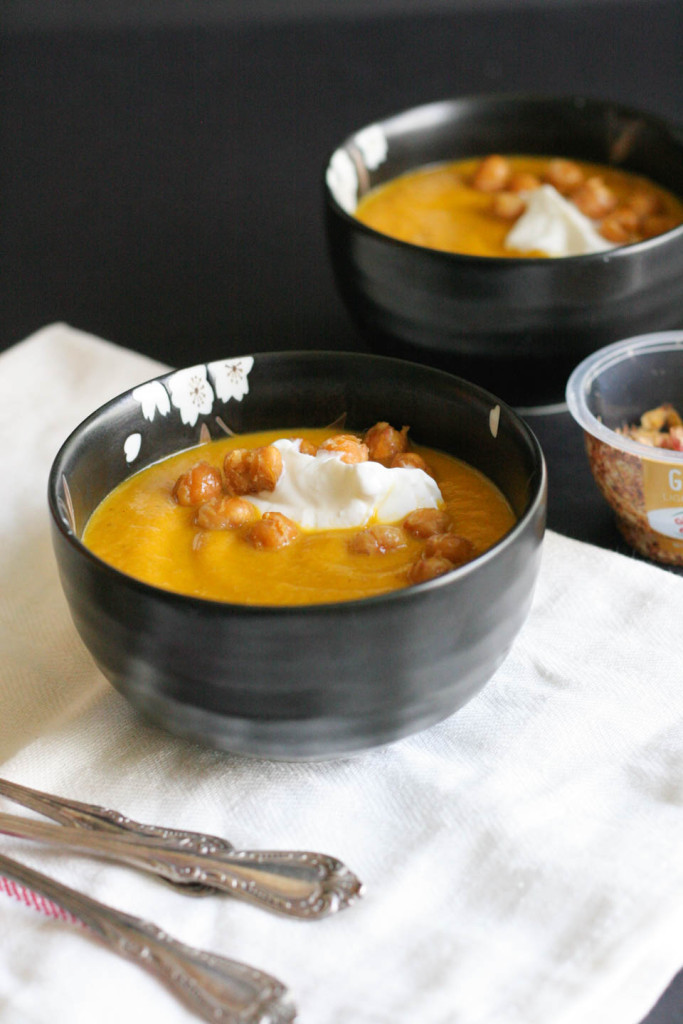 We all need a good warming soup though. Sixty degrees here, seventy in California, and below zero on the East Coast. We all need a bit of carrot soup with extra crispy chickpeas, it can help us all feel comforted, full, and good about what we ate. Bright carrot soup is so pretty and when I make soups like this, I want them to fill me up for dinner. So I add the chickpeas for protein and they are very filling. Plus the yogurt is creamy, healthier than cream, more protein, and tangy goodness. So this Roasted Carrot Soup with Ginger Chickpeas is good for a whole meal, hearty lunch, and awaiting Spring. How you would normally find ginger in the soup, I wanted to spice up the chickpeas instead. I roasted them with ginger and made them awesome! This lightly dried herb from Gourmet Garden is super fresh, because of how lightly dried it is. It is pungent, and easy to use in everyday cooking. I keep a jar of it in the freezer for easy use all of the time. It is also very good for us, so add more to the recipe if you like!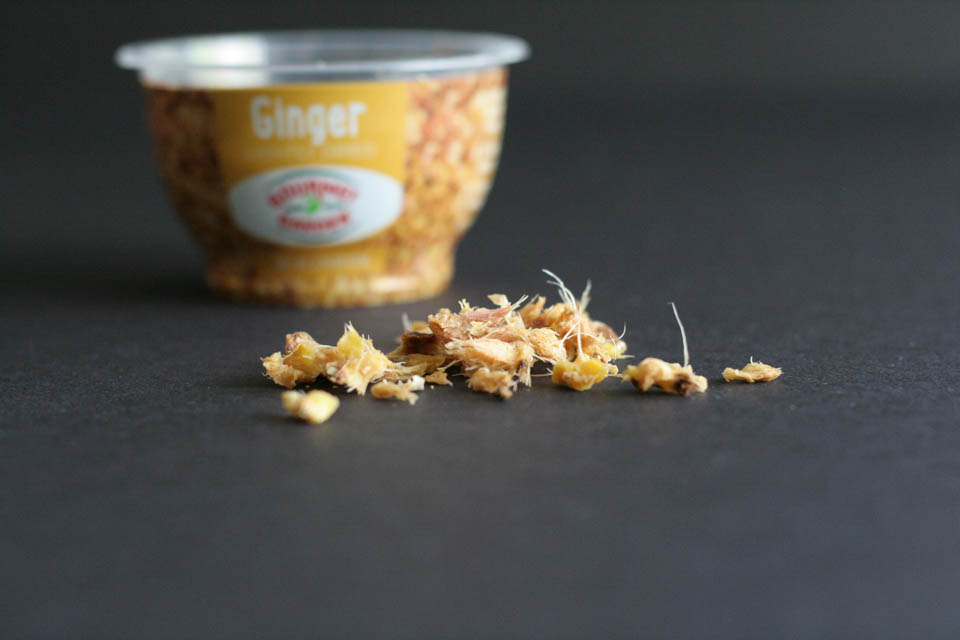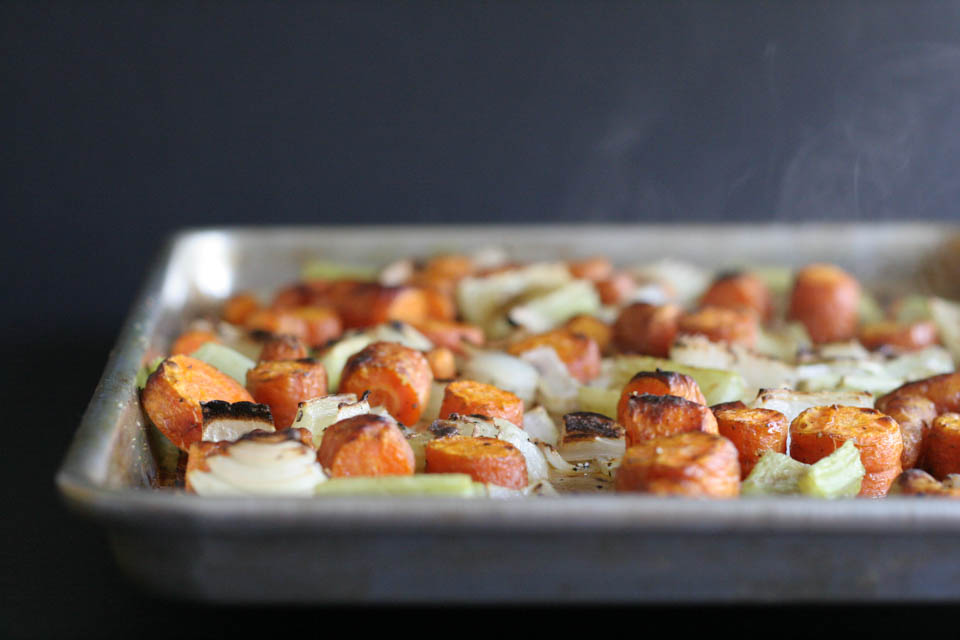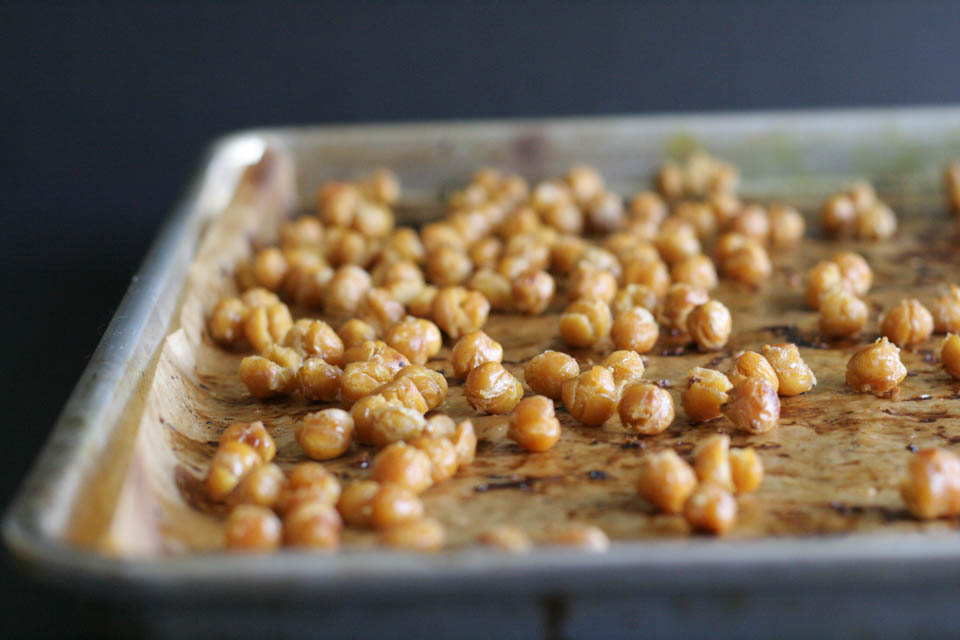 Ingredients:
4 large carrots, about 3 1/2 cups chopped
1 medium onion, about 1 1/2 cup chopped
2 celery stalks, about 1 1/2 cup chopped
2 tablespoons olive oil
fine sea salt
fresh ground black pepper
3 cup vegetable or chicken stock, you could also use water
Garnish:
1- 14 oz can  cooked chickpeas, drained very well
1 tablespoon olive oil
1 1/2 teaspoon Gourmet Garden lightly dried ginger, finely chopped
1 cup plain Greek yogurt, omit for vegan
Place oven rack in top third of oven, and preheat to 425 degrees
Method:
1. Place carrots, onions, and celery on a parchment lined baking sheet. Drizzle with 2 tablespoons olive oil, 1/2 teaspoon fine sea salt, and 1/4 teaspoon fresh cracked black pepper. Toss to combine using hands, or tongs. Place in oven for 25 minutes.
2. While vegetables are roasting, toss chickpeas in 1 tablespoon olive oil, ginger, and  1/8 teaspoon fine sea salt in a small bowl. Set aside.
3. Remove vegetables from oven and place in blender with 2 1/2 cup stock/water. Blend until smooth. Taste for seasoning. Add more liquid, salt and pepper to taste if needed. Place chickpeas on the same sheet pan where the vegetables were, place in oven for 20 minutes. Remove and allow to cool for 5 minutes before serving them.
Serve soup warm with toasted chickpeas, and a dollop of yogurt. Place leftovers in an airtight container for up to 5 days. Keep chickpeas in a separate container.
Other awesome carrot recipes from around the web!