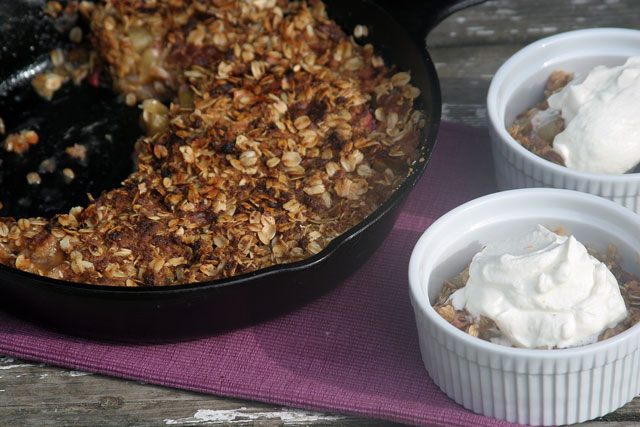 Last week was an incredible week. I often say how grateful I am for this life I live and it is nothing but the truth. Rhubarb Apple crisp is a way to celebrate good things, happy times, and the start of a birthday week full of good food, family, and more Rhubarb Apple crisp.
Last week was Brian's birthday. I celebrate a birthday week, not just one day. I enjoy them because it was the day you were born, without that, naturally, you would not be here. That is cause for celebration. It doesn't mean lavish gifts every year, but I do make a thing of birthdays. It started last Monday, his birthday was Wednesday, with a Rhubarb Apple crisp, fish tacos, and Brussels sprouts. Weird huh? The rest of the week was filled with angel food cake, Philly cheese steaks, so weird because I have never made them or been requested to make them, and of course a traditional carne asada plate dinner to end the week of celebrations. Many cups of coffee, salad, and fruit in between said meals.
As you may know, he has been going to school full time and working full time. Not much time for us. But is has only made us more solid, trusting, and good. It takes a certain sort of relationship, and strength to go through this type of change. This all hinges on less neediness, more trust, and independence. Luckily for both of us, we were this way prior to meeting, naturally we worked. So through this challenging point in our lives together I do my best to be there for him, and him for me. Although we don't see each other very often, I make sure to say often, very often, how awesome we are, how awesome he is to me. No joke, I will send him texts saying how awesome he is, and we are together. It makes me laugh.
Brian is simply amazing. There are not too many people like him in this world, I am sure of it. His strength, persistence and calm amazes me. He not only gets straight A's in every single one of his classes, but he retains all of the information given to him, and can talk to anyone about it in the way where that individual can understand what he is explaining. An expert or novice will learn from him. He posses a calm that many would love to have, and work on having throughout their lives. He is strong, a true man. He can build, AND design you a website, then turn around to build me a beautiful, large kitchen storage/herb garden table. He is known in the web world as a Unicorn. A rare person who understand development of a website, and design of the website. It is a unique quality that translates into every facet of his life. This was something I admired from the moment we got to know one another. A jack of all trades, but unlike the saying, he masters them, and moves along to learn more. Something more to be admired. He was the top ten Master Certified Systems Technician at Mercedes, won that award. But will still tell you it was top sixteen, he was top ten. I saw the list when we visited Florida for his award ceremony. Yet left that craft to work on another. There is so much in store for his life, never ending sponge of knowledge.
Like last week, where I shared how bad ass I felt about myself. I feel equally bad ass about Brian. I admire him and I respect him immensely. He is a truly unique individual. He is quiet, much more than me, humble, and amazing. This is for him. I will shout his praises, he won't have to, I'll tell the world how amazing he is. He may laugh and kill me, but I don't care. Because when you are that awesome, I want to share it with you.
This is my life, even just a corner of it, it is full of awesome people I cherish. I only allow awesome people in anymore. Life is too short, not to be picky about the relationships I put energy into. This is one that just works for us.
As for food, well, this is an wonderful recipe to share with your loved ones. It is one of those desserts that warms your heart and your belly. Full of happiness and joy. Yup, it's one of those. So simple to make, your family will love you!
Rhubarb Apple Crisp with Clementine Mint Cream
Serves: 6-8
Ingredients:
2 cups large dice rhubard
2 cups large dice apple, I used Fuji
1 clementine zested and juiced
1/4 cup ll purpose flour
1/4 teaspoon salt
2 tablespoons sugar, I use organic cane sugar, reduce amount to 1 tbsp if using white sugar
Topping/Crisp:
1/2 cup all purpose flour
1/2 cup cold unsalted butter cubed
1/4 cup brown sugar
1 cup oats
1/8 teaspoon salt
Cream:
1 cup whipping cream
2 teaspoon finely chopped fresh mint leaves
1 teaspoon of clementine juice, about 2 small clemetines
2 teaspoons zest clementine, about 2 small clemetines
PREHEAT OVEN 400 DEGREES
Method:
TIP: Place the bowl and whisk you will be using for making the cream in the freezer or refrigerator.
1. For the fruit filling, place 1/4 cup flour, 1/4 teaspoon salt, and 1 tablespoon sugar in a bowl with the rhubarb and apple. Toss together to combine. Place the mixture in a 10 inch cast iron skillet, or pyrex dish.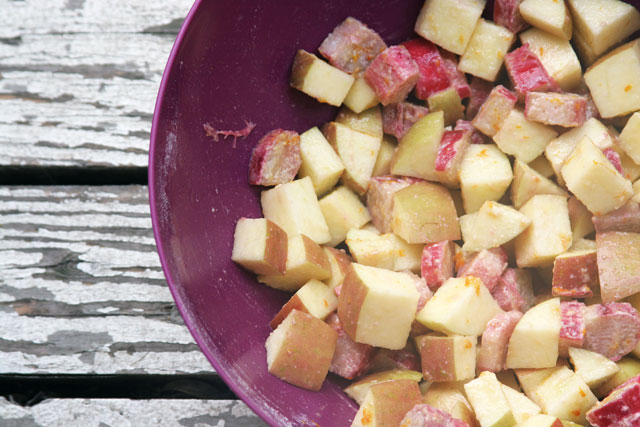 2. In a separate bowl, Combine the brown sugar with 1/2 cup flour, using your fingers rub the butter and sugar together until small pieces are formed. Work quickly so the butter does not melt. If it gets too warm, place the bowl in the freezer for a few minutes. Add the salt, and oatmeal, and mix to combine. Place the topping in the freezer for 15 minutes. Sprinkle the topping evenly on the fruit mixture. Place in oven, bake for 40-45 minutes, or until the top is golden brown.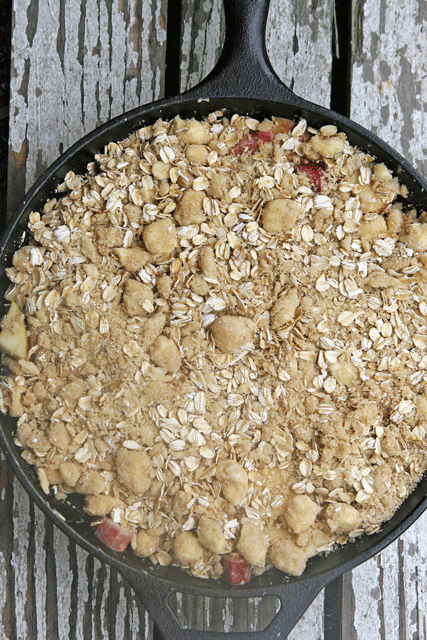 3. While the crisp is baking, place the cream in the bowl of stand mixer fitted with whisk attachment or use a hand mixer with whisk attachment. Whip the cream until soft peaks, start on medium for a few seconds, then turn to high for 1 minute. Add sugar, salt, zest, and juice. Whip on high until stiff peaks are formed. You will know they are stiff by taking the whisk off the attachment turn upside down. Is the cream peak standing right side up on its own without falling over? That is ready!
TIP: Do not over whip the cream, if you do, it will look lumpy and curdled. This is not desirable for the perfect whipped cream, but not to worry. It is a quick fix, add a small amount of cream to the over whipped cream, and whip on medium until combined and a stiff peak. Obviously avoid this, but in case it happens, this is a fix that can work in a pinch if you can't redo the batch.
Serve a piece of warm crisp with a dollop of cream and ENJOY!