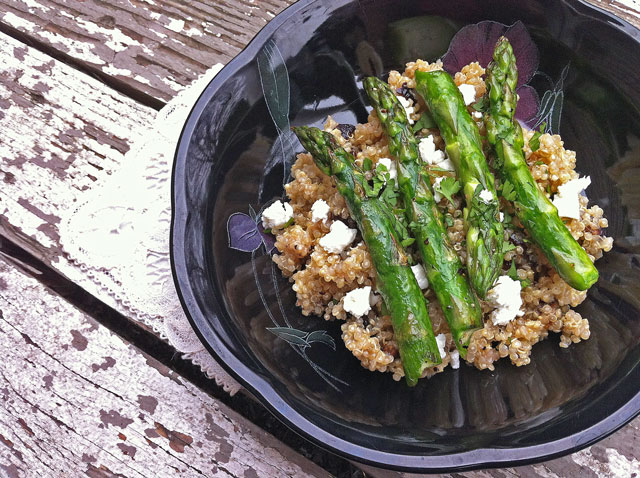 A great way to use Spring asparagus and get tons of protein. This is last years recipe I thought needed some love this year. Enjoy!
Original Post:
Happy Spring my friends, it's sixty degrees here today. Bring the new season in with fresh, easy, healthy, seasonal veggies! I am a fan of quinoa. I have always been a fan of grains and things of the grainy nature. I love brown rice, barley, and quinoa! I also like the word, and how versatile of food it is. Not to mention it is the only complete protein of its kind out in the world, and it has been around for a long time, like ancient people ate it. And they kind of knew stuff about stuff, so I am a fan of that. Like chocolate, ya, they knew about that, and look where chocolate is now folks. So if they liked it, it is most likely good for us, and we should eat it. I eat it cold, hot, for lunch, dinner, breakfast, and with all sorts of things in it. You can make it as light or hearty as you want, that part is up to you. So lets see what I came up with today!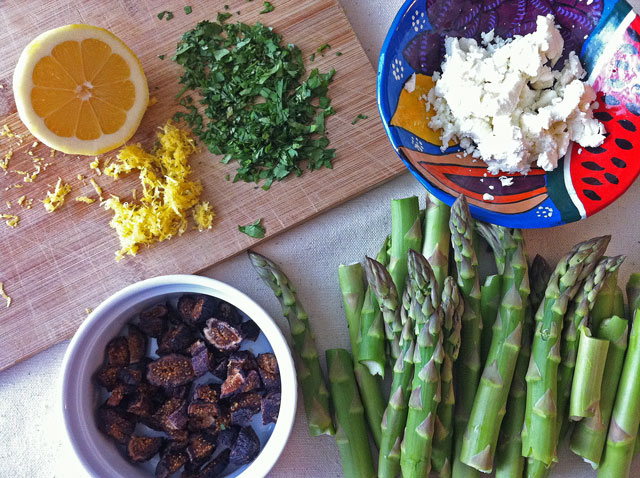 Quinoa with Dried Figs, Goat Cheese, and Asparagus
Serves: 4
Ingredients:
1 cup quinoa
2 cup stock or water
1 bunch asparagus (snap off the ends with your hands, then snap the whole thing in half)
1 tbsp good olive oil
1/2 lemon zested and juiced
1/2 cup chopped dried figs or any other dried fruit you like or have around
1/2 cup goat cheese
1 tbsp fresh chopped cilantro or parsley
salt and pepper to taste
To Do:
1. In medium pot place the quinoa and stock/water, and 1 tsp of salt, stir to combine. Bring to a boil, then reduce to a simmer. Cover and cook for 15 minutes, turn off heat, and let stand for 5 minutes. Taste to see if it needs more salt. If so, adjust seasoning by adding more salt now.
2. While your quinoa is cooking get a separate saute pan add 1 tsp of olive oil over medium heat. Once the pan is warm, add the asparagus, sprinkle with a pinch of salt and pepper. Toss to coat with the olive oil. Cook for 1o-15 minutes or until al dente, stirring occasionally.
3. Add the figs, lemon zest, lemon juice, 1 tsp pepper, and 2 tsp olive oil to the quinoa and fluff it up with a fork.
4. Serve the quinoa with sprinkles of goat cheese, cilantro or parsley, and top off with the asparagus.
BON APPETIT!