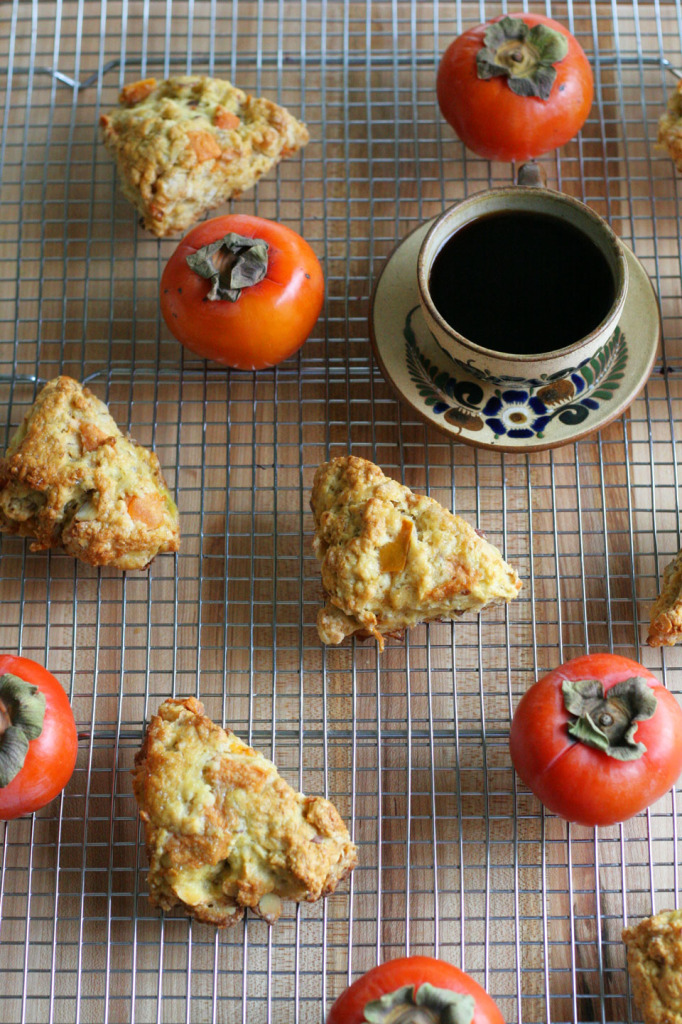 Oh you know me and my scone love. Equal to me and my galette love, hence the last post. I have a confession, I made these last month. Many times, that is the case in blogging. We keep posts or recipes that are ready to go, if we need them. I needed it. I was going to post something healthy, but to be honest, I am having a bit of trouble getting my blog groove back. There has been a lot going on with family, Mama had the flu, a nasty one, doctors appointments, and getting back to it after vacation. So I have back ups. This is no bad thing, we get to drool over scones, and a cup of coffee right? Not bad at all…
I think it may not even have been the vacation, but the start to the year always seems a bit slow. Which is a good thing I think. I am totally cool with it, it just feels a bit weird. It could also be the cooler weather, fires in the fireplace, and massive amounts of food consumed over the holidays. I thought for one moment I felt refreshed and ready to kick ass last week, and this week feels slow and steady. I'll still kick ass, but I might have a scone in my hand while doing so. I am also ok with that. It's that balance thing I talk about frequently.
Balance the green smoothie in the morning, with a scone the next. I am happy to do that, anytime. I do love a good scone though, I am quite picky about them as you know. So this one is no different. While the persimmons don't pack a punch of flavor, it's just enough for a hint of fruit sweetness, which I like. Plus they are seriously in season, so why not take advantage. Remember when I made the persimmon tart with almond crust, whoa that was so good! That's kind of where I got the idea of the scones.
Persimmon Hazelnut Scones
makes 16 scones
Ingredients:
4 Fuyu persimmons chopped
4 3/4 flour, plus more for dusting
1/2 cup sugar
1 tablespoon baking powder
1 1/4 teaspoon salt
3/4 teaspoon baking soda
1 1/2 cup buttermilk
8 oz  plus 1 tablespoon unsalted butter, ice cold ,cubed
1 cup hazelnuts chopped
1 egg plus 1 teaspoon water for egg wash, whisk to combine
Place oven rack in center of oven and preheat to 400 degrees.
Method:
Get your parchment lined baking sheet and egg wash with brush ready to go.
1.  Place flour, sugar, baking powder, salt, and baking soda in a large bowl, whisk to combine. Add ice cold butter cubes, rub butter into flour forming small pea sized chunks. Add persimmons, mix. Add buttermilk, using a spatula, combine gently. Add hazelnuts, use spatula to combine gently.
Make sure to keep everything cold, if your hands warm up, run under cold water and place bowl in fridge for a few minutes.  The key to perfect scones is keeping everything cold.
2. Turn dough out onto a lightly floured counter. Bring dough together gently, forming a uniform disk, use a bench scraper to cut into two even pieces. Form each piece into a rectangle, or circle 1 1/2 inch thick.  Brush with egg wash, then cut into 8 even triangles using a knife or bench scraper.  If you made a rectangle, cut into 8 even pieces.
3.  Place on a parchment lined baking sheet, place in fridge or freezer for 15 minutes minimum. Remove from fridge or freezer and bake for 25 minutes.