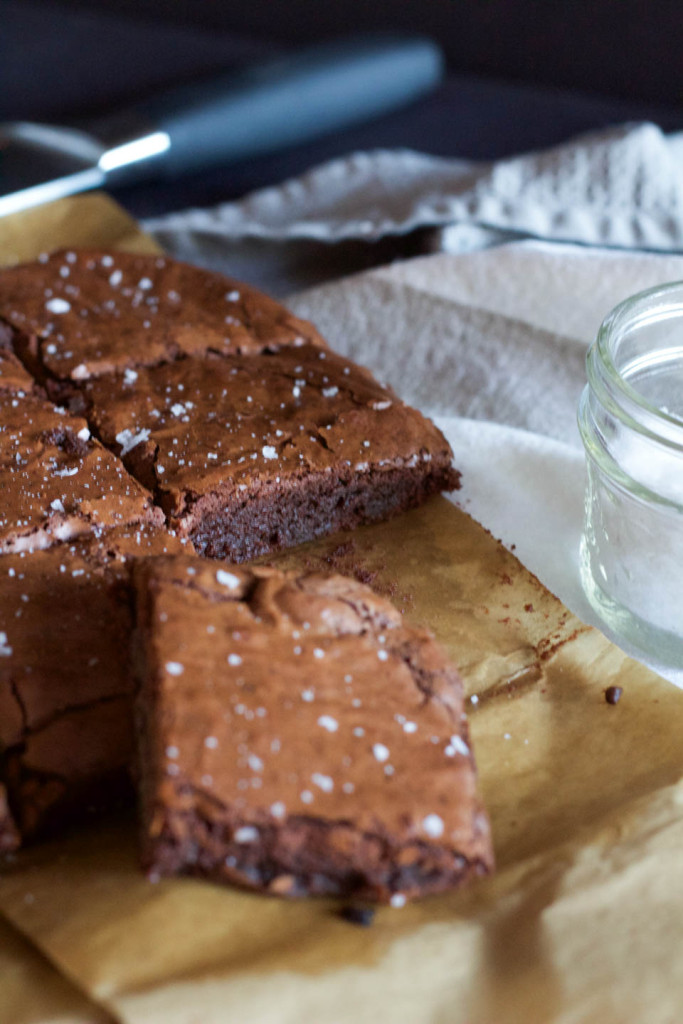 Hello Fall, hello chocolate, and olive oil! These ingredients feel and introduce the first day Fall in the best way possible. Monday felt like the first day of Fall and then we realized Wednesday actually is! The change in the air is subtle but glorious. Fall winds down life a bit, slows the rush, my favorite part after a long and wonderful Summer. It's my kind of season, the changing colors, fresh and crisp air, equally to Spring but for other reasons, Fall is my favorite. I like sweaters, leggings, warmer dresses with boots, clogs, slippers, and robes. Fluffy blankets and windows open to let in that crisp air, so much yes. The sun shines, then it rains a bit, and baking goes hand in hand with this time of year. You know I bake all year no matter the weather, yet there is something about pulling a pan of chocolate brownies out of the oven when it's cool outside.
On my monthly segment on ABC'S KATU CH2 AM Northwest I'll be sharing how to make these brownies. How to melt the chocolate, and not eat these in one sitting. You'll want to, like me, but sharing these is where it's at. Whoever you share them with, they will love you. And that is what food is all about!
Olive Oil Chocolate Brownies
makes an 8×8 pan, about 9
Ingredients:
8 ounces bittersweet chocolate, chopped or use chocolate chips
¼ cup good quality olive oil
1/2 cup granulated sugar
2 large eggs, whisked to combine
1 teaspoon vanilla extract
¼ cup all purpose flour
1/4 teaspoon baking powder
1/4 teaspoon fine sea salt
1/2 cup hazelnuts, optional
coarse sea salt for finishing after baking, optional, omit for lower sodium needs
Method:
Place oven rack on top third of oven and preheat to 350 degrees.
Prepare baking 8×8 pan by folding parchment paper, spray with baking or use a paper towel to spread oil on parchment paper.
1. To melt chocolate: either place the chocolate in a medium bowl over a small pot of simmering water, stir until melted, about 3 minutes. Or place chocolate in a microwave safe bowl, place in microwave for 30 second interval until melted. Stir in olive oil, sugar, eggs, and vanilla.
2. Place flour, baking powder, and salt in a small bowl, whisk to combine. Add to chocolate mixture, using spatula, mix to combine gently until shiny and smooth. Pour batter into prepare pan, sprinkle chopped hazelnuts on top if using. Place pan in oven and bake for 30 minutes.
3. Remove from oven, sprinkle with a pinch of coarse sea salt. Allow to cool for 20 minutes before slicing. Enjoy immediately or store leftovers at room temperature in an airtight container for up to 3 days.