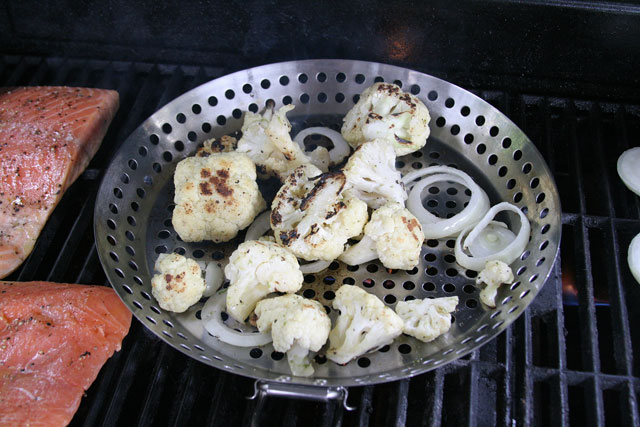 I think we all love grilling in the summer. It can super simple or complicated. But it takes us outside, away from the hot oven, and into the less dishes arena. I am a fan of that. Even though for this side dish I do use my grill pan thingy. I love this grill pan thingy. It is great for veggies, fruit, and even fish that is delicate and can fall through the grate. It is my go to veggie grill dish. I also grilled some sliced onions, and salmon that day. I made salmon burgers using the chipotle lime mayo recipe as a spread.
Ingredients:
1 head cauliflower
1 lime zested and juice
1 tsp salt
1 tsp fresh ground pepper
2 tbsp good olive oil
To Do:
1. Cut up the cauliflower, leaving the florets in larger pieces. Toss the florets with salt, pepper, lime zest, lime juice, and olive oil.
2. Heat up grill. Get the grill HOT! Place the cauliflower in a grill pan, like below, or directly on grate if you don't have a pan. Grill over medium heat, and turn/toss every couple of minutes. Grill for 7-10 minutes, or until al dente.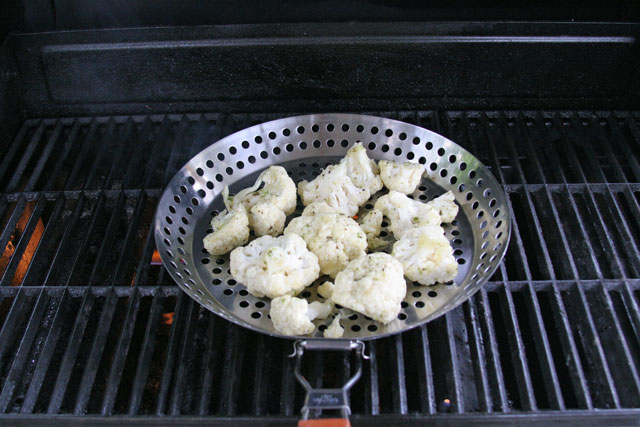 ALL DONE!
ENJOY!!!