These Oatmeal Blueberry Banana Protein Bars are filled with nuts, seeds, no added sugar, just sweetness from bananas and anti-oxidant filled blueberries.  Perfect for kids lunches, adult snacks, and hikes!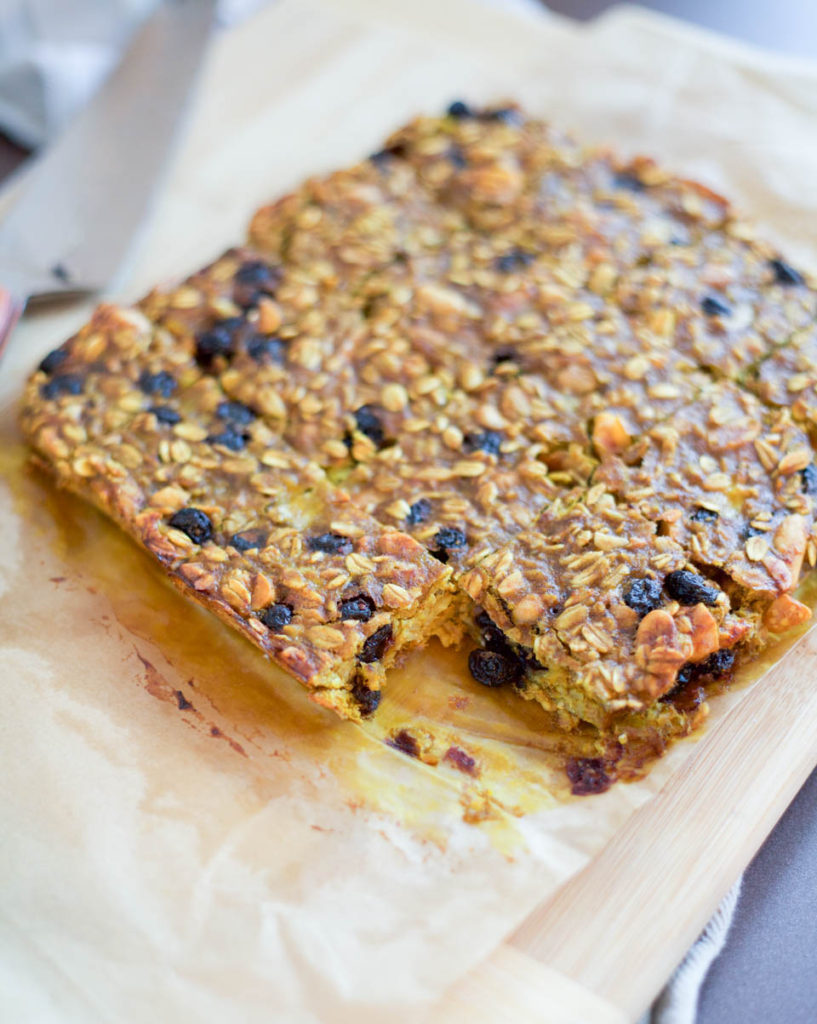 See the yellowish tint? That's from turmeric and there's also cinnamon, both give it such great flavor and have added health benefits. Win! I'll let you in on a secret, I'm making these for a huge hike we'll be doing later this year, so I need all the healthy ingredients I can pack into one little bar :).
We have always loved hiking and have been doing a lot since we moved to the Pacific Northwest six years ago this week. It's the natural thing to do up here! But this year we are amping it up, getting out into nature even more is super important to me, it's grounding and good for the soul.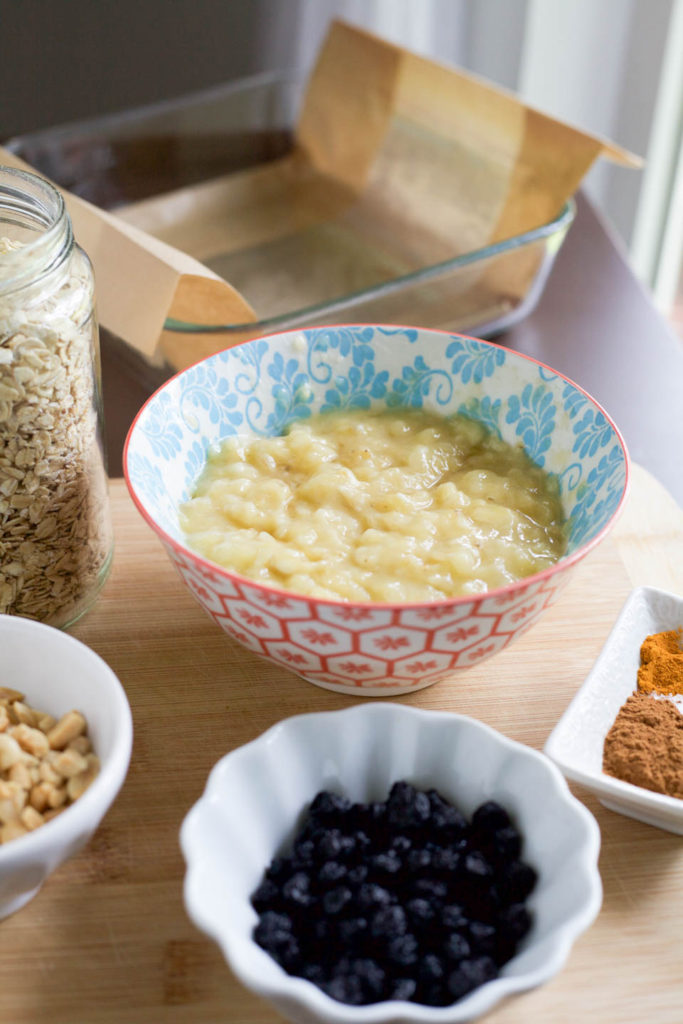 Brian has been talking about climbing Mt. Saint Helen's for so many years, and he's sort of convinced me to go ahead and do it this year. My brother and his have agreed, happily, so it's looking like we're all climbing it at the end of the Summer. Hence these Oatmeal Blueberry Banana Protein Bars. Amping up the hikes to get into better hiking shape naturally needs hiking foods.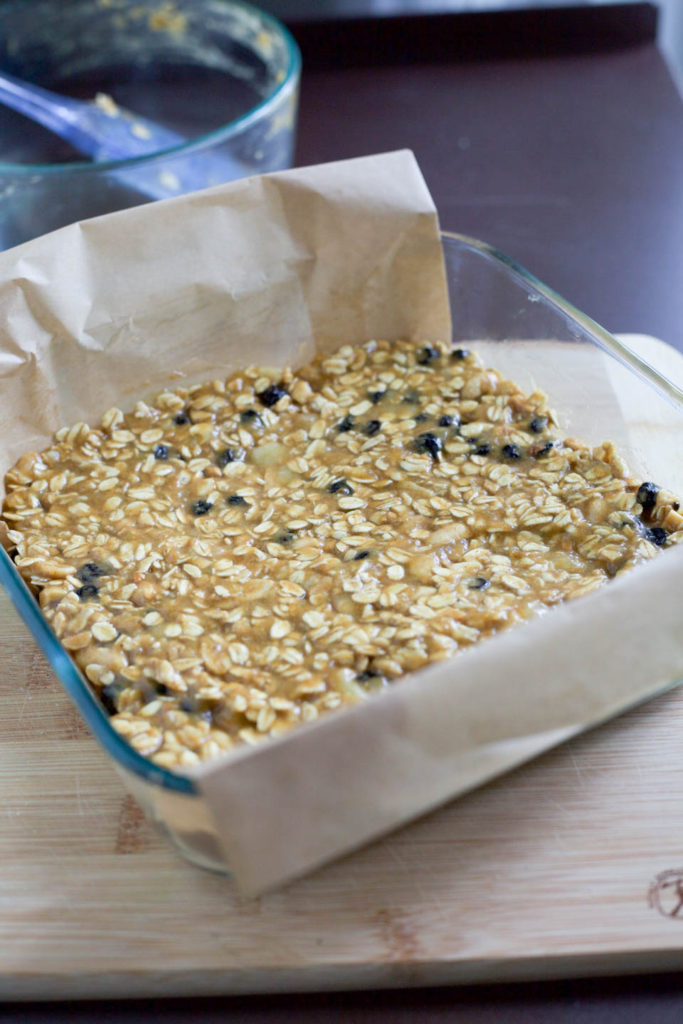 There are tons of options at the store but they are often sugar laden and these are crazy easy to make. You can add all sorts of things to make them what you want, so even better. I added bananas for much needed moisture, nuts, seeds, and oats for protein, and the blueberries for energy, sweetness, and super foods status. While I'm no dietician, I know how my body works and what balance of foods it needs to get up a mountain. So these work great for me on our hikes! I'll be making tons of these kinds of foods in the next few months to get our tummies ready for the hikes we love.
Make these ahead of time, store in the fridge or freezer for much needed hike snacks, picnics, and kids lunches! They are easily made with your favorite ingredients, so swap out whatever you want. Plus they are gluten free, dairy free, and vegan friendly.
Oatmeal Blueberry Banana Protein Bars
makes 9-16, depending on size they are cut 
Ingredients
2 large overripe bananas, about 2 cups
1 cup thick cut oats, I use Bob's Red Mill, use gluten free if needed
1 tablespoon chia or hemp seeds (or both!), I use Bob's Red Mill
1 tablespoon coconut oil, olive oil or grapeseed oil
1 teaspoon cinnamon, I use Spiceologist
1/2 teaspoon turmeric
1/4 teaspoon fine sea salt
1/2 cup chopped peanuts, walnuts, or almonds
1/2 cup dried blueberries, I use Graceland Fruit
Method:
Place oven rack in center of oven and preheat oven to 350 degrees. Spray an 8×8 oven proof Pyrex or baking pan. Line with parchment paper.
In a large bowl, mash bananas using a large fork. Stir in oats, seeds, oil, cinnamon, turmeric, and salt. Add nuts and blueberries, mix in using large spatula. Add mixture to prepared pan, flatten out evenly. Place in oven and bake for 40-45 minutes.
Remove and allow to cool for one hour in the fridge. Remove bars using parchment paper, slice into 3 or 4 even rows each way, making either 9 or 16 bars. Enjoy immediately or store in an airtight bag/container in fridge for up to 3 days. For longer storage, place in a freezer bag for up to 1 month. Remove needed serving the day of and thaw on counter or pack for your hike!