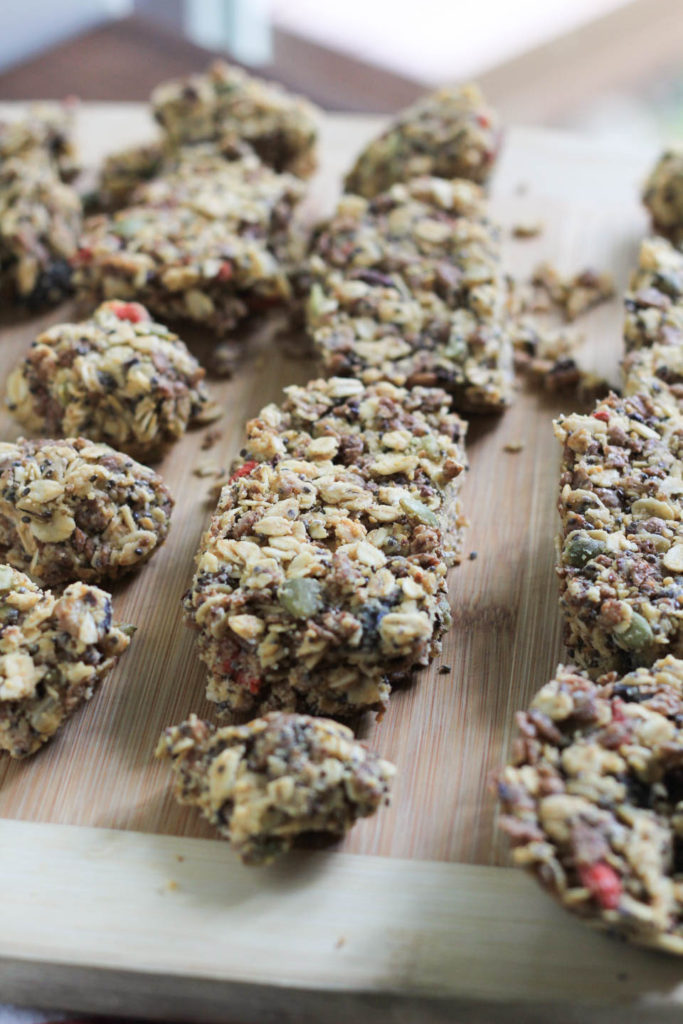 I've been a granola, grain, healthy foods loving person my entire life. Nuts, seeds, random Himalayan berries, I'm down with all of it. But I also enjoy a good old school chewy granola bar from my youth. It's just that most of them are way to artificial and sweet for my taste buds now, so I never buy them or eat them. But I want them, I enjoy them when they are homemade and less sweet, so I decided to make my own. Granted these are not anything like the package ones, these are full of superfoods and only a small amount of maple syrup added to bind the bars together. So I can't really say these taste anything like the ones from many peoples childhood, but I'd much rather this version anyhow. To be perfectly honest, we never ate them in our house, my Mom didn't buy American snacks hardly ever. But I did eat them at school and at my friends American households. That's where I had Capri Suns and all the junk foods my Mom never would buy which is great! She gave us fruits, nuts, cheese, and fresher snacks, which to a kid may not seem awesome, but it was. Because now, that's what I want to eat!
I love these seedy, sweet from the fruit, with a touch of chocolate flavor from the cacao nibs style bars. We take them on hikes and they are the perfect snack for adults and kids. Personally, I make a double batch and keep them on hand for snack time. They are easy to put together and worth extra effort to avoid the packaged ones. Get the kids involved, they can totally make these on their own!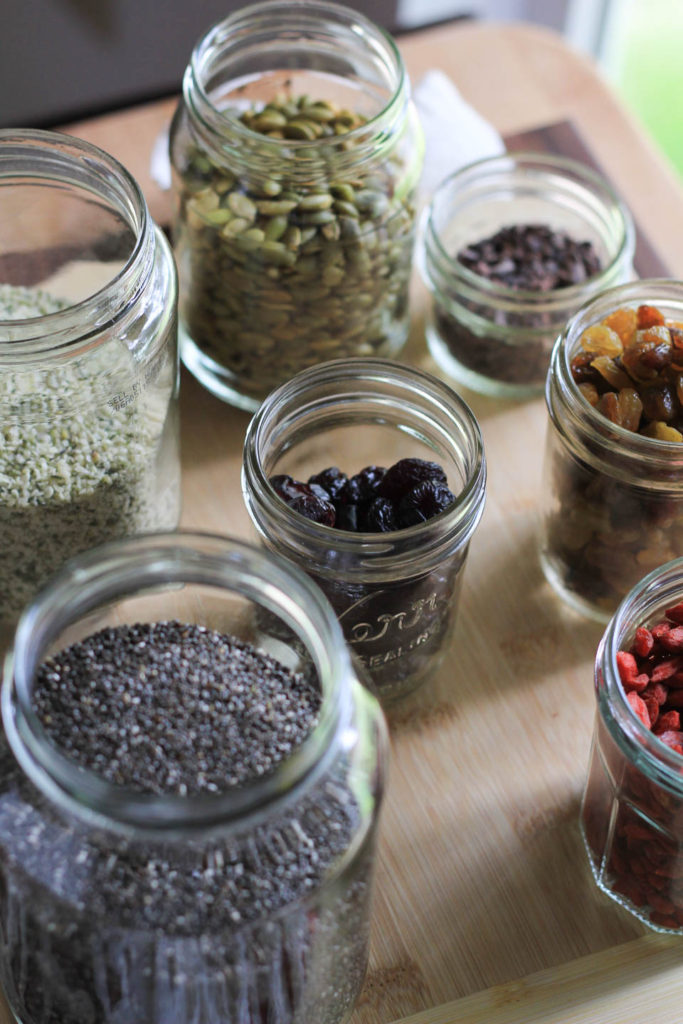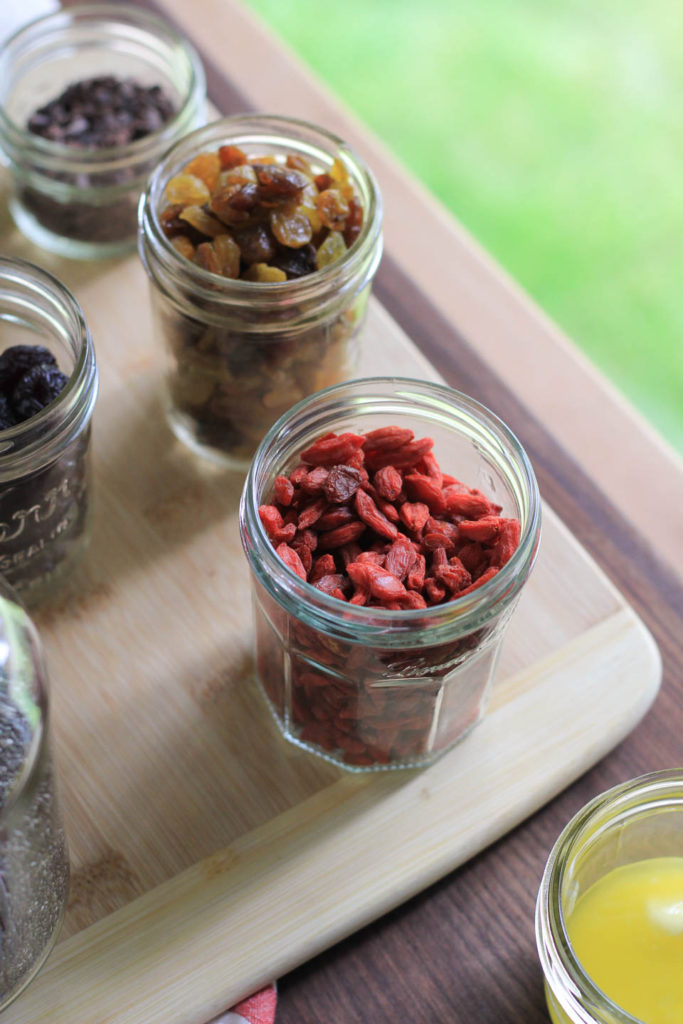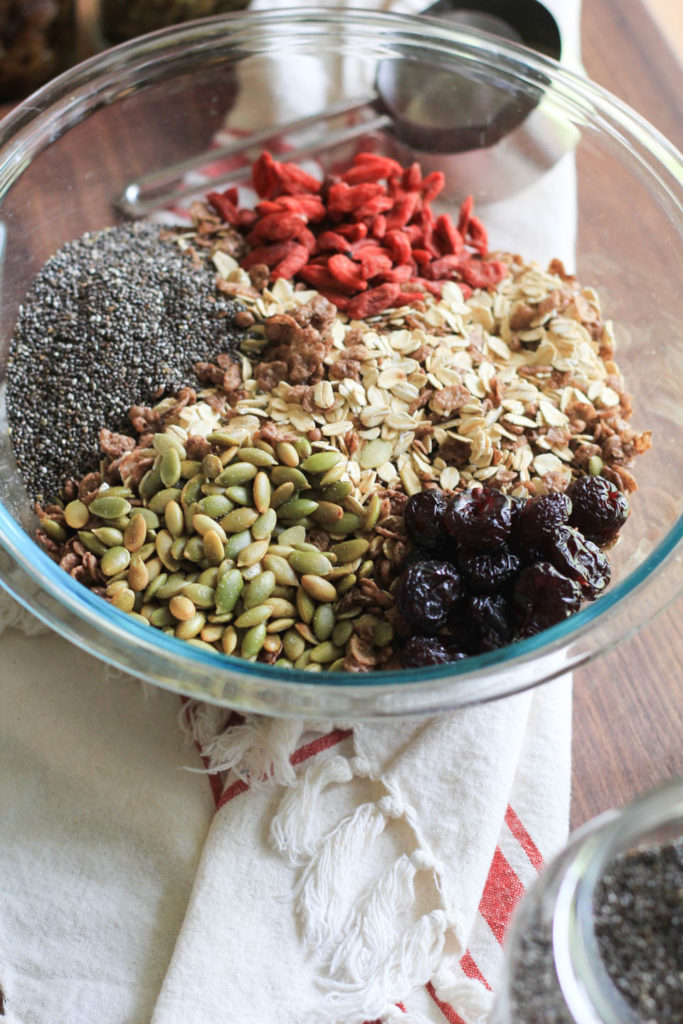 The great thing about this recipe is you can tailor it to you likes. Substitute the ingredients for what suits your family, and ask me if you need any help! You can also make them into balls instead of bars for an even easier snack. A note on the texture: These are crumbly and fall apart easily because I didn't use much maple syrup to hold them together on purpose. If you want them to stay together and don't mind more sweetness, you can add more maple syrup.
No Bake Superfood Chewy Granola Bars
makes 12
Ingredients:
1 cup almond, cashew butter, or peanut butter
1/4 cup melted coconut oil or unsalted butter
2 tablespoons maple syrup- added to bind the bars together better, you can omit for less sugar but they will fall apart more easily
2 cups uncooked rolled oats
2 cups puffed brown rice cereal, you could use chocolate flavor puffed rice cereal too
1/2 cup pumpkin seeds, toasted- I buy mine toasted
1/4 cup chia, flax, or hemp seeds
1/4 cup dried dark cherries
1/4 cup goji berries
2 tablespoons cacao nibs or chocolate chips
1/4 teaspoon fine sea salt
Method:
Spray an 8×10 pan and line with parchment paper.
Place peanut butter, coconut oil/butter, and maple syrup in a large glass bowl. Melt together in 20 seconds interval for about 2 minutes, stirring to combine using a fork.  Add oats, puffed cereal, pumpkin seeds, chia/flax/hemp seeds, cherries, goji berries, and chocolate chips/cacao nibs, and salt. Using the large spatula, mix to combine using a large spatula. Taste, add more of what you like.
Place mixture in prepared pan, pressing down using your hands or back of jar/glass. Cover with plastic wrap and place pan in fridge until bars are set, about 3 hours. Remove the bars from the pan, using the sides of the parchment paper. Using a sharp knife, or pizza cutter, cut into 2 inch strips lengthwise, turn and cut in thirds for a total of 12 bars.
Wrap each bar or balls in parchment paper, place in an airtight container or ziplock bag, keep in fridge for up to 1 week.