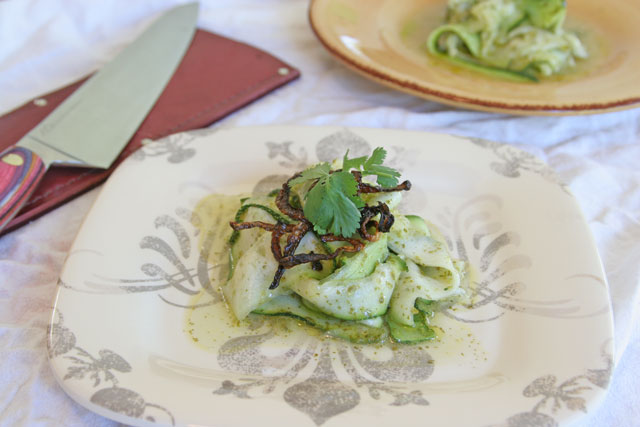 As a chef, a well made knife is very important to me.  Not only as chef, but also as a blogger.  The difference in a knife cut can make or break a dish, be it for a photograph, or the amount of flavor extracted from the sweated onion for the perfect soup.  It can be that meticulous at times.  At home, it is the ease and beauty of this knife that has made it a part of my everyday kitchen life.  When I first held it, the only hesitation I had was with the width of the blade.  This based on I had not cut one single thing with it.  I found out moments later when I grabbed a tomato, that width was not an issue.  It is a light, quick cutting knife, fits like a glove in my hand.  Tomatoes are the ultimate test, it sliced like a dream, with ease.  I am testing the Chef 8, I chose the bright pink one, it is gorgeous!  Enter to win their giveaway!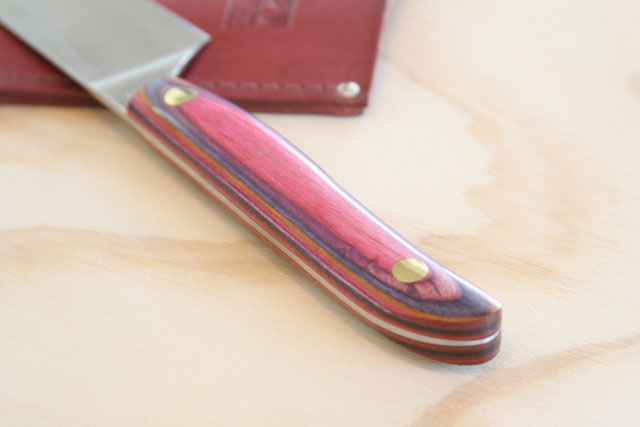 I am very particular in what companies I endorse and work with.  I am extremely happy to be working with these knives and company.  I have teamed up with New West Knifeworks to bring you another awesome review!  They are are holding a giveaway on their Facebook site, so check it out!  They are based in Wyoming, Corey Milligan is the mastermind behind the operations.  He worked in kitchens and understands the importance of a fine tuned knife for a chef.  He has learned from the best in Japan and brought his knowledge to the U.S.  The craftsmanship is like no other in the U.S.,  and they are a thing of beauty, a piece of art.  The first time I saw on, I knew I wanted one.  Not only is it beautiful, it is made well, with the finest details and attention paid to the blade.
When I review a product, I put it to the test big time.  So I made a ribbon salad.  If you can cut even ribbons less than an 1/8 inch thick with one swoop of a knife over and over again.  After cutting root vegetables all morning, you know it's a keeper.  This all happened after I have been using this knife daily for two weeks, with the occasional honing.
"My passion for creating fine cutlery is matched by my love of fine food. Of course, growing up in Ohio with mom's midwestern home-cooking. Early lessons in preparing Asian cuisine. Cooking in commercial kitchens. Living in California and cooking with my brother-in-law and James Beard award winning chef, Chris Kidder. The challenge of growing, hunting and gathering the freshest natural ingredients in Jackson Hole. All of these influences lead me to create unique cuisine which I guess you might call 'New Western' as well. This passion for fine food constantly inspires me to create, test and refine my cutlery into the finest tools available anywhere."
– Corey Milligan
From their site, the specs on this CHEF 8: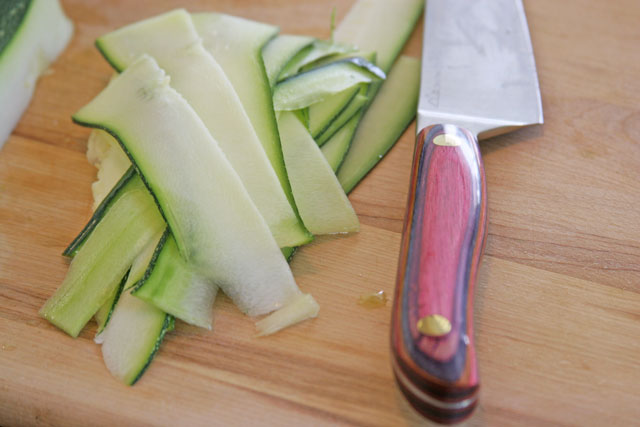 Ingredients:
2 large zucchinis, cut into ribbons
1/2 cup thinly sliced onion, preferably walla walla for the extra sweetness
salt and pepper
1/4 cup fresh chopped cilantro for serving
Cilantro Lime Dressing:
makes 1 1/4 cup
3/4 cup olive oil
1/3 cup fresh lime juice
1/2 teaspoon lime zest
1/2 cup cilantro
1 teaspoon chile serrano or jalapeno, more if you like it spicy
1/8 teaspoon salt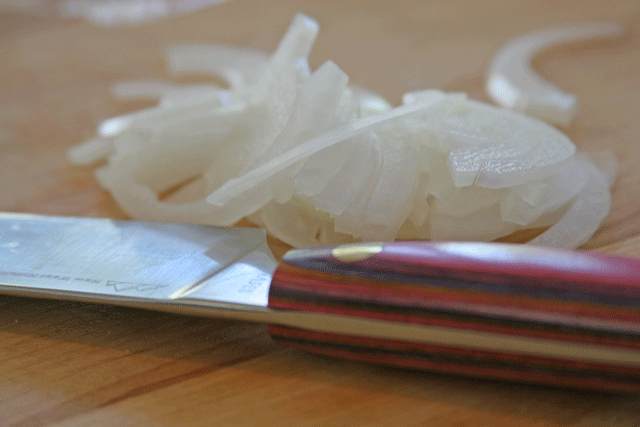 Method Dressing:
1.  Place all ingredients in a blender, food processor, blend until smooth.
Method Salad:
1.  Place the ribbon zucchini in a large bowl with the dressing, set aside and marinate for one hour.
2.  In a medium skillet, add 1/4 cup oil.  Heat over medium high.  When the oil is shiny, add the onions, and crisp/fry for 4-5 minutes, or until crispy golden brown.  Remove and place on a paper towel to drain while preparing the salad.
3.  Serve the salad with a pinch of the crispy onions and cilantro on top.
ENJOY!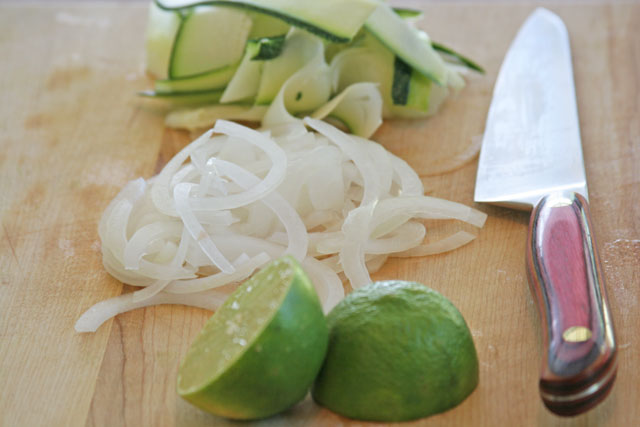 Disclaimer:  I was given this knife in trade for this review.  I was not compensated in any other way.  As always these opinions are all my own.