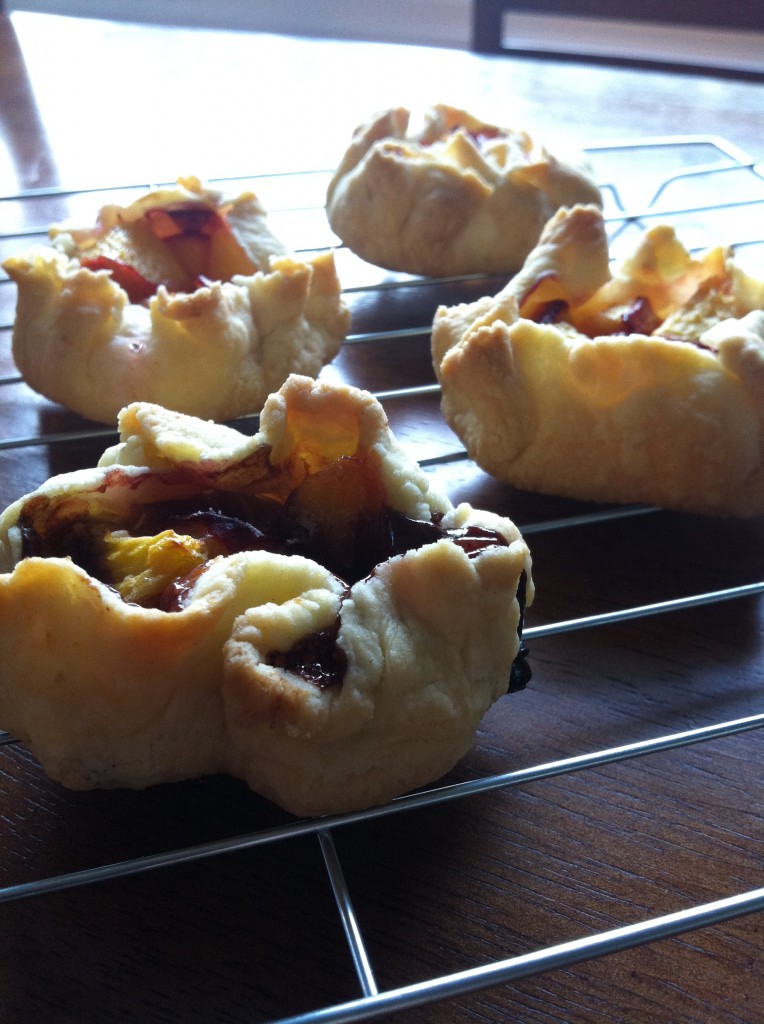 d I simply like saying the word, tartlet.  I think it is cute, dainty, sweet, and versatile.  Say it with me, tartlet.  Yup, I like it.   You know when you are walking near certain fruit and you can smell it as if it was sitting on your nose?  Well, usually it means it is going to be delicious fruit.  Not always, but often.  I really like nectarines, and especially for a sweet, tart, tartlets.  A puffy, buttery, flaky goodness, filled with tart fruit, topped with a dash of brown sugar, and I am hooked.  I found this recipe a long time ago and just got around to making it.  It was super simple, easy, and in no time at all, you have the perfect little dessert.  Great for the spring/summer season.   It is also great for gatherings and such because you can make everything in advance then pop them in the oven before your guests arrive, the smell of dessert in the air is quite welcoming.  Just to test it out, I made a couple with Nutella on the bottom, and the nectarines on top, with no brown sugar, and um yeah, well… If you happen to have some Nutella, I highly recommend you use it on a few:)
An added bonus to this sweet treat is, it is very light and small.  So lets begin…
Nectarine Tartlet
servings: 16 small tartlets
ingredients:
4 small nectarines
1 egg yolk
2 tbsp lemon juice
1/4 ice water
1/2 tsp white wine vinegar
3/4 cup all purpose flour plus 2 tbsp
1/2 tsp salt
1 stick butter cut into 1/2 in pieces
1/4 cup sugar
1/3 cup brown sugar
1/2 cup water
the how to:
1. In a small bowl whisk the ice water, egg yolk and vinegar until combined very well.  Then in a food processor, pulse the 3/4 cup plus 2 tablespoons of flour, cornstarch and salt.  Add the butter in small pieces and pulse until it resembles small crumbs. Pour the egg mixture over the crumbs and pulse until a dough ball forms.  Turn the pastry out onto a floured surface and roll it into an 8-inch log.  Wrap in plastic and refrigerate until firm for about 30-45 minutes.  Line 2 baking sheets with parchment pap
2. In a medium saucepan, bring the sugar, water and pits to a rolling boil, stirring until the sugar dissolves.  Add the lemon juice and nectarines, remove it from the heat and let it cool down.  Preheat oven to 375 degrees.
3. On a floured work surface, cut the log into sixteen 1/2-inch slices.  Using a floured rolling pin, roll out each slice to a 3-inch round and place onto the baking sheets.  Drain the nectarine mixture well and place a large spoonful on the pastry rounds, be sure to leave border all around.  Top the nectarines with a sprinkle of brown sugar.  Fold the pastry up over the nectarines and bake until golden brown, and delicious, about 25 minutes.