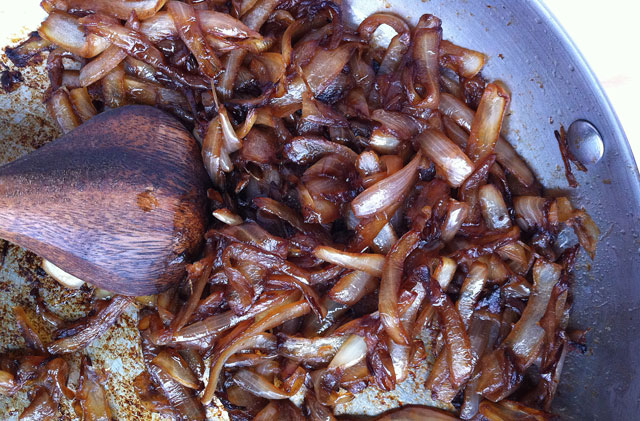 I am re posting this, as its a great time to visit these sweet onions that can be used in a variety of dishes coming up this fall. Not to mention I have not cooked at all in the past couple weeks because I am still sick! I finally was well enough to grocery shop yesterday, and I'm going to class today, but it's been a doozy. So I am taking advantage of the fact that these onions do need to a part of your life, and I wanted to post something great. Here you go!
Once again I am sharing the simple tricks to a better meal. The sweetness of an onion is already one of the most perfect things in the world, but when a little time, a pan, and oil is involved, the sweetness and reward is priceless. I was making pizza a couple of weeks ago, and in keeping them simple but flavorful, I thought I would make these onions. Brian and I just about fell out of our chairs. This is simple, but divine. The sweet caramelized onions with some goat cheese on a pizza, come on now! And like so many other things I love, you can add these to any dish that need a kick, or sprucing up, if you will. You will not regret it. It does take a tiny bit of finesse not to dry them out, or burn them, but I mean it, a tiny bit. Just keep an eye on them while your in the kitchen. Do not stir them too often or they will not caramelize, and the most important part is… And I mean it people! Use the best knife skills you have ever used. For this simple little onion, it needs you to be perfect. It is the most simple request I have of you here. Do your best to cut the onions the same width, trust me, then end product will not cook evenly if your cuts are not as close to identical as possible. Trust me, I have picked out a few larger sized pieces that did not cook :). Other than that, this is super easy and so good.
Note: This is also a tutorial on how to cut an onion!
Ingredients:
3 onions any color you want, I used white
good olive oil
salt
perfect knife cuts 🙂
How to cut the onion first…
1. a. Take the onions, and a sharp chefs knife. Cut the"knob butt" end off the onion (like the first part below). b. Turn the onion, cut side down, then cut it in half, fuzzy hair side up. c. Then follow the contour of the onion and cut into 1/8-1/4 inch thick slices. Cut the fuzz off the other end, and you got your onion ready to cook!
2. Heat a large pan with 1 tbsp of good olive oil for the three onions, over med heat. Add the onions, and stir to coat with the oil. My stove runs a bit hot so I had to keep my burner on med low. Enough to caramelize but not to burn the bottom of the pan.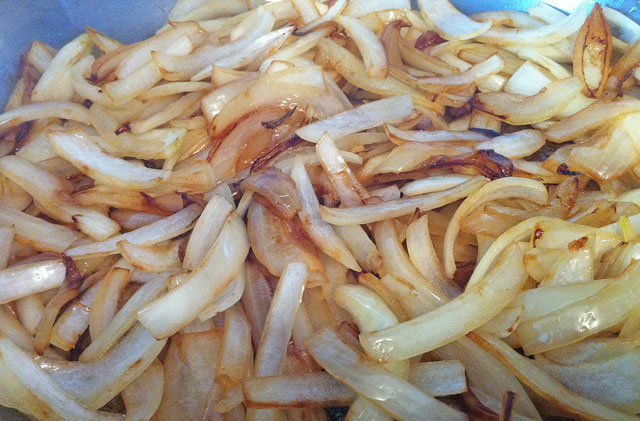 10 minutes in… stir.
3. Cook over medium low heat for 10 minutes. You will be tempted to stir, but do not. Leave them alone! After about 10 minutes stir the onions, add a pinch of sugar, and a pinch of salt. Cook for another 30-45 minutes. Stir occasionally at this point, about every 5-10 minutes or so, just to "un-stick" any from the pan. Add a bit more oil if you need to, 1 tsp or so.
4. Cook until deep brown color, lower the heat if you need to so the onions do not burn. I purposely kept the photos of the onions that are not cut the same size to show you, if the cuts are not the same they will not cook evenly. So I did have to pick out the onions that were on the larger size. The next time I made them, they were the same size and cooked perfectly. So it does pay to be precise here.