Grab your family and make this Herb Chicken and Potato Pizza together for fun in the kitchen! It's a unique combination served in many pizza restaurants around the country. Trust me and try it, the whole family will love it! Easily made vegetarian by omitting the chicken too!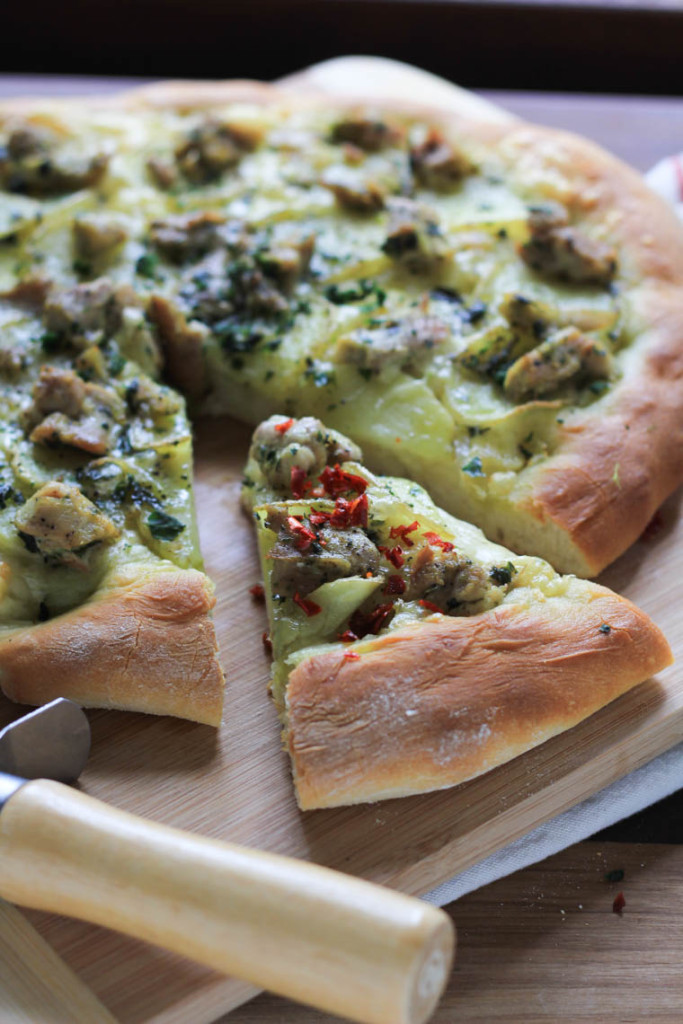 Here's the thing, I am a pizza particular lady. While I do enjoy many pizza types, I have my favorites. I can get down with the country wide franchise pizza places a couple of times a year, but my most favorite pizza in the world is the true Italian kind. The super flavorful pizza dough that is developed with real yeast, allowed to rest and flavorize (my own word) for hours, and baked to bubbly perfection. I ate this kind of pizza in Napoli, Italy, and will NEVER forget that experience. While there are a couple of places in Portland that satiate that pizza craving when I'm not up for making dinner, I can get a quick fix there. But I like make my own version at home, and putting the toppings I want on the pizza depending on my cravings!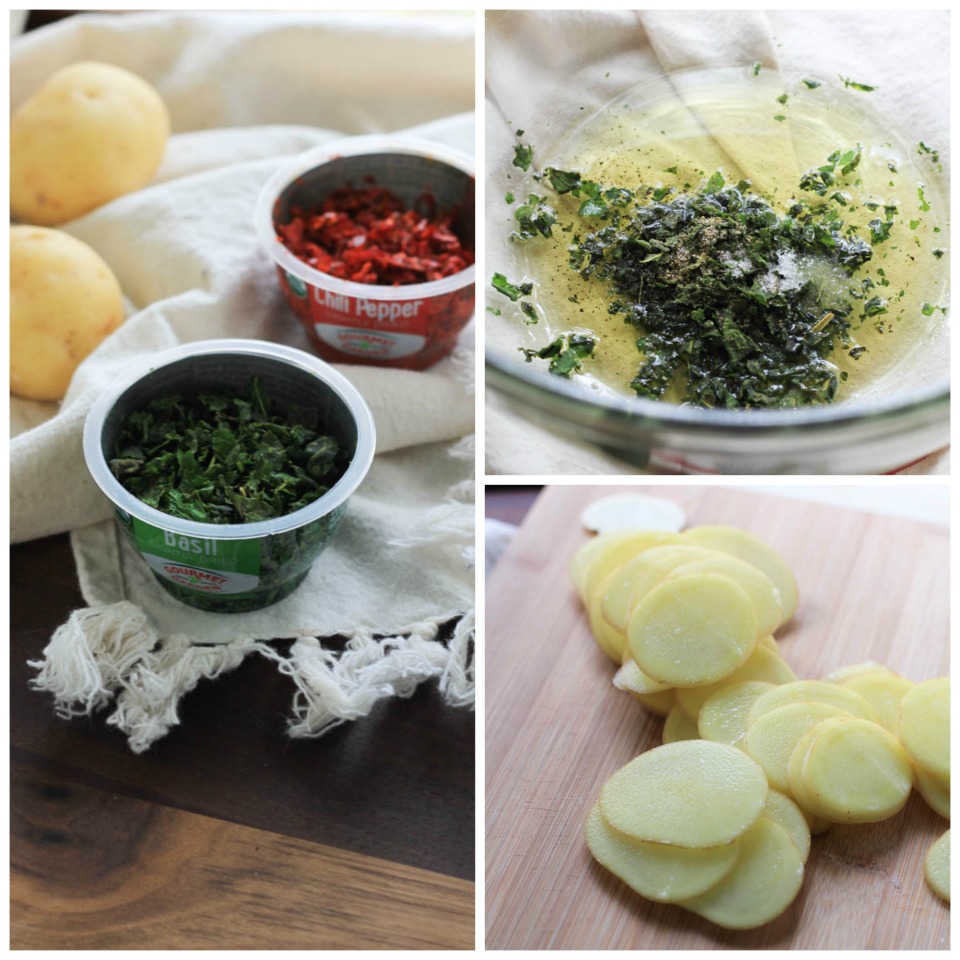 There is also another food memory that made this recipe come to light. I used to eat pizza at a restaurant in Sacramento fairly frequently. It was the only pizza I'd get at this restaurant, it was so good. It had potatoes on it, and I found a love for Herb Chicken and Potato Pizza there on Capital Street in Sacramento. I worked a lot downtown, my Mom and I would meet there for lunch so I could eat that pizza. While the crust doesn't stand out, the flavor of crispy potato on the pizza for sure did. So I came up with my own version of the two.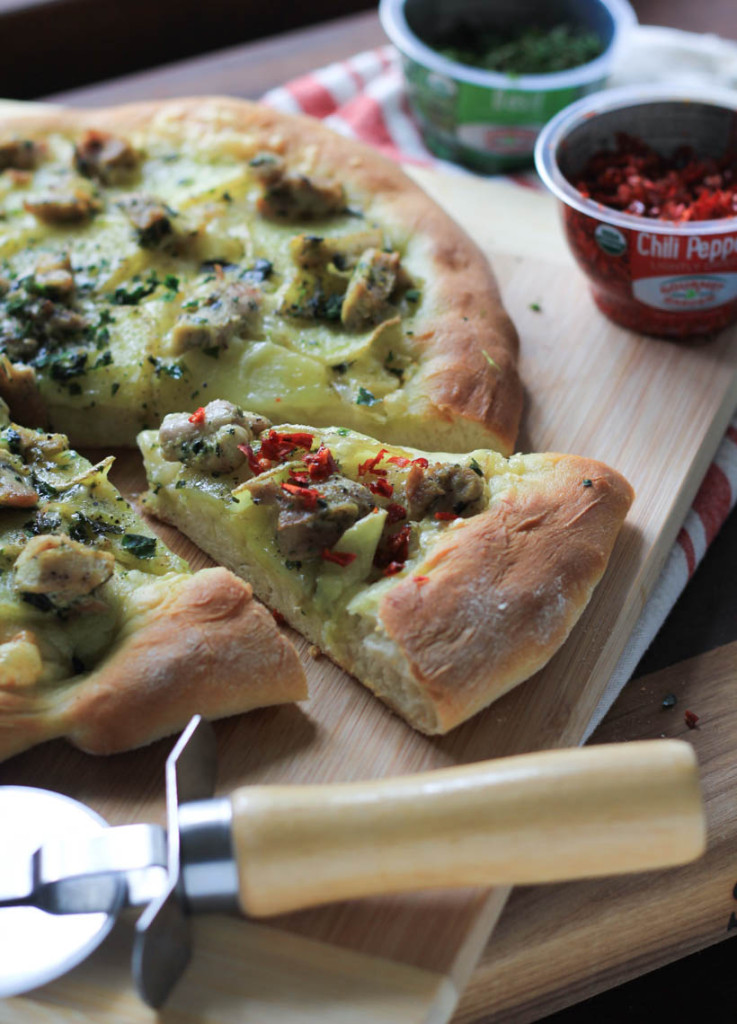 The freshness and ease of the lightly dried basil made this pizza exactly what I wanted. I keep these herbs in my fridge and freezer to use in so many dishes. And the flavor of the basil is the freshest dried basil I've ever tasted. And by the way, the red peppers, so so good. They taste just like a roasted red pepper, perfectly lightly dried and awesome for pizza!
Herb Chicken and Potato Pizza
makes 2- 12 inch pizzas
Dough Ingredients:
1 1/2 cups warm water, 100-110 degrees
1 packet instant dry yeast, 2 1/4 teaspoons
4 cups all purpose flour, use 1-1 ratio gluten free flour for gf pizza
1 tablespoon fine sea salt
1 teaspoon sugar
1 tablespoon olive oil
Toppings:
8oz boneless skinless chicken thighs or breasts, I prefer thighs, omit for vegetarian
4 large dutch potatoes, thinly sliced, I used a mandolin on it's lowest setting
1 tablespoon dried basil, extra for serving
3 tablespoon plus 1 teaspoon olive oil, divided
1/4 teaspoon fine sea salt
2 cups mozzarella cheese, shredded
2 cups fresh spinach
lightly dried red chile flakes to serve, the best red pepper flakes ever
Method:
Place yeast in measured warm water, stir using a fork. Allow to sit for 5 minutes until bubbly and frothy. (if it does not get bubbly and frothy, the yeast is probably dead, or check the water temperature)
Place flour, salt, and sugar in bowl of stand mixer, use a hand whisk to combine. Now fit with hook attachment. Add yeast mixture and olive oil to flour, turn on low to combine. Turn to medium and knead for 12 minutes. Depending on the moisture in the air, you may need to add more flour. If the dough seems wet or sticky, add a few tablespoons of flour at a time until the dough is coming off the sides in a uniform mixture.
For example: it is very wet here in Portland, so I had to add 1 extra cup of flour to the dough to get it right.
You can also mix the ingredients in a large bowl until combined. Then knead on a lightly floured counter by hand for 12 minutes.
Once dough is uniform, cover with clean kitchen towel and place in a warm place to double in size.
Trick: warm oven to lowest setting, place dough in oven, turn off oven and allow to double in size, about 1 hour. You can allow to rise for up to 3 hours to develop flavor in dough.
While the dough doubles, partially cook chicken. Place 1 teaspoon olive oil in a medium skillet over medium high heat. Add chicken and cook for 7 minutes, turn and cook for another 7 minutes. Remove and chop into bite sized pieces.
Add dried basil, 1 tablespoon olive oil, and 1/4 teaspoon salt to a medium bowl, add cooked chicken, mix to combine.
Place one oven rack in top third of oven and the other on the very bottom of oven, and preheat oven to 450 degrees.
Place dough on lightly floured counter, cut in half using a bench scraper or knife, cover and allow to rest for 15 minutes. Roll dough out to 1/2 inch thick, 12 inch in diameter, allow to rest for 10 minutes. Place on a baking sheet. Dock using a fork and brush each pizzas with 1 tablespoon olive oil, evenly sprinkle with a small pinch fine sea salt, sprinkle 1/2 of the cheese evenly over dough, repeat with potato slices, and chicken. Repeat with other pizza dough, adding spinach after the olive oil.
Place one pizza on bottom oven rack for 13 minutes. If you want a more golden brown crust, move pizza to top rack for a few minutes to crisp it further. Bake a total of 16 minutes. Repeat with second pizza.
Remove and cut immediately using a pizza cutter. Serve with red chile flakes and dried basil. Store leftovers in fridge for up to 3 days.