This vibrant Healthy Simple Coleslaw is packed full of nutrients and flavor better than any store bough coleslaw, plus it's easy to make!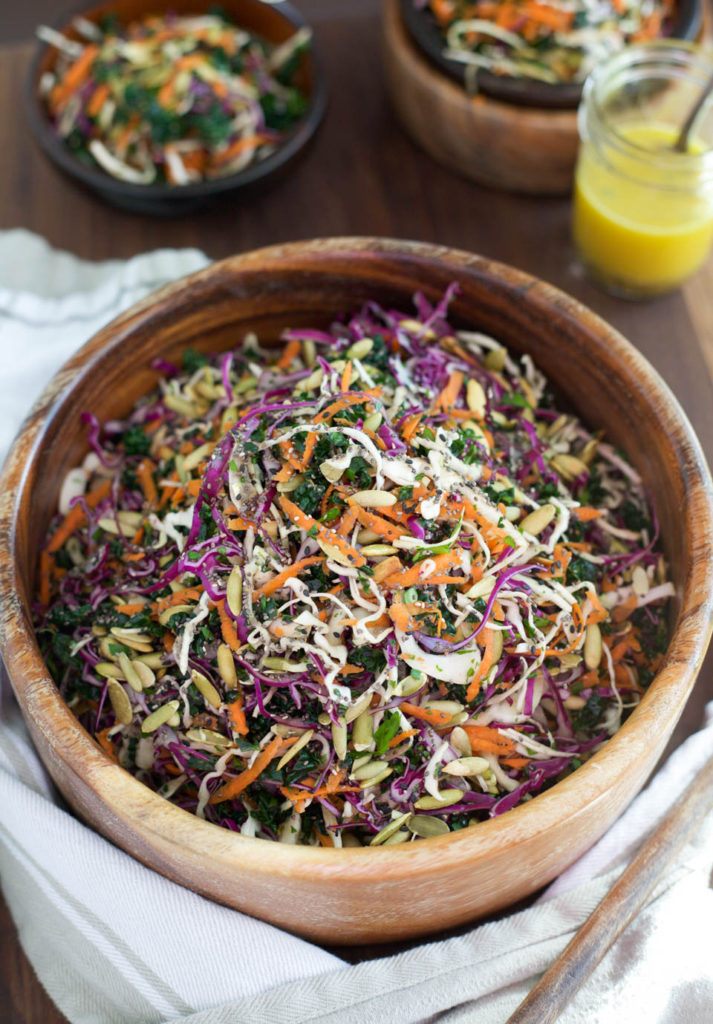 I love love this salad! I honestly didn't really know what to call this slaw salad dish I made. So I went with Healthy Simple Coleslaw, it works for me! It also makes a colorful mess in the bowl, gives your body all of the nutrients it needs from awesome Winter vegetables, and tastes better than any salad at the store. I've seen this style slaw on menus and in those pre-made salad cases at the local grocery store. It's all good, some of them taste really good, but this one tastes way better!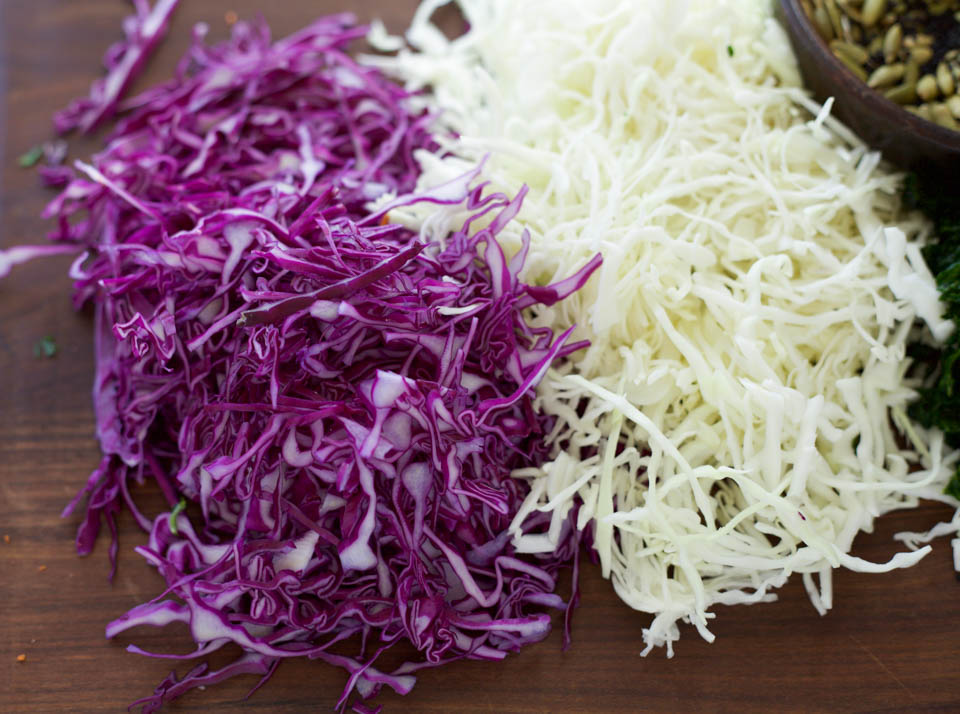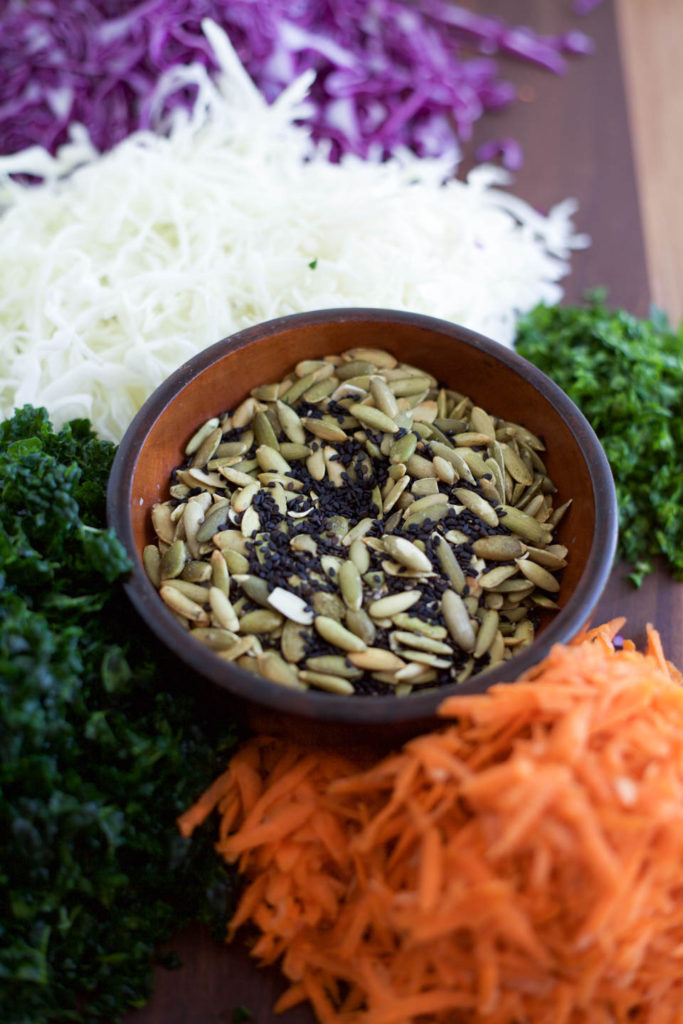 After all, it's homemade, so win on that, the dressing likely has much less sugar and salt, win. It's also so much fun to make and looks so pretty when you combine all of the ingredietns together in your favorite giant bowl. I made fish tacos this evening to go with salad, been craving some fish tacos lately. I also made some roasted pork tenderloin  for a post and served it with this slaw when I was recipe testing.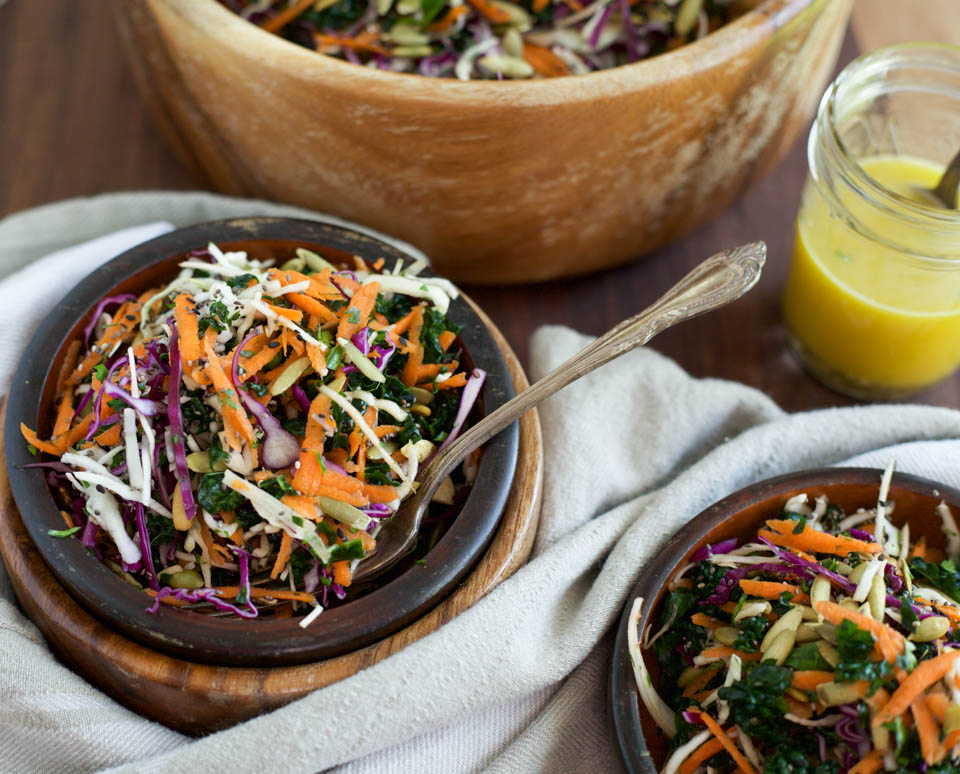 So far this is my favorite go to Healthy Simple Coleslaw recipe that can be made all year long and enjoyed with so many things for lunch or dinner. Maybe add some beans for a complete and healthy lunch? Sounds good to me!
Healthy Simple Coleslaw
serves 6-8
Ingredients:
2 cups finely shredded purple cabbage, about 1lb, I used a mandolin on lowest setting
2 cups finely shredded green cabbage, about 1lb, I used a mandolin on lowest setting
1 bunch lacinato kale, de-veined shredded/chopped into small pieces, about 2 cups
2 cups shredded carrots, about 3 large carrots grated with large holes on box grater
1/4 cup chopped fresh parsley
2/3 cup mixed seeds, I used a mixture of pumpkin seeds, black sesame seeds, chia seeds
dressing:
2 tablespoons rice or white wine vinegar
2 tablespoons fresh squeezed orange juice, about 1/2 medium orange
1 tablespoon raw honey
1/2 teaspoon soy sauce
1 small clove garlic, minced
1/4 teaspoon fine sea salt
1/4 teaspoon fresh cracked black pepper
1/4 cup olive oil
Method:
In a large bowl, combine cabbages, kale, carrots, parsley, and seeds. Toss to combine well.
The easiest way to make the dressing is to add all the dressing ingredients to a medium jar with tight fitting lid, shake for 1 minute until combined well. If you don't have a jar, add everything except olive oil to a small bowl, whisk to combine using a small whisk or large fork. Place bowl on a kitchen towel. Slowly drizzle olive oil into orange juice mixture while whisking vigorously to combine. Taste for seasoning, add salt and pepper to taste if needed.
Pour dressing over cabbage mixture, toss to combine using tongs or large spoons. Serve immediately or store in an air tight container for up to three days.