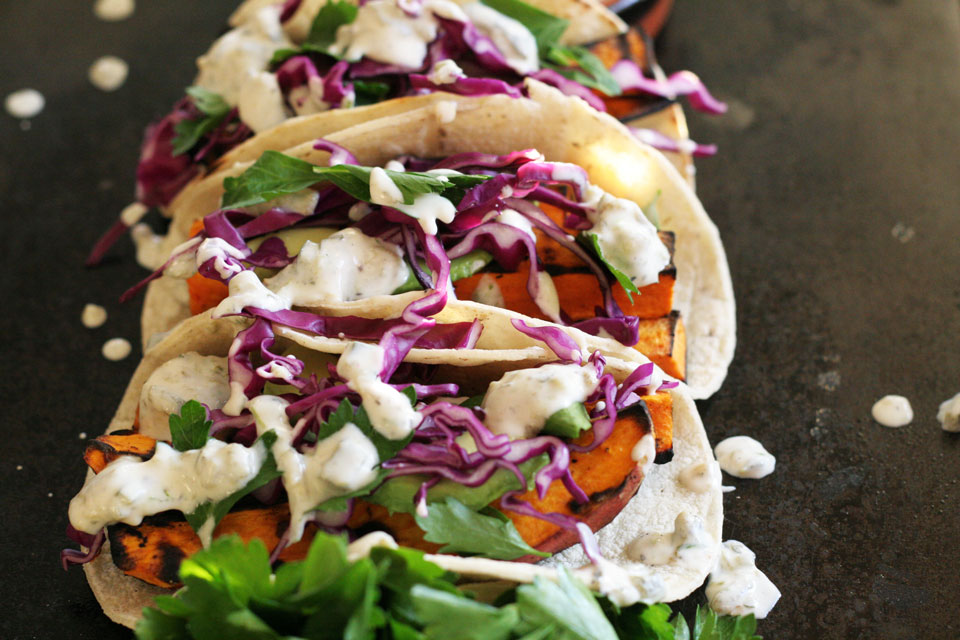 It's no secret via all of my social media accounts that I have been eating the new Farmstyle Greek Yogurt from Tillamook for the past few weeks.  Thanks to Tillamook, they sent me this new yogurt line to check out all of the buzz.  It is sold out in many stores and being devoured by many bloggers across the country.
I decided to make a luscious, creamy, thick roasted Poblano yogurt sauce for these tacos.  Using the Greek yogurt makes this cream sauce a healthier choice and adds a nice tang to the spiciness of the pepper.  Grilled yam tacos has really never occurred to me until I was pursuing the internet and saw some other squash tacos.  Thus the grilled yam taco recipe was born.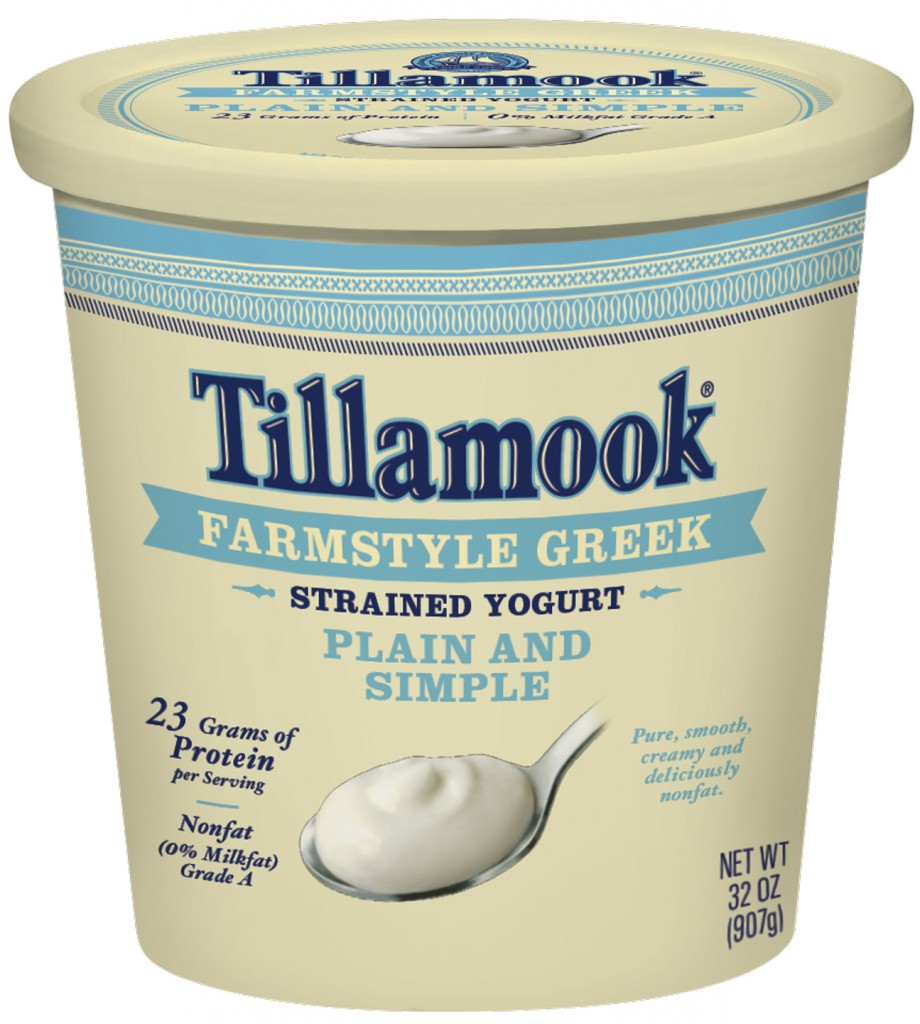 Tillamook wants my readers to get a chance to taste their new line of yogurt, so I am giving away a package, sent to you directly from Tillamook.  It will be packed full of several flavors of Farmstyle Greek Yogurt!  Flavors include Strained thick Plain, Washington Raspberry, Oregon Strawberry, Coffee, and Vanilla Bean.
Disclosure:  I was sent a package of yogurt from Tillamook.  They are also providing the package of yogurt for the giveaway, sent directly to the winner from Tillamook.  The sad part is, they can only send it to certain states.  I am very sorry for this, but this is how it is.
This giveaway has ended.
Please only enter the giveaway if you live in one these states…
Elligible states for giveaway:  OR, WA, ID, CA, NV, AZ, UT, MT, WY, CO, NM
I will choose a winner at random on April 16, 2014, 12am PST.  I will email the winner of the giveaway on April 17.  The winner will then have 24 hours to respond.  If I do not receive a response, I will choose another winner.  If you enter the giveaway and do not live in the states mentioned above, I will choose another winner.  Thank you for understanding!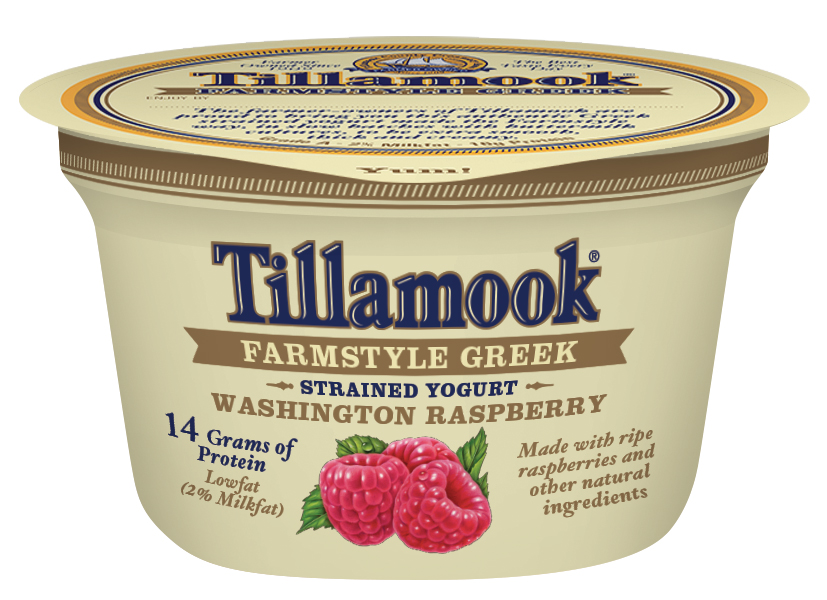 This giveaway has ended.
To enter the giveaway:
1.  "Like" Not Just Baked Facebook page AND leave a comment below letting me know you did so!  If you already like my Facebook page, leave a comment below letting me know you do!  Good luck!
For an extra entry:  Leave a comment letting me know, have you ever had squash tacos?
Grilled Yam Taco with Roasted Poblano Yogurt Sauce & Tillamook Package Giveaway!
Makes 8-10 tacos
Ingredients:
2 large red garnet yams, cut into long wedges 1/2 inch thick
2 tablespoons olive oil
1 teaspoon fine sea salt
1/2 teaspoon freshly ground pepper
1/2 cup Greek yogurt
1 lime, zested, 1/2 teaspoon lime juice, the other 1/2 cut into wedges for serving
2 Poblano peppers
8-10 corn tortillas, store or freshly made
1 small, about 1 lb red cabbage, sliced thinly
1 bunch fresh parsley, chopped
Note:  I found the easiest way to organize this recipe is as follows:  I started our gas grill then worked on the yams, cut and "marinating".  Then put the yogurt sauce components together in a bowl, other than the Poblano pepper.  Then get all of the garnish ready; lime, cabbage, and parsley.  This way it is all ready when you come inside to lastly peel the pepper to add to the yogurt sauce that is all ready to go.
Method:
1.  Place the yams, olive oil, salt and pepper in a large bowl, toss to combine, set side.  Place the yogurt, lime zest, 1/2 teaspoon lime juice, 1/4 teaspoon salt, 1/4 teaspoon freshly ground pepper in small bowl, whisk to combine, set aside.
2.  On the grill:  first place the peppers over medium high heat to char.  Rotate until charred evenly.  Once charred evenly, place in a bowl, cover with a towel and steam for a few minutes.
3.  Place the yams on the grill over medium heat, grill for 15 minutes.  The last 5 minutes of yam grilling, place the tortillas on the grill to warm.  Place in a tortilla warmer or clean kitchen towel to serve.  When the yams are done, place them in a bowl, and keep covered while you peel the pepper.
How to peel the pepper:  Remove the charred skin, stem, and seeds.
4.  Chop the pepper finely and add to the yogurt sauce, stir to combine.  Taste for seasoning, add salt and pepper if needed.
I served this as a "make a taco" as you go scenario.  On the table:  Grilled yams, roasted Poblano yogurt sauce, lime wedges, a bowl of sliced cabbage, and chopped parsley.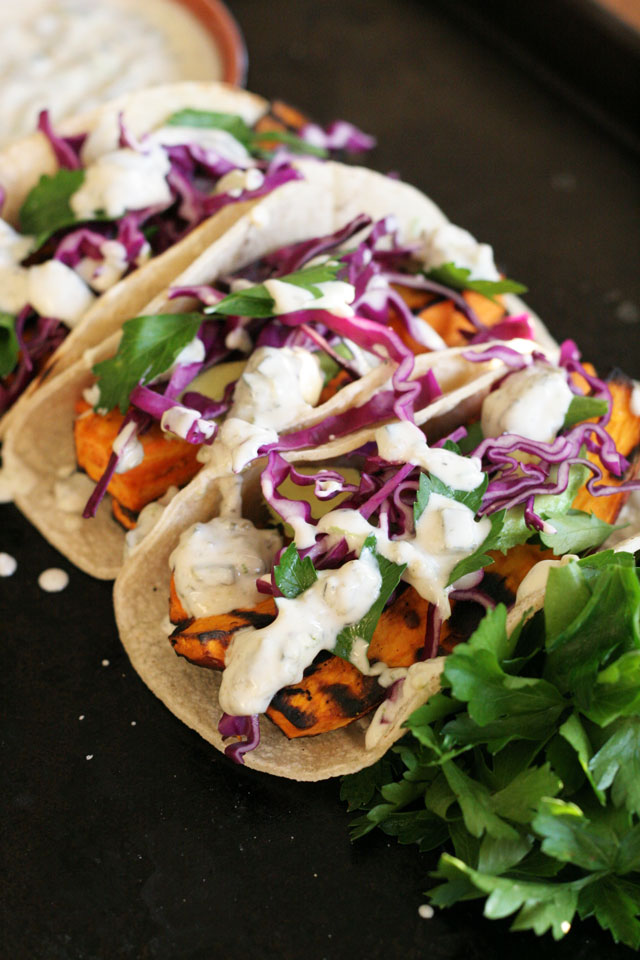 This giveaway has ended.