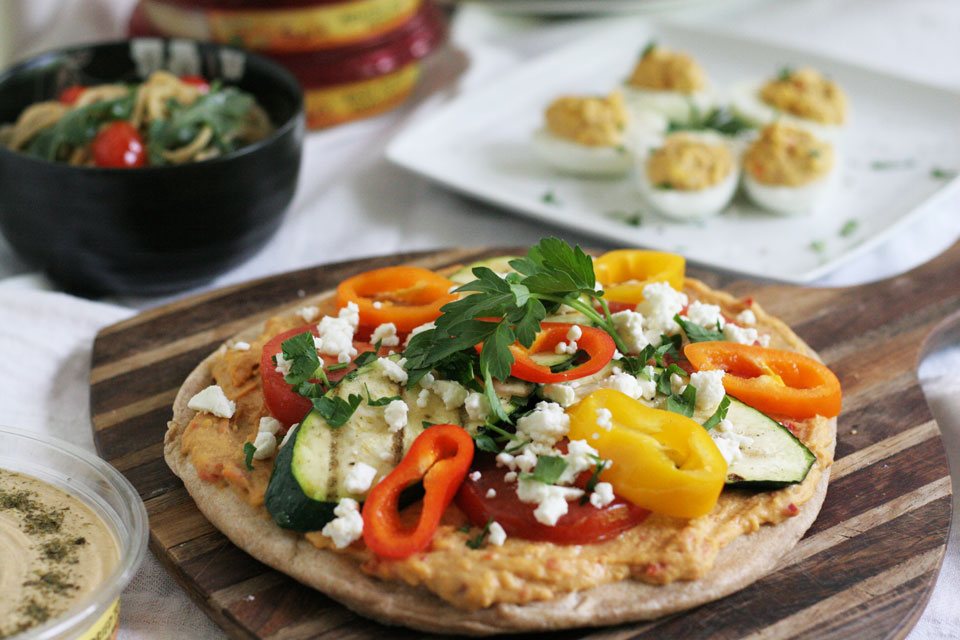 Being that May 15th was National Hummus Day, and I love hummus it felt natural to do  TV segment sharing the awesome ways to use hummus. You know, other than the obvious carrots and pita. Don't get me wrong, I have baby carrots and hummus in my fridge most of the time, for a quick snack, but it is fun to see the different ways to use what is a healthy, filling alternative to mayonnaise.
I'll be sharing these recipes over on KATU AM Northwest Tuesday May 27th between 9-10am. Here is the segment!
I shared my recipe for grilled vegetable flat bread with hummus. I also shared a recipe from my friend, Heather from Farmgirl Gourmet. She is also a Sabra Tastemaker and her recipe for falafel using hummus is delicious.
Here is the recipe for the deviled eggs I shared, it's from the Sabra website, where you can find a gang of awesome ways to use hummus, other than dipping. A pretty cool way to use it, is making a pasta sauce with it too, I'll be sharing that recipe in the coming weeks, but you can see a snap shot of it in the AM Northwest segment. It was tasty, unique, and healthy.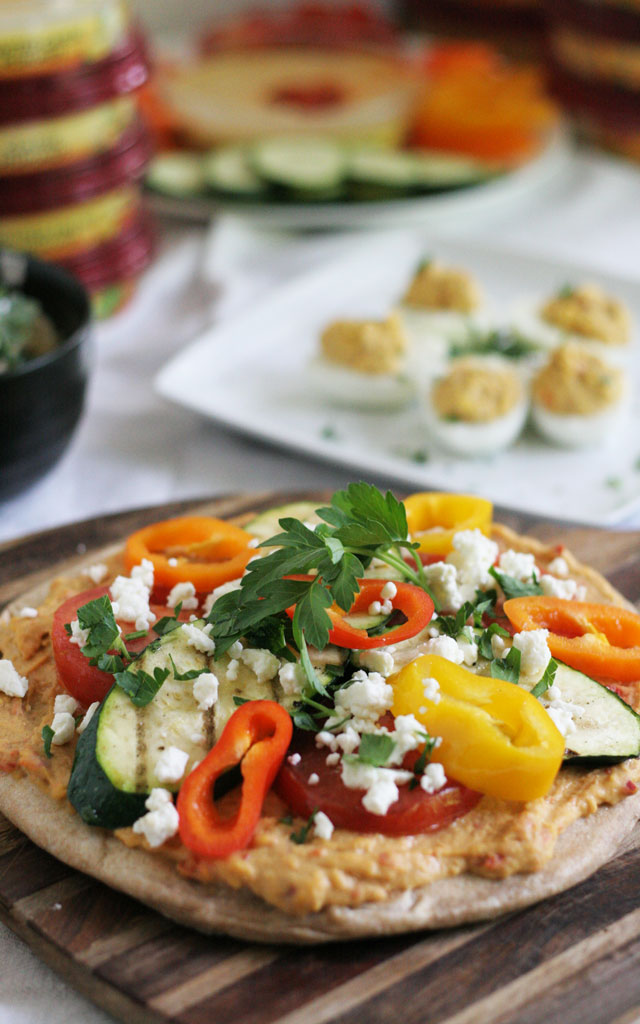 Some other classic, but more interesting ways to use hummus instead of mayo is on sandwiches, wraps, and as a sauce. For more ways to use Sabra hummus, check out their Facebook page too. It's full of great recipes!
Grilled Vegetable Flat Bread Pizza with Sabra Hummus, and Other Awesome Ways to Use Hummus
Makes 2 medium flat bread pizzas
Ingredients:
1/2 batch flat bread recipe, roll out uncooked dough to medium sized pizzas, grill while vegetables cook on grill
1 large zucchini, cut on the bias about 1/4 inch thick
1 large tomato, sliced
3 sweet peppers, sliced
1 tablespoon olive oil
1/2 teaspoon salt
1/2 teaspoon fresh ground pepper
1 container Sabra Hummus, I used Roasted Red Pepper
1/2 cup crumbled feta
Method:
1. Get the grill hot, I grilled the vegetables over medium high heat. Place the zucchini, tomato, and peppers in a large bowl. Add the olive oil, salt, and pepper, toss to combine.
2. Place vegetables over direct heat/flames, grill for 2-3 minutes each side. Remove from heat.
3. Spread 1/2 of the hummus container on each flat bread first, followed by sliced tomatoes, zucchini, and peppers, sprinkle crumbles feta all over pizza. Slice into 8 slices, and serve immediately.
Disclosure: I was paid to do a  TV segment for Sabra Hummus. But this post is not sponsored. I wanted to share the things I shared with the TV viewers with you, my readers. All opinions are my own, as always.