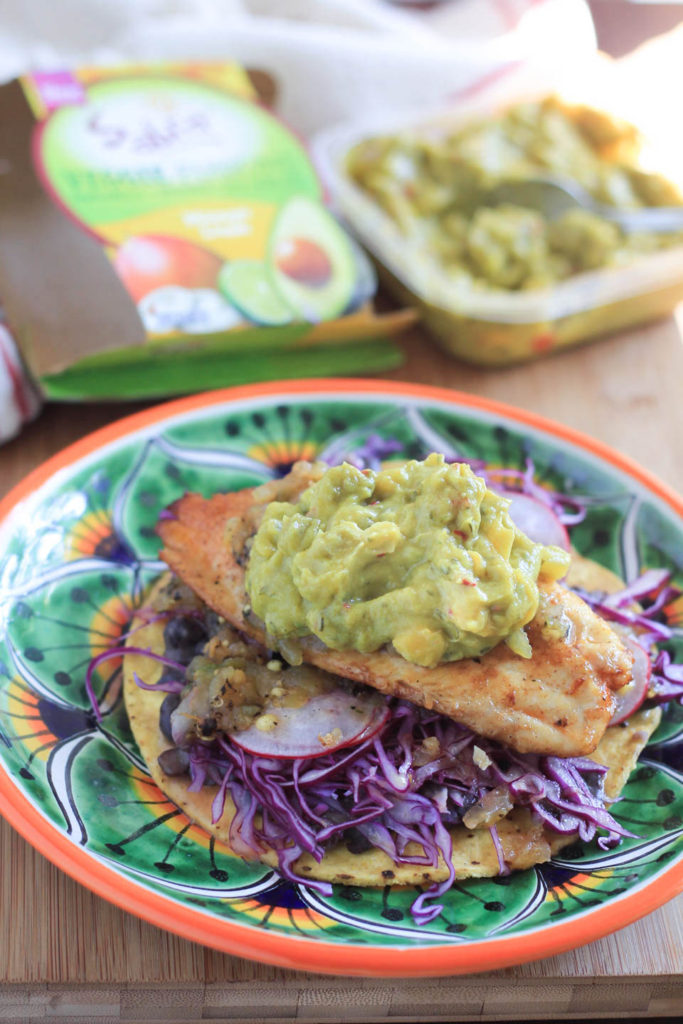 You know I'm all about seafood! Pair it with guacamole and I'll be licking my fingerS all night long. Ask anyone that knows me, it's totally true. It's also a fact that I wear a shirt that says, "Feed Me and Tell me I'm Pretty." Things are fairly simplified that way for me, I like good food and nice sayings. This grilled fish tostada is no exception, good, simple, and easy to make food for our health and nutrition.
Sabra came out with a new product that makes my life tastier and easier plus it's super delicious! It has fresh vegetables for a nutritious dip, rich in antioxidants, vitamins, and fiber. Plus 30% less fat than a classic guacamole, which is great if you're watching your fat intake. If you're not, it's just more vegetables in our guac, win win! I've eaten it a thousand different ways. Obviously this gorgeous and healthy grilled fish tostadas recipe, but so much more. I make roasted or grilled vegetables, whole cooked beans, and a version of brown rice almost every week for easy lunches and dinner sides. For many lunch meals I added a scoop (really 1/2 of the container lol) to the top of my vegetable, beans, and rice bowls for amazing flavor, antioxidants, and added vegetables. Easy lunch, super healthy, and so good. Also, I make Mexican taco salads often, and this was the perfect addition to the giant healthy salad, again with great fats and boost of nutrition. So basically buy it and it add it to your already awesome meals for more awesomeness! Make life a little easier and way tastier. You know I've always been a proponent of that, but even more so lately. Easy button! And this tostada comes together so fast. Plus grilling the fish is healthy and keeps the fish smell outside. Another win win! And less clean up. 🙂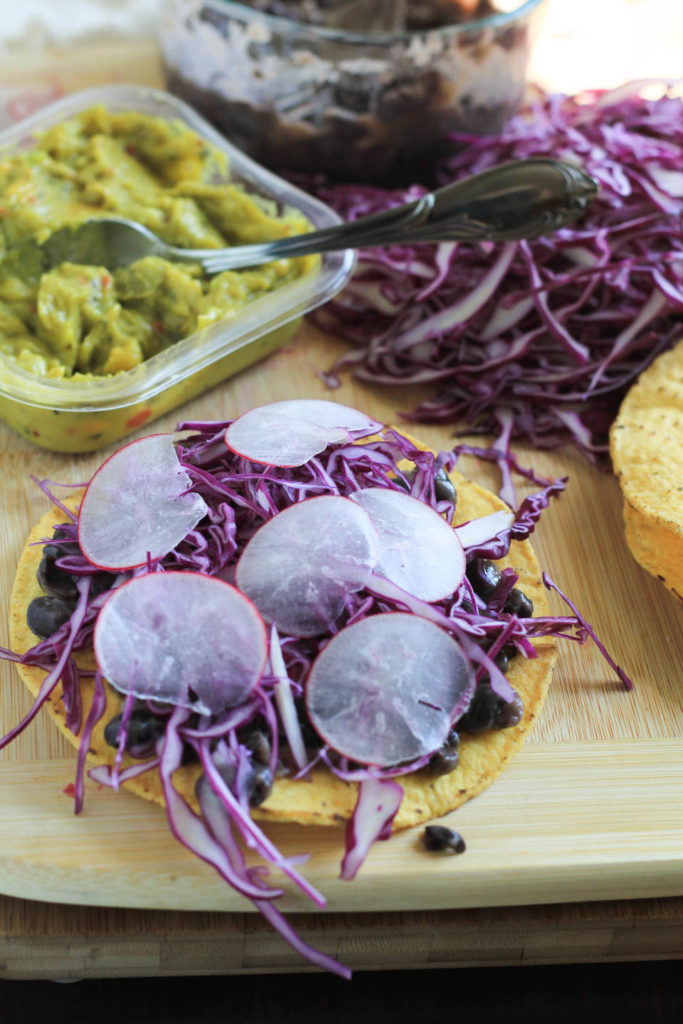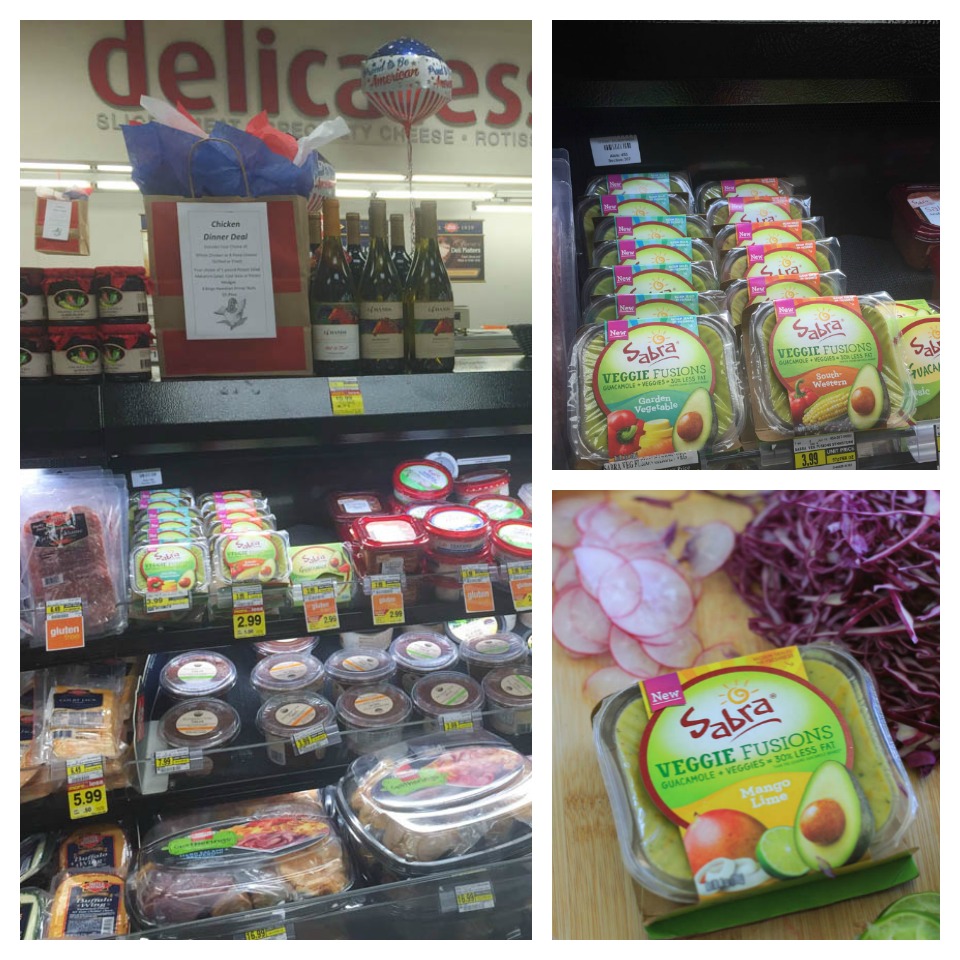 All three varieties are vegan, kosher, gluten-free, and made with the best quality ingredients, including Hass avocados, and fresh real crisp vegetables. You know I'm all about that!
Be sure to grab your $1 off coupon before you head to the store to buy your Veggie Fusion! You can find it in the deli section.
Grilled Fish Tostadas 
makes 4
Ingredients:
1 lb white fish, I use cod and tilapia
1/4 cup olive oil
1 large lime, juiced
1 tablespoon chipotle powder
1/4 teaspoon fine sea salt
to serve:
4 corn crispy tostada shells
1 can whole black beans, drained, warmed, and mashed with fork
1-2 cups purple cabbage, very thinly sliced- I used a mandolin on smallest setting
1 large radish, thinly sliced- I used a mandolin on smallest setting
1/4 cup salsa, verde or pico de gallo
1 container Mango Lime Sabra Veggie Fusions Guacamole
Method:
Place olive oil, lime juice, and chipotle powder in small shallow pyrex or pan, whisk to combine. Place fish in a mixture, turn to coat evenly and well. Prep other ingredients and heat grill while fish marinates for 15 minutes.
Prepare grill: heat grill to a medium high heat. Brush grates with olive oil so the fish does not stick, the high heat also help with that. Use a rag, paper towel, or brush to brush olive oil on grates.
Once grill is hot, place fish on grill. Sprinkle evenly with salt. Cook for 4 minutes. Note: fish lets you know when it is ready to turn. If it does not come up easily from the grill, it's not ready to turn. Once ready, use a spatula to turn and cook for 3-4 minutes. Place on plate when finished cooking.
Assemble tostadas: divide each ingredient among tostadas evenly- Add warmed smashed beans to each tostada. Followed by cabbage, radishes, salsa, then fish. Top fish with a large dollop of Sabra Veggie Fusions. Serve immediately, not idea for leftovers.
Share your creations with me and tag #VeggieFusionsguac and #veggieupyourguac on social media! I'd love to see what you're all making.
Disclaimer: This is a compensated post in collaboration with Sabra Dipping Company for their new line of Veggie Fusion Guacamole. As usual all opinions are my own. Thank you for supporting the brands that support NJB!