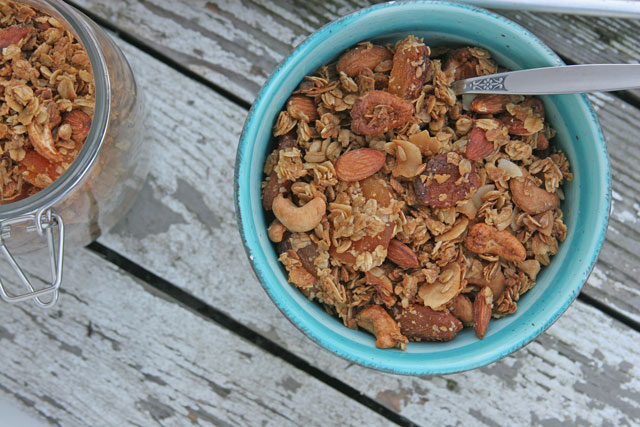 It's cold, rainy, and perfect weather to crank the ovens for this recipe. I make this granola throughout the year, using different ingredients, typically seasons flavor. So for now, I'll stick with this exact recipe. I love the maple syrup and cardamom. It exudes Fall and makes me feel cozy. I topped my oatmeal with a scoop of this for a different texture, with a fresh pear diced in there. Breakfast bliss.
Original:
This recipe is a mish mash of sorts. But a good ratio to granola is a must, and having a simple guideline to follow when making granola is helpful. I am a fan of Marge granola, and I like her ratios. So I used her recipe as a guideline to making my own take on a great granola. With many things I make, feel free to try your own combinations of dried fruits, nuts, coconut, sweeteners and spices. Try and try again until you find your favorite I like making different flavors often, so this is just one.
I made a huge batch, like with everything else, so cut back if this seems like too much for you. I gave some away as a gift, hence the big batch. Oh, this makes a wonderful gift. In a bag tied with twine, or in a mason jar is always awesome.
Servings: 15 cups
This granola will keep in an air tight container, or bag for about two weeks. After two weeks, it keeps best in the fridge.
Granola with Cashews, Almonds, Dried Apricots, Maple Syrup, and Cardamom
Ingredients:
9 cups old fashioned rolled oats
6 cups nuts your choice, I did 3 cups almonds, and 3 cups cashews (pistachios, sesame seeds, pumpkin seeds, walnuts, hazelnuts)
1 cup dried unsweetened coconut flakes, found in bulk section of most grocery stores
1 cup dried apricots, use any variety or combination you enjoy (raisins, dates, cranberries, blueberries, mango, peach)
1 tablespoon salt
1 teaspoon cardamom
1 teaspoon cinnamon
1/2 cup olive oil
1 cup liquid sweetener, I used 1/2 cup agave nectar, and 1/2 cup maple syrup (honey)
1 teaspoon vanilla
This is beautiful and nutritious way to start your morning. I serve mine over yogurt or with milk. I often add more fresh fruit, whatever is in season. Right now there are some amazing apples around. Add chopped apples and dust with a touch of cinnamon or cardamom. Use berries when in season for a pop of colored foods which are rich in anti oxidants.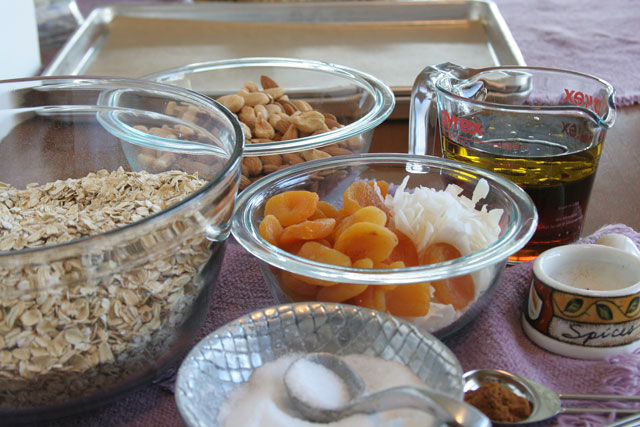 Preheat oven: 350 degrees
1. Place parchment paper or a silpat on sheet pans. Use two sheets for this large of a batch. Use one if you are doing half of this recipe.
2. In a large bowl, combine the oatmeal, nuts, coconut, and dried fruit, mix well. Add the salt, cinnamon, and cardamom to the oatmeal mixture. Mix very well. In a separate bowl combine the olive oil, sweetener, and vanilla, mix. Add the liquid mixture to the oatmeal mixture and combine well.
3. For entire recipe: Divide the large batch between the two sheet pans, evenly distribute the oatmeal mixture on sheet pan, and pat down gently. For half recipe: Distribute the oatmeal mixture evenly onto sheet pan and pat down.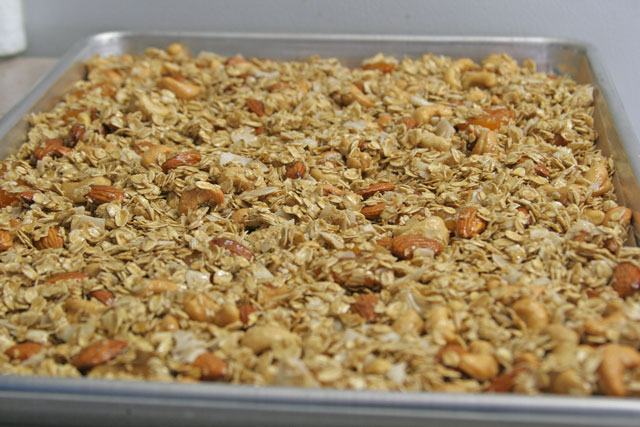 4. Bake at 350 degrees for 40-50 minutes Stir at 20 minutes, and give the sheet pans a turn. If you like your granola clumpy, like me. Do not stir, but do turn the sheet pans.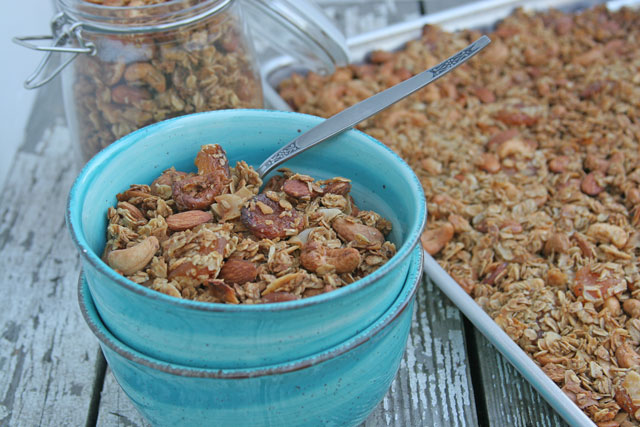 BON APPETIT!