These perfectly buttery and fluffy Dried Fruit Hazelnut Scones are made with less sugar and half whole wheat flour for a slightly healthier take on a traditional scone!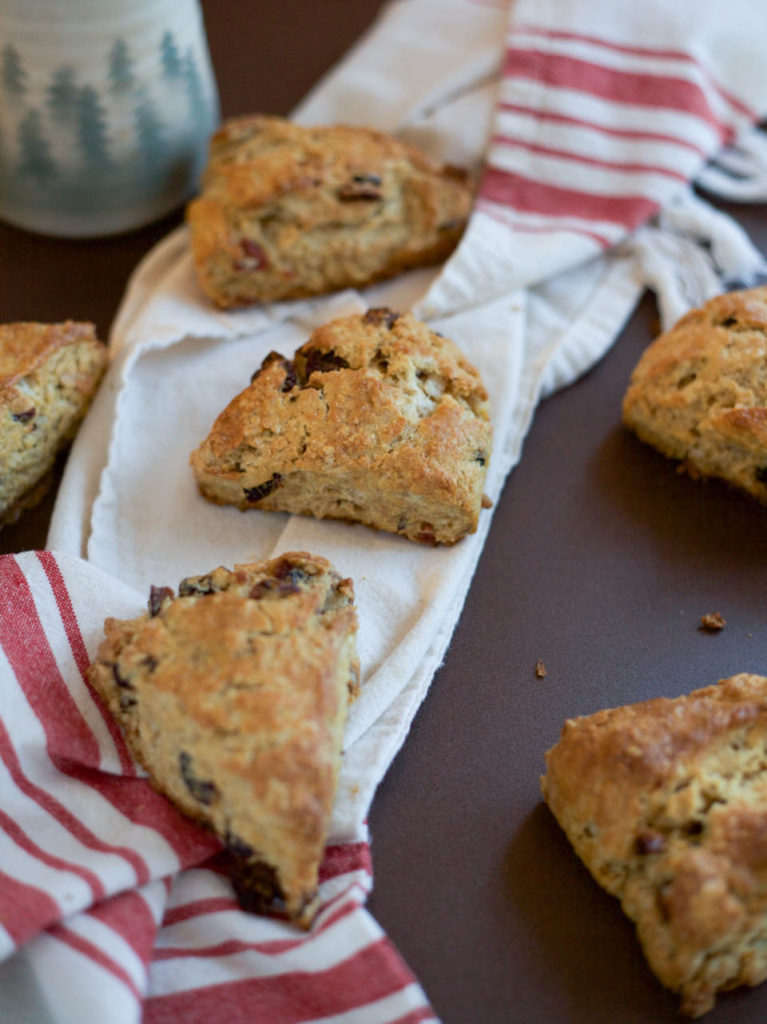 It's scones time again! It's been a while since I shared a new combination for scones. Brian and I have been working on a piece for furniture for my baking lifestyle and this is the first recipe I made using my new baking station.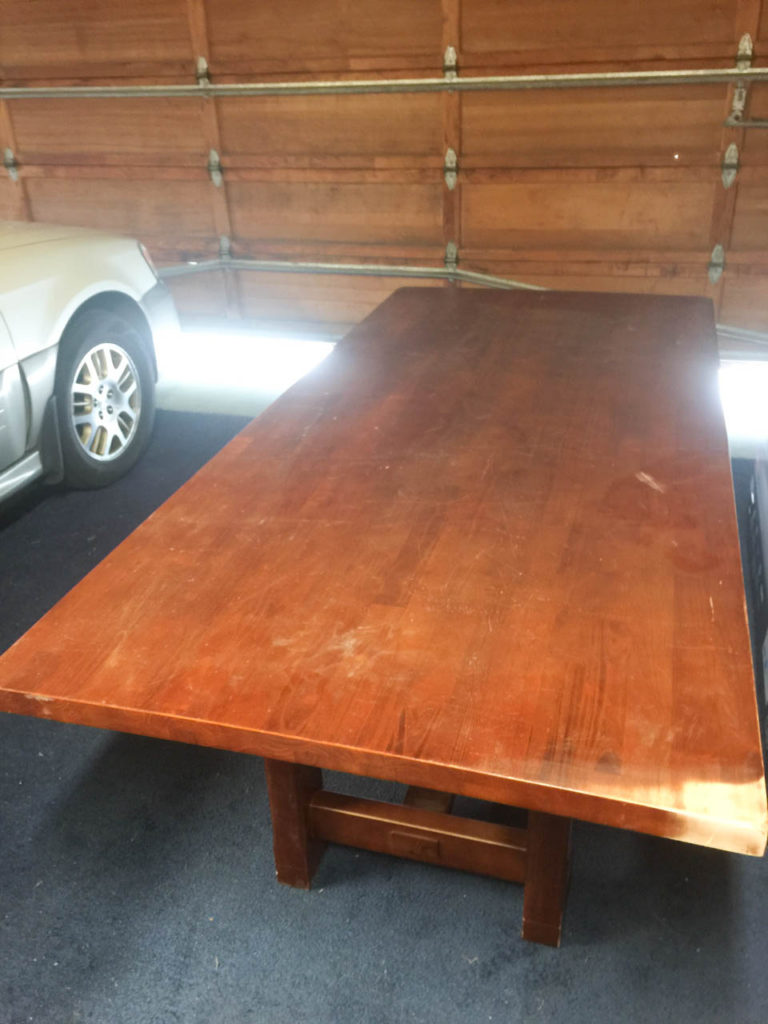 I am in love, it's beautiful, sturdy, baking station love! We took a huge, extremely well built, ten foot dining room table with coats and coats of stain on it and turned it into this…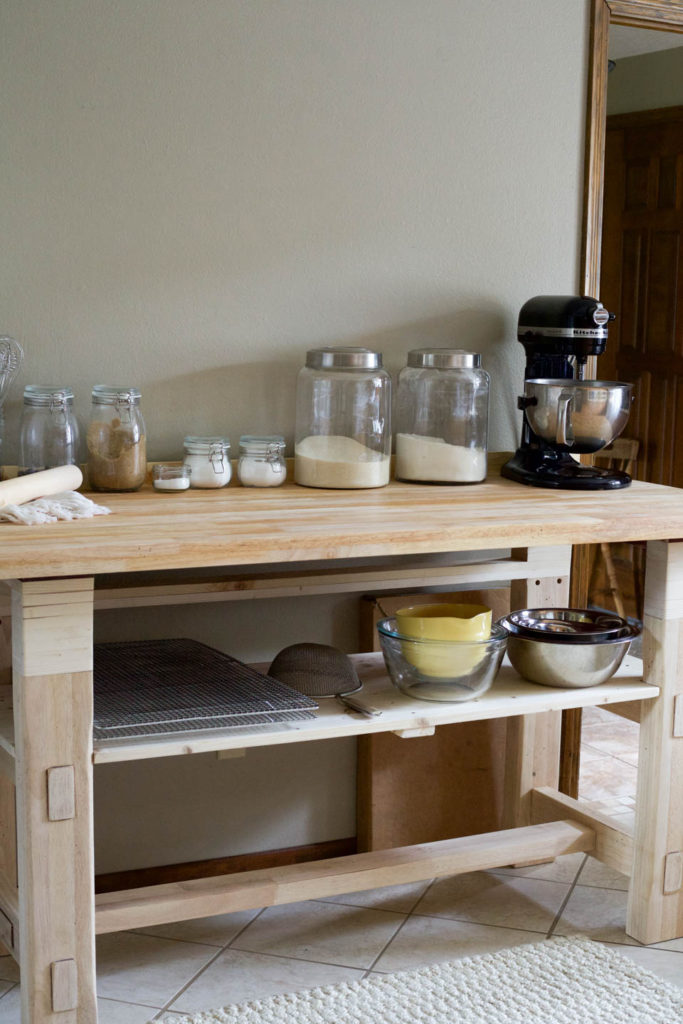 It took a long time and many hours of Brian figuring out how to make it taller for me and my baking needs. He did most of the work and finished it by sanding and oiling it. It needed some major sanding and my arms are still soar lol! But here she is in all of her new glory. It pushes me to do Facebook Live and blog videos, so I'll keep you posted on all of that new stuff. A little art work above and it's the perfect inspiration for new recipes and lots of kitchen time.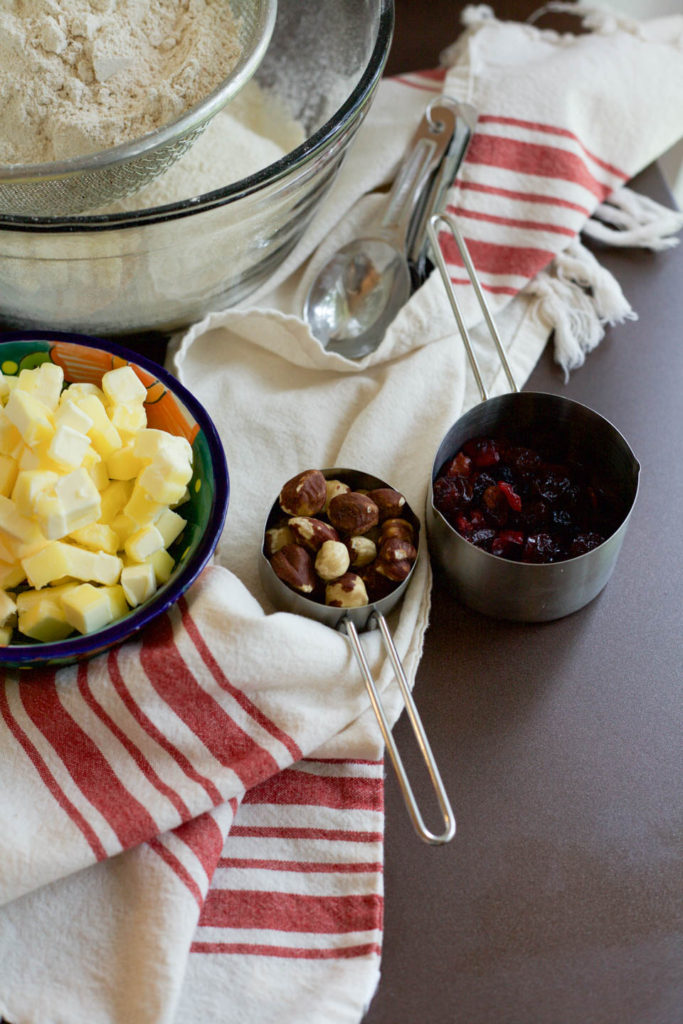 I was talking to my Mom, the biggest scone lover on the planet, about my ideas for flavors. I told her one was this Dried Fruit Hazelnut Scones, she quickly replied that her mouth started watering, so I knew I had a winner combo on my hands and I needed to get baking. And yes, I gave her a huge batch for her scone addiction. I'm not joking when I say if she could sustain herself on scones she would :). That's why I made these with some whole wheat flour (don't tell her), and less sugar so that they are generally a tiny bit more healthy than other recipes I've made in the past.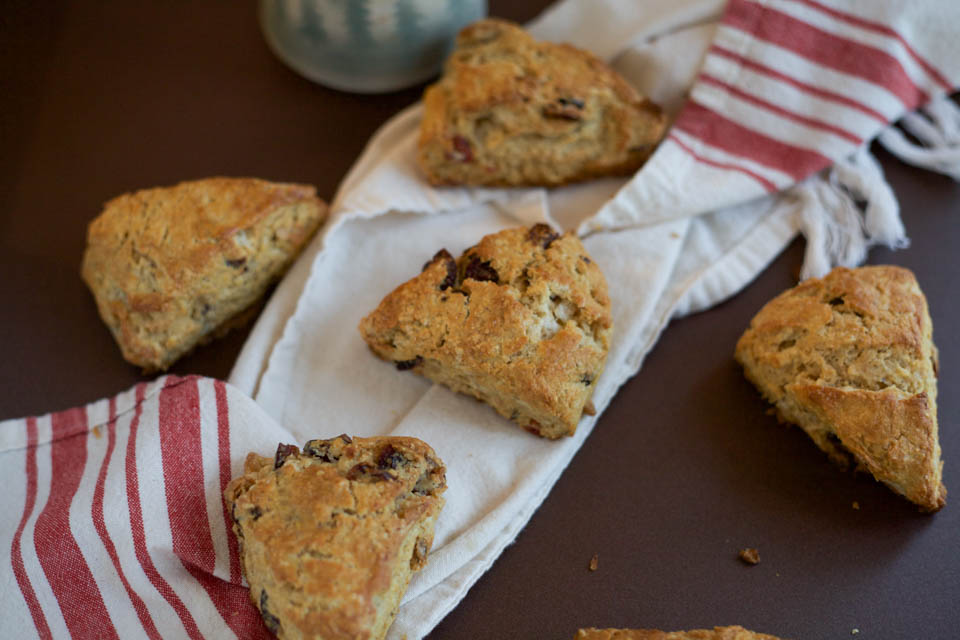 For now, I'm going to be baking away on my new beautiful table and sharing all of the goodies with you. Today we have Dried Fruit Hazelnut Scones to start. It's that time of year where I'm either using frozen or dried fruits in my baked goods. I have a love affair with these dried cherries along with my favorite Oregon Hazelnuts.
Here is my live segment on ABC'S KATU CH2 AM Northwest baking these Dried Fruit Hazelnut Scones with Helen!
Dried Fruit Hazelnut Scones
makes 16 scones
Ingredients:
2 3/4 whole wheat pastry flour, plus more for dusting, I use Bob's Red Mill
2 cups all purpose flour, I use Bob's Red Mill
3 tablespoons sugar, I use organic cane sugar
1 tablespoon baking powder
1 1/4 teaspoon fine sea salt
3/4 teaspoon baking soda
8oz unsalted butter, ice cold, cubed
1 cup dried fruit, I use Graceland Fruit- blueberries, cherries, cranberries
1/3 cup hazelnuts, toasted then chopped, I use Oregon Hazelnuts
1 1/2 cup buttermilk, ice cold
1 egg plus 1 teaspoon water for egg wash, whisk to combine
Method:
*Toasting hazelnuts: Place oven rack in center of oven and preheat oven to 275 degrees. Place hazelnuts on a baking sheet, place in oven, and bake for about 10 minutes or until lightly golden brown. Keep an eye on them at 10 minutes, they can over roast quickly. Remove hazelnuts from oven, place in a large clean kitchen towel, allow to rest for 5 minutes. Then rub hazelnuts vigorously in towel, removing the outer skin as much as possible. It's ok if there are some that keep a little skin, there are nutrients in the skin.
Place oven rack in center of oven and preheat to 400 degrees.
Get parchment lined baking sheet and egg wash with brush ready to go.
Place flours, sugar, baking powder, salt, and baking soda in a large bowl, whisk to combine. Add ice cold butter cubes, rub butter into flour forming small pea sized chunks using your fingers. Add dried fruit and hazelnuts, mix using a large spatula. Add buttermilk, using large spatula, combine VERY gently.
Make sure to keep everything super cold, if your hands warm up, run under cold water and place bowl in fridge for a few minutes.  The key to perfect scones is keeping everything cold.
Turn dough out onto a lightly floured counter. Bring dough together gently, forming 2 uniform disks about 1 1/2 inch thick and 6 inches wide. Cut each circle into 8 even triangles using a knife or bench scraper. For better results, place unbaked scones in freezer for a minimum for 30 minutes.
Remove from freezer, and place on a parchment lined baking sheet. Brush with egg wash and bake for 25 minutes. Remove from oven, and place on cooling rack.
Best enjoyed freshly baked. Place leftovers in airtight container, and leave at room temperature for up to three days. Warm for 30 seconds. For longer storage, place in ziplock bag in freezer for up to 1 month.