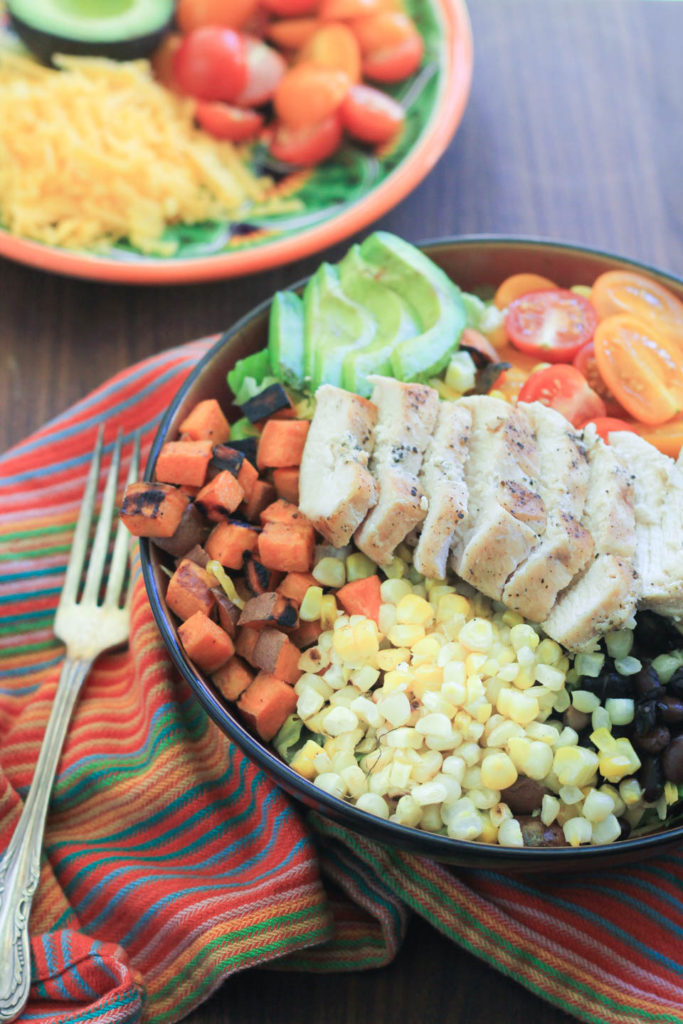 This is a simple but great salad recipe to enjoy all week long for healthy and filling dinners. You see it all over the place in restaurants and you can easily make it home for your family while enjoying the outdoors! It's been known in our house that it's Brain's favorite all in a bowl kind of a salad for the last eight years. And to be honest, I don't make it that often but recently I started making it a lot more. A big part is we're eating lighter Summer meals, less starchy heavy carbs, and we grill many nights of the week anyhow, plus it's good! Another big part is the fresh corn that we have around right now, you can't beat in season fresh corn, simply grilled and chopped to top the salad. The sweetness from the corn and crunch that's flame kissed from the grill is Summer perfection.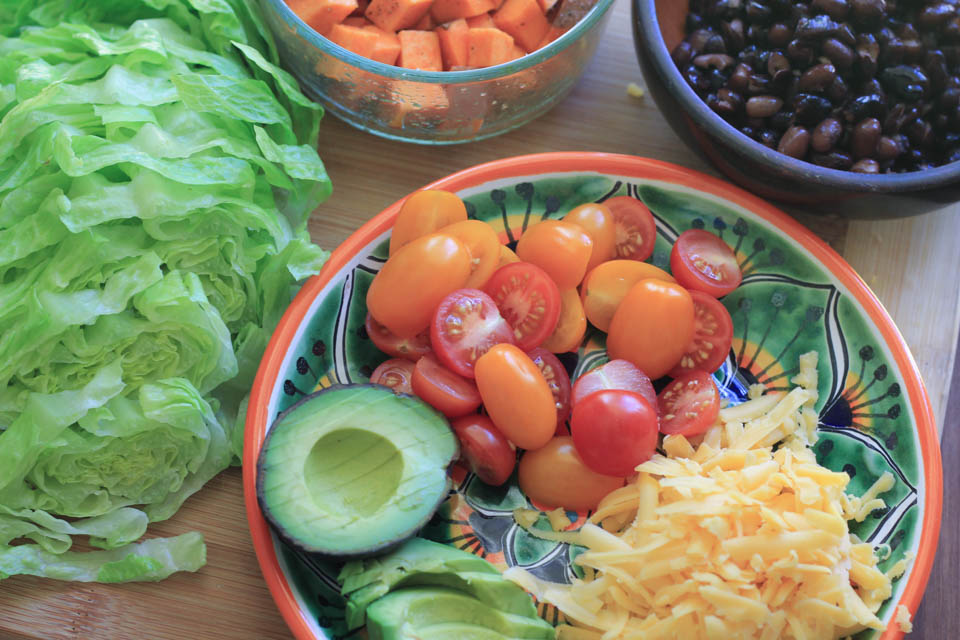 I also make beans from scratch a lot, so you can use homemade beans, but if you have canned, that works too. Keeping thing easy, short and sweet this Summer with so much going on is where it's at for us. I have the whole house opened up to let the cool air in, doing daily yoga, and getting to the woods as much as possible. Which this salad is a great thing to enjoy while camping, to switch up the burgers and hotdogs is always good while out in the wilderness! I hope you're all enjoying your Summer and taking time to get outside to enjoy fresh air!
Chopped Southwestern Salad
Makes 2 large salads
Ingredients:
2 chicken breast, *grilled and sliced, or use leftover chicken/rotisserie chicken- omit for vegan/vegetarian
1 large fresh ear corn, *grilled, or 1-14oz can
1 small sweetpotato, chopped and *grilled- vegan/vegetarian option, or for more nutrition
1 large head romaine lettuce, chopped
1/2 cup medium cheddar cheese, shredded- omit for vegan
1-14oz can whole black beans
1 large avocado, sliced
1/2 cup cherry tomatoes, sliced in 1/2
avocado cilantro dressing or your favorite dressing
tortilla chips or strips
fine sea salt and fresh cracked black pepper
Method:
Heat grill to medium high heat.
*Grill sweetpotato: toss chopped sweetpotato in 1 teaspoon olive oil, sprinkle with salt and pepper, place in a grill safe pan or in foil. Place over high heat and cook for 15 minutes, or until fork tender.
*Grill chicken and corn: Place chicken over direct heat, sprinkle with a pinch of salt and pepper, sear for 1-2 minutes, turn and sear for 1-2 minutes, lower heat to medium low and cook for 10-12 minutes or until internal temperature is 155 degree. Remove and allow to rest 5 minutes before slicing into 1/4-1/2 inch strips.
While chicken is cooking, place husked corn ear over medium high heat, cook for 15 minutes, turning to cook all sides. Place corn ear on cutting board and cut kernels off ear.
To assemble salad, divide ingredients evenly among two large bowls: Place chopped romaine first, sprinkle with shredded cheese evenly, followed by drained black beans, corn kernels, sliced avocado, sliced tomatoes, and top with sliced grilled chicken. Drizzle with dressing or serve that on the side. Serve with tortilla chips, or crumble the tortilla chips all over the salad (that's what we do).
For leftovers: store each ingredient separately and can be enjoyed for up to 2 days.