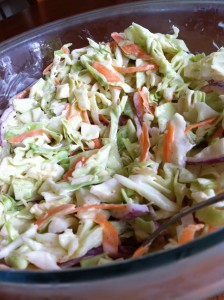 With Fathers Day weekend around the bend, I thought it would be a great idea to prepare side dishes that would accompany any great grilling or BBQ festivities.  I love cabbage, I can eat it raw, cooked, in soup, or off the cutting board as I chop it all up.  Too much of it and we all know it can be a little, shall we say, disruptive, but all in all I can eat it all year long.  As I was leaving my pre orientation meeting to at The International Culinary School at The Art Institute of Portland it was sunny and the air smelled of smoky grilling everywhere.  That is what prompted me to make this slaw with chipotle, I hope you like it, I thought it was super yummy.
servings:  8
ingredients:
1 whole green cabbage
2 carrots peeled
1/2 red onion sliced
1/3 cup rice vinegar
1/3 cup mayo
1 tsp salt
2 tsp fresh ground pepper
2 tsp ground chipotle powder
the how to:
1. Start by peeling and shredding the carrots.  You can either use your cheese grader to shred, or place you carrots in a food processor to shred.  Slice the red onions thinly, and chop the cabbage also thinly.  Put in a larger mixing bowl.
2. Put mayo, rice vinegar, salt, pepper, and chipotle in a mixing bowl.  Whisk together until combined well.
3. Pour the dressing over the veggies, and voila, a healthy, fresh, crispy, yummy.
note:  see a helpful tip on how to cut the core of a cabbage in the tips and trick category.
ENJOY!!!