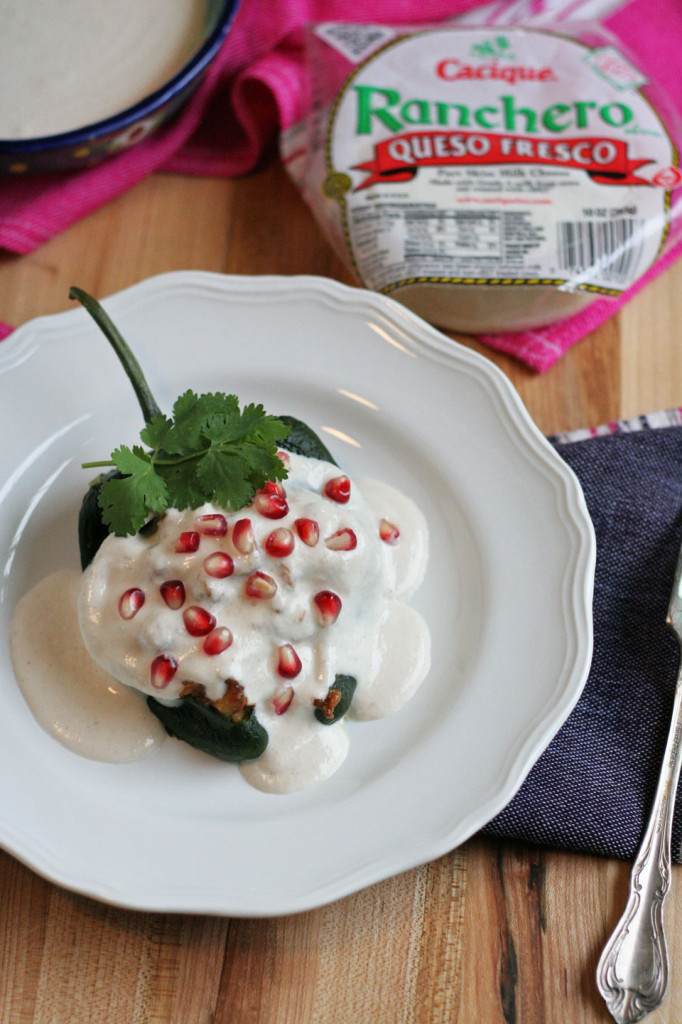 Disclosure: This post is a compensated post in collaboration with Cacique, and Latina Bloggers. As usual all opinions are my own. Thank you Cacique and Latina Bloggers for making NJB awesomeness possible! Check out this cool website with tons of Dia de los Muertos recipes!
Dia de los Muertos is upon us and I wanted to share a couple of recipes that would represent my alter for the celebration. The basics for this holiday is to celebrate those who are no longer with us. Have you seen a beautiful Dia de los Muertos alter before? It is typical to include flowers, candles, bright colors, and dishes that those who have passed would enjoy. There are traditional dishes, and breads that are typical for most alters, but also serve up their favorites, like this Chiles en Nogada (Chilies in Walnut Sauce) using a couple of Cacique Mexican Cheeses and Crema products!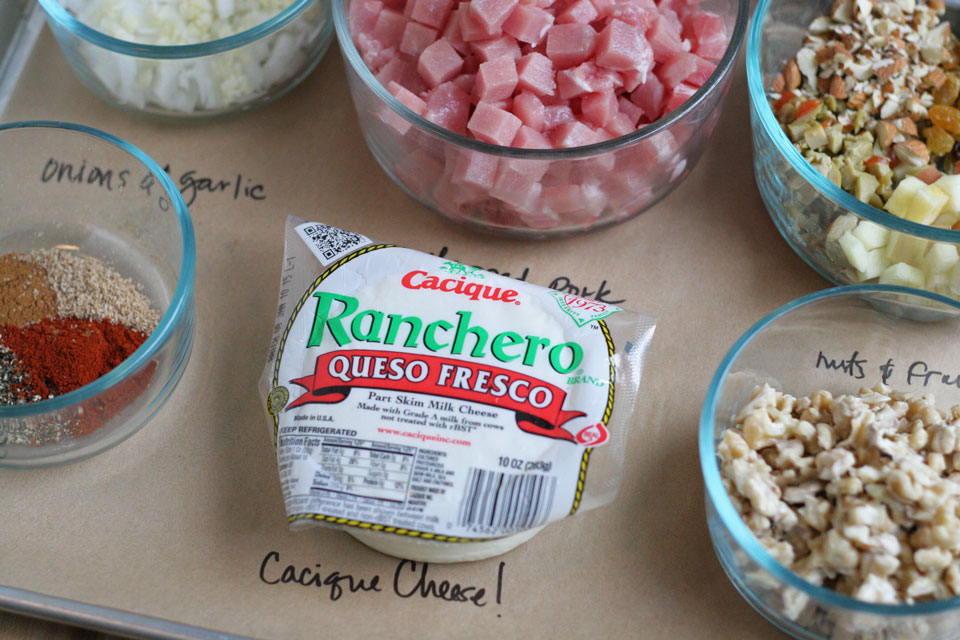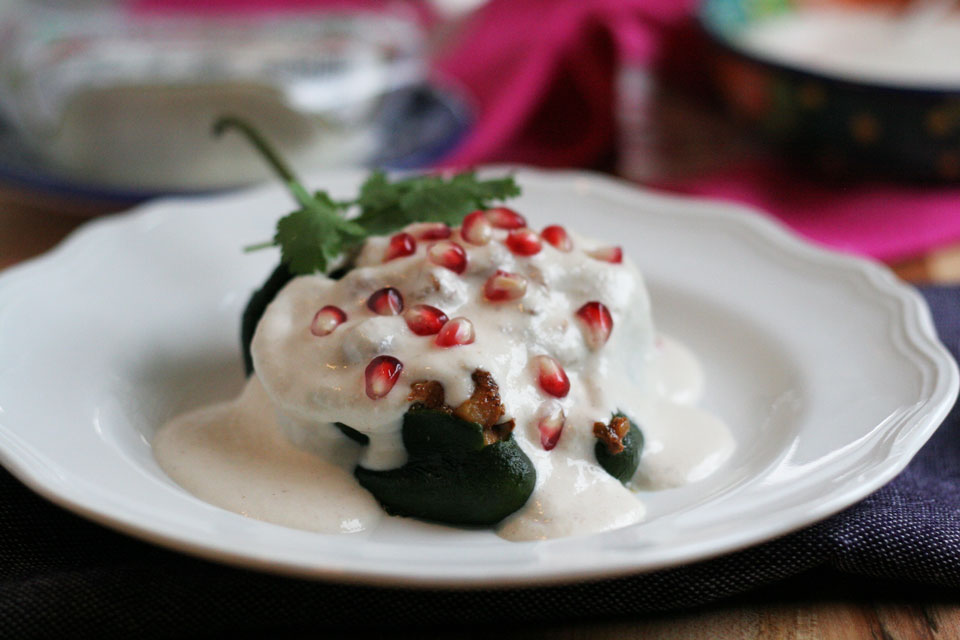 Honestly, I have been working on this recipe for years. The star of  this dish is the sauce, and it has taken years to master. Learning tricks to a smoother, silkier sauce as I go. It was serendipitous timing that I am working with Cacique on a recipe for Dia de los Muertos when I recently decided I was ready to share my recipe. I use Cacique in a variety of steps, match made in heaven. No pun, just good timing. The queso fresco and crema from Cacique make this sauce perfectly creamy, smooth, and just the right tang from the cheese and crema, which is Mexican sour cream. Chiles en Nogada is a Poblano chile, stuffed with pork, apples, and nuts in a tomato spice broth, topped with a creamy walnut sauce. A seriously lovely Mexican delight.
Chiles en Nogada was created in Puebla, Mexico, where many amazing Mexican dishes were born. It was served to Saint Anthony who was visiting the town. This dish, and traditional Mole was said to be made by the nuns to honor the Saint and the celebration of the Mexican holidays. The colors in this dish represent the Mexican flag with green Poblano, white walnut sauce,  red pomegranates, and more green cilantro.
This dish is my favorite for the holiday seasons, and my Mamas favorite as well. I remember years ago she told me how  much shes loves this dish. That is what fueled my inspiration for making it in the first place. It's not something you find on many menus, as it is a bit time consuming, yet worth every moment! Cool thing, she helped me make this dish, I put her on pomegranate seed removal duty.
This is the perfect meal to share family duties. But it really is not too difficult to make, it just requires a few steps to make that walnut sauce super creamy, especially using Cacique Queso Fresco, and Crema. Soaking the walnuts overnight to remove the skin, queso fresco, and crema are essential keys to making this sauce the best, so don't skip them!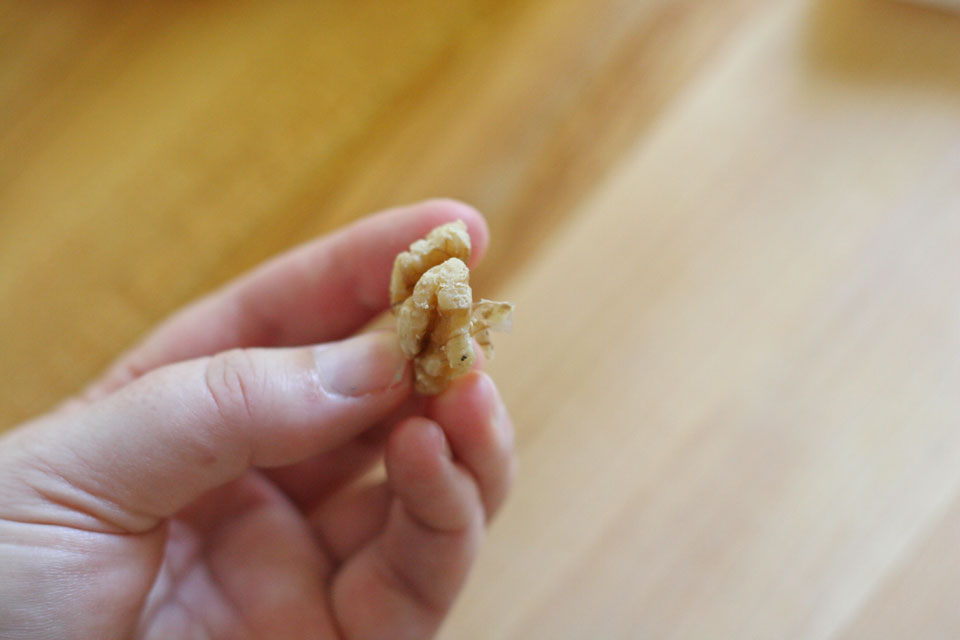 To be super perfectly honest, if I could buy good quality blanched skin peeled walnuts, I would. It is the only tedious task I would love made easier for this meal. It is slightly therapeutic, sitting peeling the skin off, but after twenty minutes, therapy is over and I want it done. So if you find peeled walnuts, let me know!
This is truly a unique, special, traditional Mexican dish, perfect for celebrating. That is why I chose it for the Cacique Dia de los Muertos celebration. While I am not making this for any particular person, it was simply the best meal for the celebration of life as a Latina. This recipe sings the true culinary masterpieces of Mexico, and I am happy and proud to share it with you! It is a very special recipe to me, a labor of love, and I enjoyed sharing it with my family. It was such a treat to watch them enjoy it so much.
—————————————————————-
Chiles en Nogada (Chilies in Walnut Sauce)
Serves 6 
Note: Start this recipe the night before by following these steps to start the sauce…
1 cup shelled walnuts
2 cups milk
1. In a medium pot, boil water, add 1 cup shelled walnuts, blanch for 1-2 minutes. Remove using spider or strainer. Allow to cool for a few minutes. Remove skin by rubbing and peeling off the skin (the skin is very bitter, and will produce a chunky bitter sauce if you skip this step). Get most of the skin off, it can be difficult to get every last bit, so get as much as you can.
2. Place walnuts in a medium bowl, cover with milk (about 2 cups), place in fridge overnight.
More Notes & Tips: It looks like a tons of ingredients, and can feeling overwhelming. So like I learned in Culinary school, grab all of your ingredients and place them on sheet pans, or plates for each step. Measure and keep separate on the sheet pan or plate. That way everything remains organized and separate for each step. Like below… This is called Mise en Place, everything in it's place.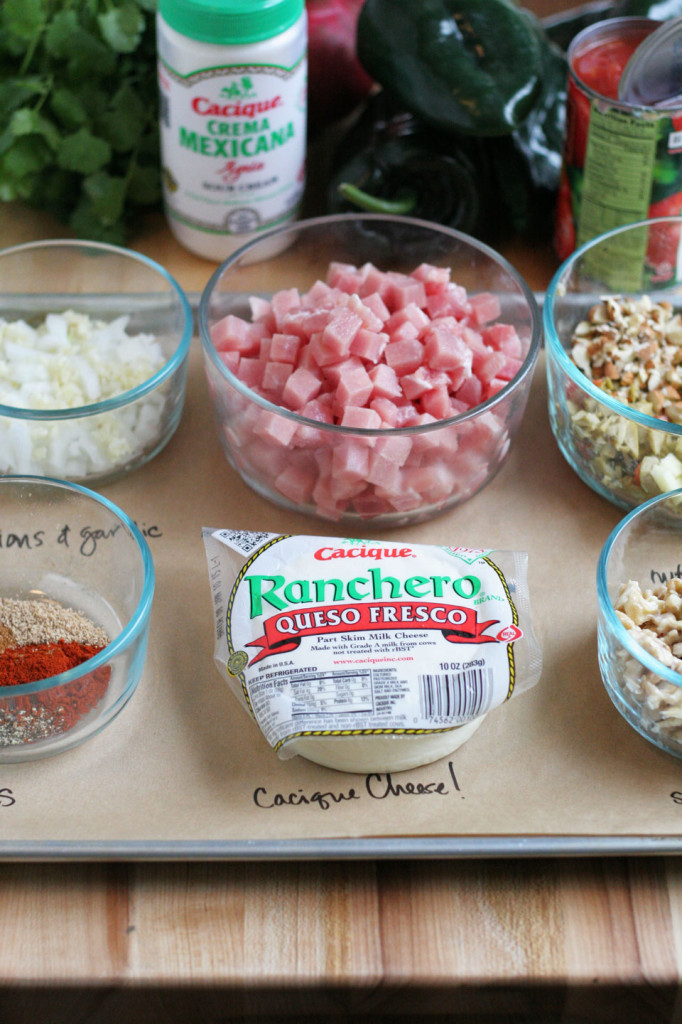 Chiles en Nogada (Chilies in Walnut Sauce)
Ingredients for the following day:
Peppers:
6 Poblano Peppers, roasted, skin peeled, seeded (directions below)
Sauce:
1 cup walnuts, blanched, skin removed, and soaked overnight
1 cup Cacique Queso Fresco
1-15 oz container Cacique Crema, Mexican sour cream
2 tablespoons sugar, I use organic cane sugar
1 teaspoon cinnamon
1/2 teaspoon fine sea salt
Picadillo- filling for peppers
Measuring: Measure each spice, and place in one bowl to keep organized and use less dishes. Do the same for the tomatoes, dried fruits, almonds, olives, and apple.
2 tablespoons olive oil
1 pound pork loin, chopped, you could also use ground pork, beef, or turkey
fine sea salt
1/2 medium onion, finely chopped
2 cloves garlic, finely chopped
1/2 teaspoon smoked paprika
1/2 teaspoon ground cinnamon
1/2 teaspoon freshly ground black pepper
1/8 teaspoon nutmeg
1-15 oz can diced tomatoes, (fresh if in season, peeled, seeded, and chopped)
1/2 cup of golden raisins
1/4 cup almonds, finely chopped
1/4 cup green olives, finely chopped
1/4 cup apple, cored, finely shopped
Garnish:
1/2 cup pomegranate seeds
1/4 cup fresh cilantro, chopped
Method:
Roasting the Peppers:
1. Place peppers on a sheet pan, place under the broiler on high for 10 minutes, turning once at 5 minutes. Remove from oven, place in a large bowl, cover with clean dish towel. Allow to sweat for 10 minutes. Remove skin by peeling off.
2. Place skinned peppers on a cutting board. Carefully slice open a slit on one side, remove seeds. Set aside.
 Walnut Sauce:
1. Drain walnuts. Add walnuts, queso fresco, cream, salt, and cinnamon to a blender, blend until smooth. Taste for seasoning, add more fine sea salt if needed. Set aside at room temperature.
Picadillo:
1. In a large skillet over medium high heat, add olive oil. Once shimmering, add chopped pork. Brown for 3-5 minutes, stir a couple of times. Season pork with 1/2 teaspoon fine sea salt. Lower heat to medium, add onions and garlic, cook 2-3 minutes. Stir frequently.
2. Add spices blend, stir to combine, cook for 2-3 minutes. Add tomato/fruit/almond blend, stir and cook for 15 minutes, uncovered, stir frequently. Taste for seasoning. Add fine sea salt is necessary.
Assemble:
1. Place roasted Poblano on individual plates, stuff with heaping spoonful of Picadillo. Ladle 1/4-1/2 cup walnut sauce over pepper. Top with pomegranate seeds, and cilantro.
No need to re-warm sauce or peppers, this dish is meant to be slightly warm to room temperature. If leftovers, do not heat sauce in microwave for more than 30 seconds, it will separate. Best brought to room temperature on counter.