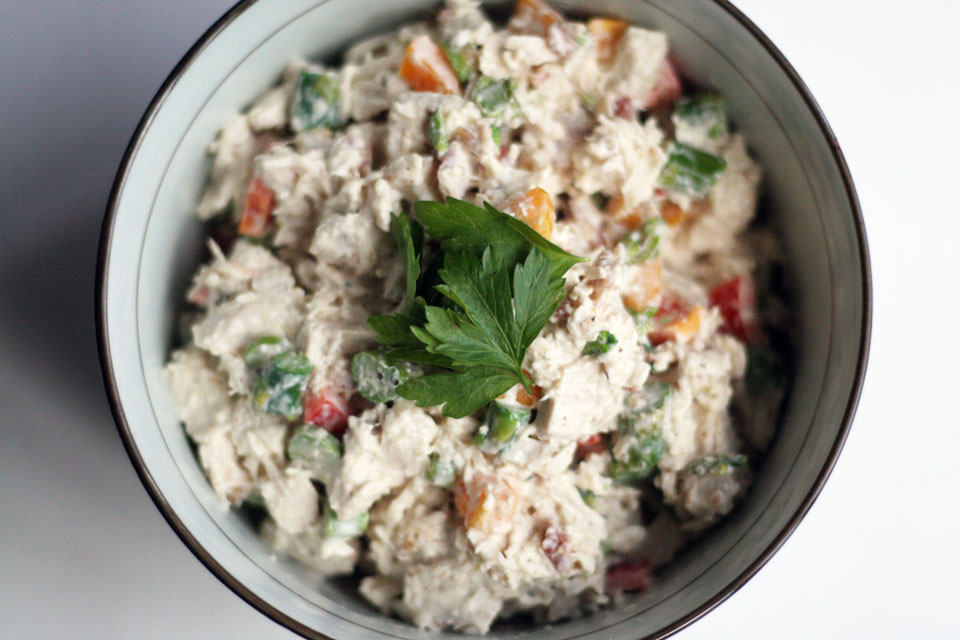 Right now I am sitting on a beach. I am most likely drinking a fruity beverage. I am very grateful that you don't mind, I wrote this the day before I boarded a plane and set my email to be unavailable. I also added an all too appropriate and hilarious photo of the beach with lounge chairs, and the bluest water you have ever seen. I crack myself up. Cheers to a new site, good food, fruity beverages, lounge chairs, and a well deserved vacation.
Chicken Salad with Asparagus and Bacon
serves 2-4
Ingredients:
1 lb skinless chicken breast, poached, chopped
½ lb cooked bacon, chopped
1/3 cup mayonnaise
1 teaspoon grainy mustard
1 teaspoon freshly squeezed lemon juice
½ cup sweet peppers, finely chopped
¼ teaspoon fine sea salt
½ teaspoon freshly ground pepper
6 stalks asparagus, blanched, chopped
¼ cup fresh parsley, chopped
Method:
1. In a 4 quart pot, bring water and 1 teaspoon salt to a boil. Add chicken, reduce to simmer, poach for 30 minutes. While the chicken is poaching, cook the bacon until just crispy, drain well, and pat with paper towels to remove excess fat. Chop fine.
2. Work on the dressing for the chicken. Add bacon, mayonnaise, mustard, lemon juice, sweet peppers, salt, and pepper. Mix well to combine.
3. Remove the chicken from the water, and allow to cool 15 minutes. Blanch the asparagus in the simmering water where you cooked the chicken. Blanch for 3-4 minutes, or until bright green, but still crisp.
4. Chop chicken and asparagus, add to mayonnaise mixture, mix to combine, check seasoning. Serve chilled or at room temperature with fresh parsley. I served with crackers, or make a sandwich, or serve with a green salad.