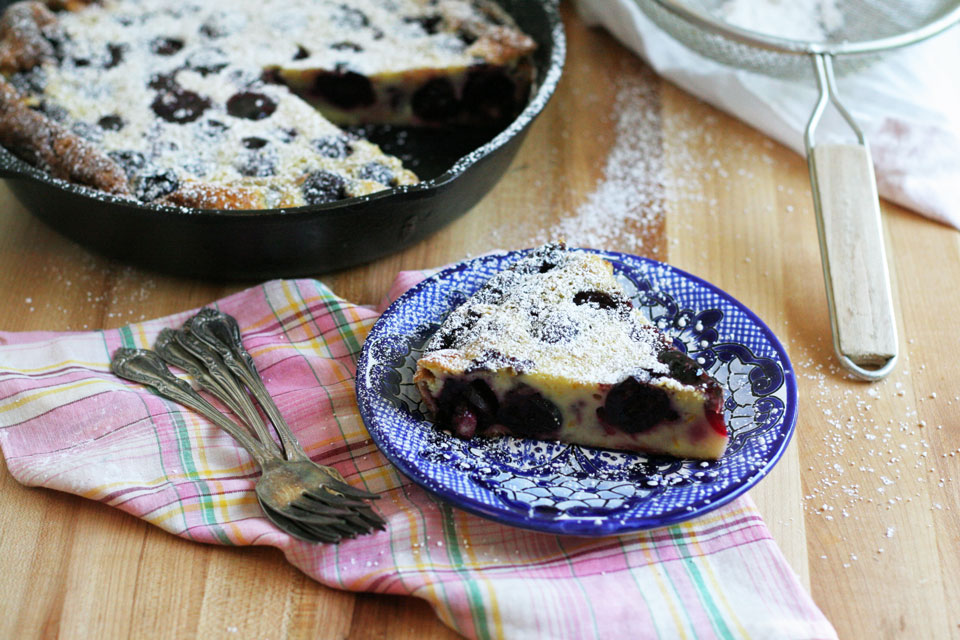 Cherry season means cherry clafoutis. At least it does in France, where the clafoutis is from. "cla-fu-t" to be exact, in case you were wondering. If you follow me on any of my social medias you know I have been eating my way through the cherry season quite nicely. I buy them and eat them. It is harder for me to get to cooking or baking with them because I eat them before anything else can happen. So this year I approached it a bit differently. I bought extra. Is that even possible? I bought extra and ATE THEM! Bahahaha! So I seriously had to go buy more, no joke I did. Oh, I blame this on my Mama, she loves cherries. So we sit and share a bag or seven until it's gone. She has more self control than her kids though…
I was in Southern California babysitting my niece so my brother and sister in law could go on an anniversary vacation. I bought some Rainier cherries, two pounds to be exact. Maya, my niece, and I ate them in the span of one playground visit. Seriously this child eats them like they are candy, just like her tia! So I bought more, again. This time we woke up from an afternoon of rest time, tia needed it more than she did. My brother had gotten back that afternoon. We sat to talk with a bowl full of cherries, Maya, her Daddy, and I ate it in ten minutes. Off to buy more cherries…
I got home, and four more pounds were purchased that I hid from myself to be able to make this dessert for you and the TV segment where I'll be sharing how to make this and fun ways to pit cherries without a cherry pitter. Phew, I actually made a cherry dessert!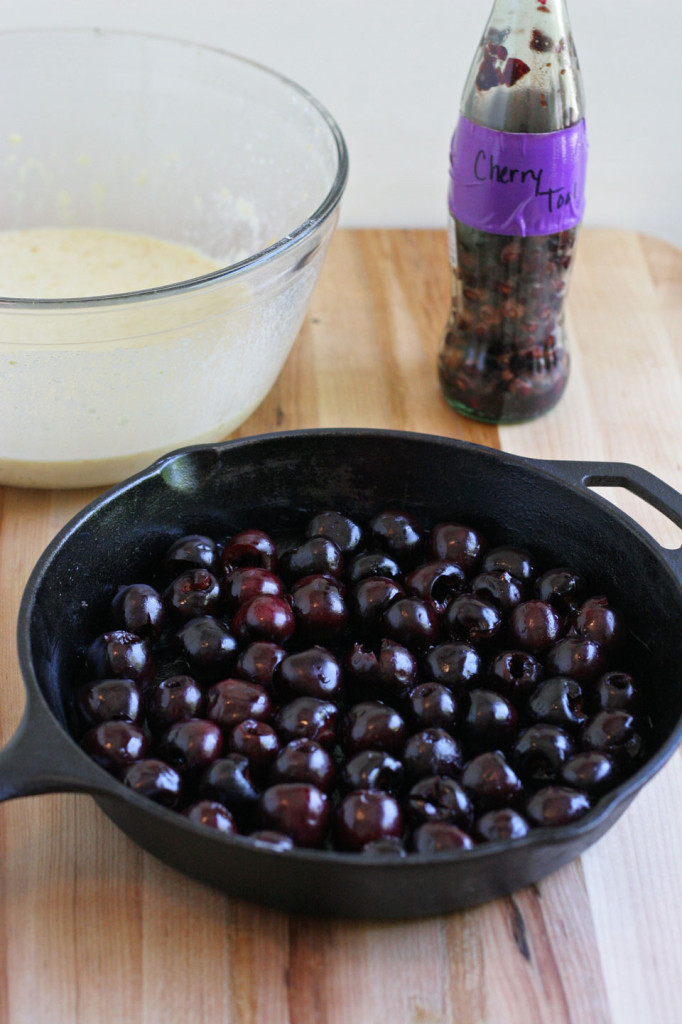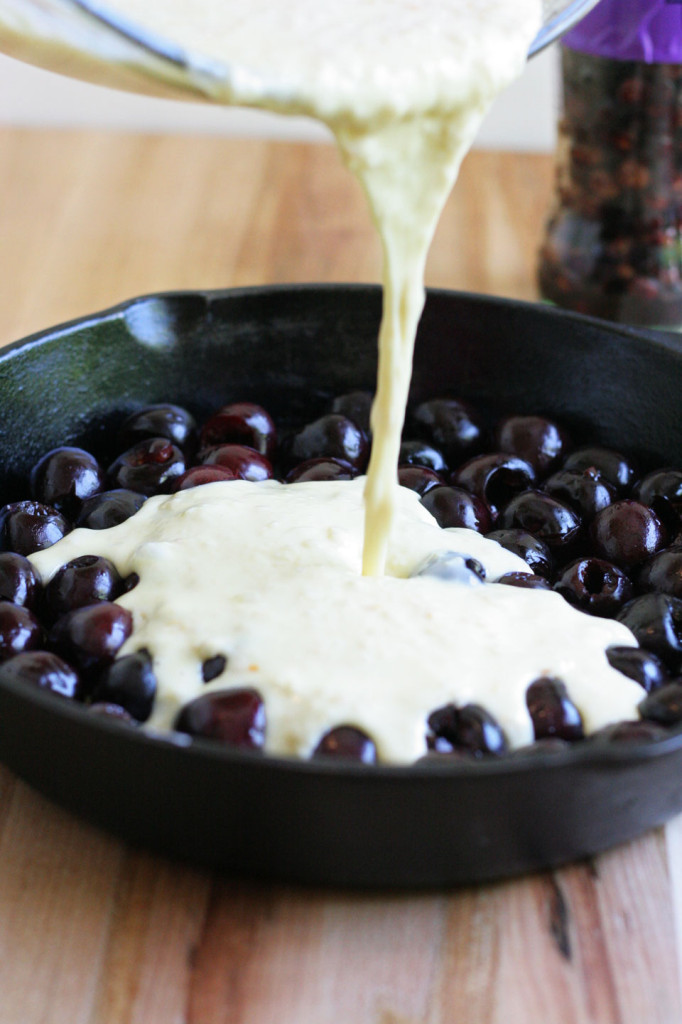 I did use the deep red cherries for this, it is a very classic dessert that I wanted to keep original. You could make this with Rainier, they a bit sweeter, so I would omit a bit of sugar, but it would be lovely. I can't, I ate them, all of them. I may have already purchased twenty pounds in the span of two weeks, and you better believe there will be more. I should buy stock.
Note: It's hot out, so I made this early in the morning. It takes 40 minutes total, including baking time, and a sweet treat for breakfast!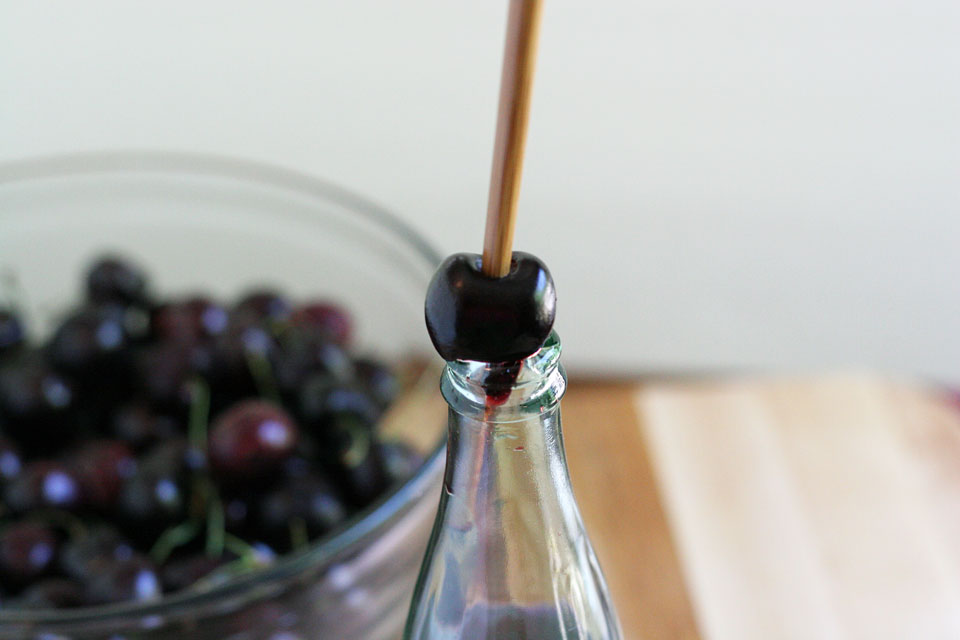 Cherry Clafoutis, it's Cherry Season
Makes 10 inch cherry clafoutis, about 8 servings
Ingredients:
1 tablespoon butter, room temperature
3 cups cherries, pitted
3/4 cup all purpose flour
1/4 cup sugar, I use organic cane sugar
1/2 teaspoon fine sea salt
3/4 cup milk, I used whole milk
1/2 cup heavy cream
6 eggs
2 teaspoons vanilla extract
2 teaspoon orange zest
confectioner sugar for dusting
Note: I used a 10 inch cast iron skillet. You could use a Pyrex, cake pan, pie tin, or tart pan. Just be sure it is a 10 inch pan, or adjusting baking time as needed.
Preheat oven to 425
Method:
1. Butter the baking dish, set aside. Place the pitted cherries evenly in the bottom of the baking pan.
2. In a medium bowl, add the flour, sugar, and salt, whisk to combine. In a large bowl, add the milk, cream, eggs, vanilla extract, and orange zest, whisk to combine. Add the flour mixture to the milk mixture, whisk to combine well. Pour the mixture over the cherries, place in the oven, bake for 25 minutes.
3. Remove from oven, and allow to cool for 10 minutes. Serve warm or at room temperature with a dusting of confectioner sugar. Store leftovers in an airtight container in the fridge for up to three days. Best served fresh though.