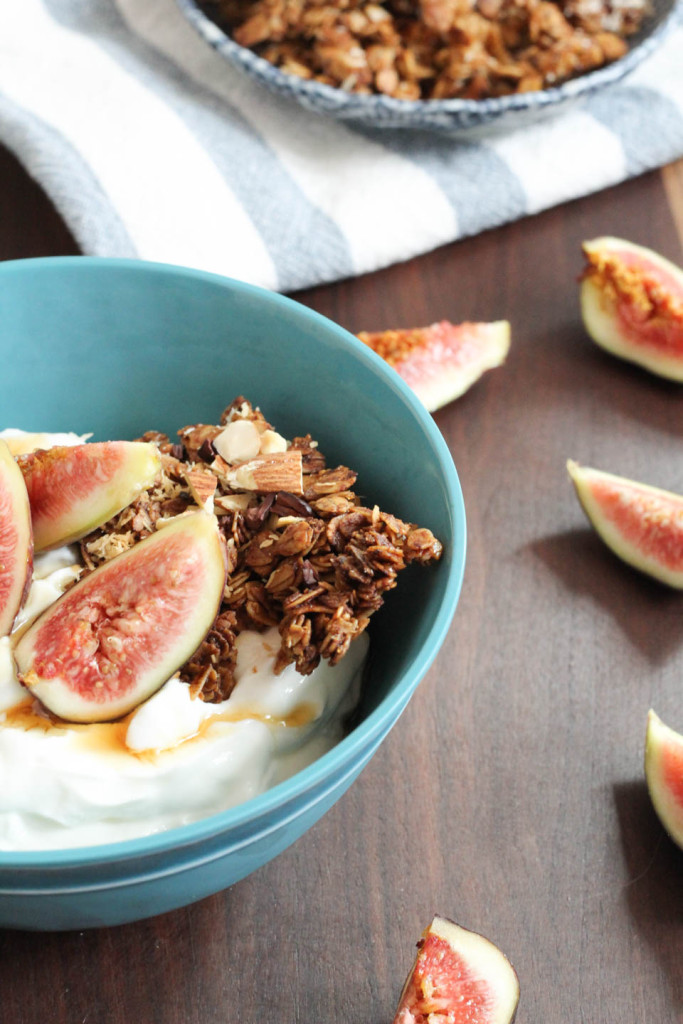 Granola is one of the best snacks around for road trips, afternoon snacks, concerts, camping, you name it, granola is just a good idea. It totally beats the store bought stuff any day. While it's no secret sometimes I buy pre made snack food, I never buy granola pre made. It's one of those things I really like making myself. I like adding olive oil for a savory note and nutrition, being able to control the salt and sugar is a major bonus too. I made a double batch, like so many other things I make, for breakfast, the concert we went to at the Gorge last weekend, and the work week ahead. I may even need to make more for the food blogging conference I have in Seattle in a couple of weeks! I am fairly certain my blogging homies wouldn't mind that as a sack while we drive up there together. I know I wouldn't.
I've made this every which way. You can add your favorite dried fruits, nuts, and spices. You can swap out the ingredients below for a balanced amount of oats and add ins. But this mixture of almonds and cacao nibs are amazing too! I love cacao nibs, they are bitter in a chocolatey way, but full of great vitamins and less sugar than actual chocolate. If Brian and my brother had their way there would be chocolate chips in there lol! Adding a darker chocolate chips would be a good treat if you really wanted :).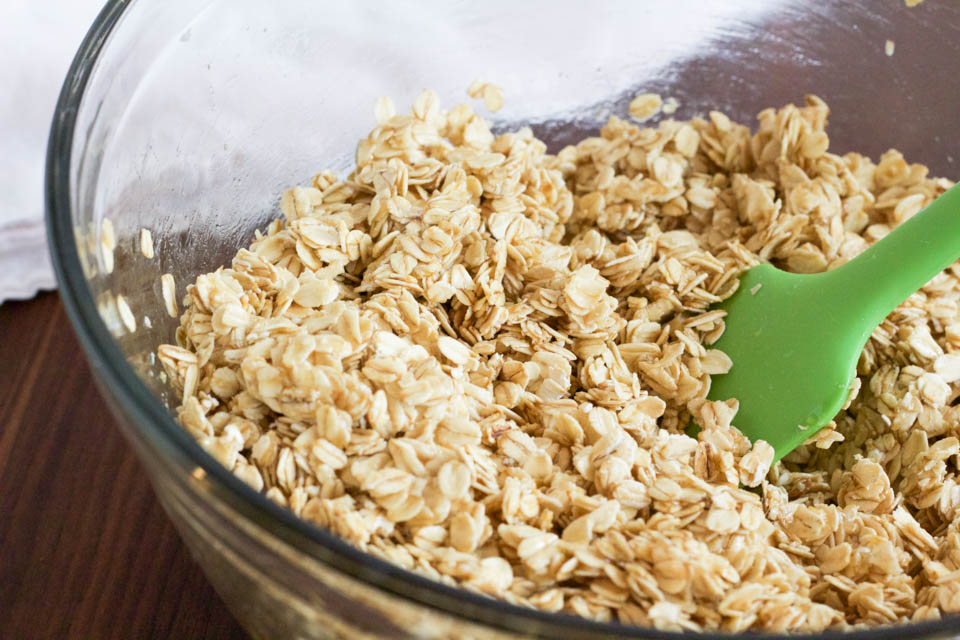 Makes: 12 cups
Ingredients:
4 1/2 cups rolled oats, I used Bob's Red Mill
1 teaspoon cinnamon
1/2 teaspoon fine sea salt
1/2 cup honey, I use Bee Local
1/2 cup olive oil
2 cups almonds, sliced or chopped
1/2 cup unsweetened coconut flakes
2 tablespoons cacao nibs
Place the oven rack in the middle, then  PREHEAT OVEN TO 350 DEGREES.
Method:
1.  In a large bowl add oats, cinnamon, and salt.  Stir to combine well.  In a medium bowl add the honey, and olive oil.  Stir to combine.  Add the liquid to the oats mixture.  Using a spatula, mix well.
2.  Place the oat mixture on a parchment lined baking sheet.  Spread evenly, and press down lightly to compact the mixture.  This creates larger chunks after baking.  Place in oven and bake for 30 minutes, or until golden brown.
3.  Remove baked granola from the oven at 20 minutes, add almonds and coconut to top, do not mix in. Place back in oven for 7 minutes or until golden brown. Remove granola from oven and allow to cool for 20 minutes.  Once cooled, place the granola in a large bowl, add cacao nibs, mix in.  Break apart the granola into medium chunks, easy for snacking.
Serve with yogurt and fresh fruit, or milk for a hearty, healthy breakfast.  Or pack up in a small bag and take with you on your next hike for a filling snack!
Store in an airtight container for up to a week, if longer place container in fridge for up to one month.